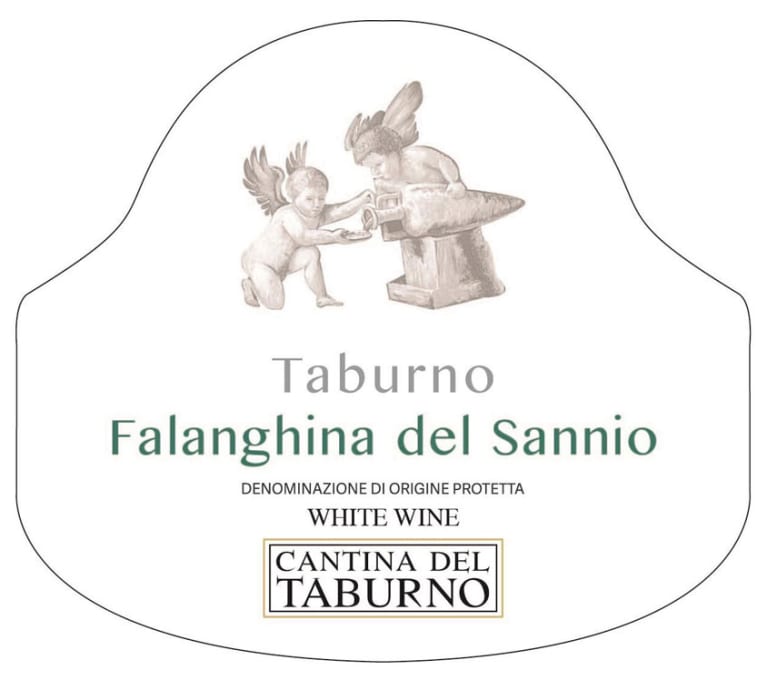 Cantina del Taburno Falanghina del Sannio 2018
Out of Stock

(was $15.99)
Winemaker Notes
Crisp and fruity, this is an absolutely delightful wine! The falanghina grape can be tasted in perfect purity, with notes of almond blossom, lemon, and fresh nectarine.
Perfect for light meals, appetizers, and just by the glass, this is a wine that will appeal to everyone!
From the hills comes a good share of Campania's best wines and among theese stands up the Taburno winery at 350 mt. above sea level. Recently enlarged and modernized, the Taburno winery has become a focal point for the grape growers of the D.O.C. area, for its wine production and promotion.
Quality is for the Taburno winery is a result of giving its members the results of the research of its laboratories. The best varieties are chosen, those that better adapt to the soil to the climate, to the enological requirements, to the market demands. The locally grown grapes are farmed on hills mostly made up of volcanic and chalky soils. But good grapes alone are not in themselves a guarantee of high quality wine. That rests with the never ending striving for excellence by the winemakers of Taburno. The grape selection, soft grape crushing and pressing, fermentation at controlled temperature in stainless steel tanks are done carefully to insure excellence from start to finish.
The ageing cellars, built under ground ensuring constant temperatures contain large oak casks and barriques of French oak.
Taburno has has committed it self to combine tradition and modern technology to produce great wines.
Italian White Wine
The rolling hills and endless coastlines of Italy deliver a unique diversity of soils and climate to foster a number of regional specialties. With a multitude of indigenous varieties that thrive exclusively here, the selection of white wines offers a range of styles and flavors.
The most well-known white variety in Italy is of course Pinot Grigio. Typically found in the northern Italian regions, the light, fresh and easy-drinking options can be found in the Veneto region, while the richer, more complex styles come from Friuli-Venezia Giulia and Trentino-Alto Adige. These two northeast regions are also crafting delicions Pinot Bianco and a regional specialty, Friulano.
In Piedmont, two white regions shine. The crisp and zippy Gavi, made with a Cortese grape, and Arneis, a variety that produces a subtle by dry wine. In the Veneto, the Garganegna grape creates the wine of Soave, a zesty but medium-bodied wine full of rich stone fruit and floral notes.
Further south, you'll find the pretty and floral Falenghina, rich and tropical Grillo and zesty Greco. Head to Sicily to discover the delicious and complex Etna Biancos, made with the Carricante grape in the island's volcanic soils.
If you enjoy a tangy but textured white wine with seafood, head to Sardinia and try out the Vermentino there. The grape is also found in other Italian provinces and is always a delight.
EWL534375_2018
Item#
534375