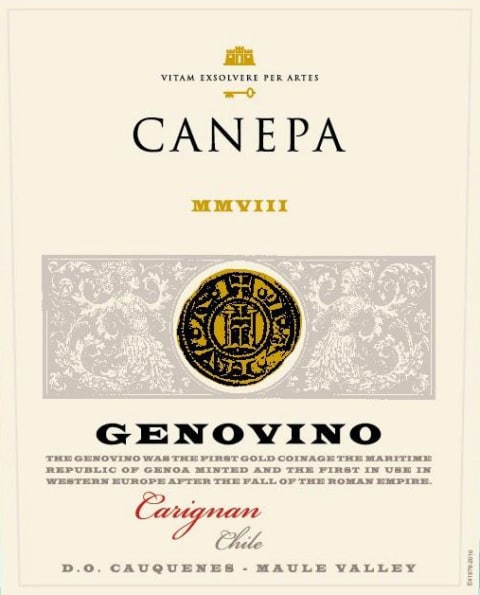 Canepa Genovino Carignan 2012
One of the great names in Chilean winemaking, Vina Canepa on the outskirts of Santiago was founded by Jose Canepa, an enterprising immigrant from Italy. Canepa has played an instrumental role in modernizing the country's wine production; the firm was an early pioneer of Zinfandel, Pinot Noir and Chenin Blanc wines and the first producer in Chile to employ temperature-controlled stainless steel vats for fermentation of its whites. Under the latest generation of the Canepa family, Canepa has bought almost 2,500 acres of land for planting with vines in Chile's prime Colchagua wine region.
Maule is the Central Valley's most southern and coolest zone, reaching a southern latitude of 35°S, yet it is still warmer and drier than Bío-Bío to its south. The Maule Valley enjoys success with a unique set of grapes.
It lays claim to the local variety, Pais (synonymous with Tinta Pais, which is actually Tempranillo), which has dominated much of the region's area under vine until the recent past. Now many growers, not confined by the tradition and regulations of the Old World, also successfully grow Cabernet Sauvignon.
While Maule's total area under vine remains relatively static, its old Carignan vineyards are undergoing a great revival. The VIGNO (Vignadores del Carignan Vintners) group, an association in charge of promoting this long-forgotten variety, is getting fantastic results from the old vines in its dry-farmed coastal zones.
The Maule includes the subregions of Talca, San Clemente, San Javier, Parral, Linares and Cauquenes.
Responsible for some of the most stunning old vine red wine on the planet, Carignan has an amazing capacity to survive dry, arid climates and still produce lovely, mouthwatering wine. In Spain it goes by the name of Mazuelo and while it may have originated there in the province of Aragón, its popularity lies elsewhere, particularly in Languedoc-Roussillon. Somm Secret—Historically Carignan did not enjoy the respect that it does today. In the mid 20th century, Carignan covered nearly 140,000 ha in Algeria, where it was made into low quality bulk and blending wine to supply mass-market demand.
ZZZREFPRODUCT249551
Item#
249551