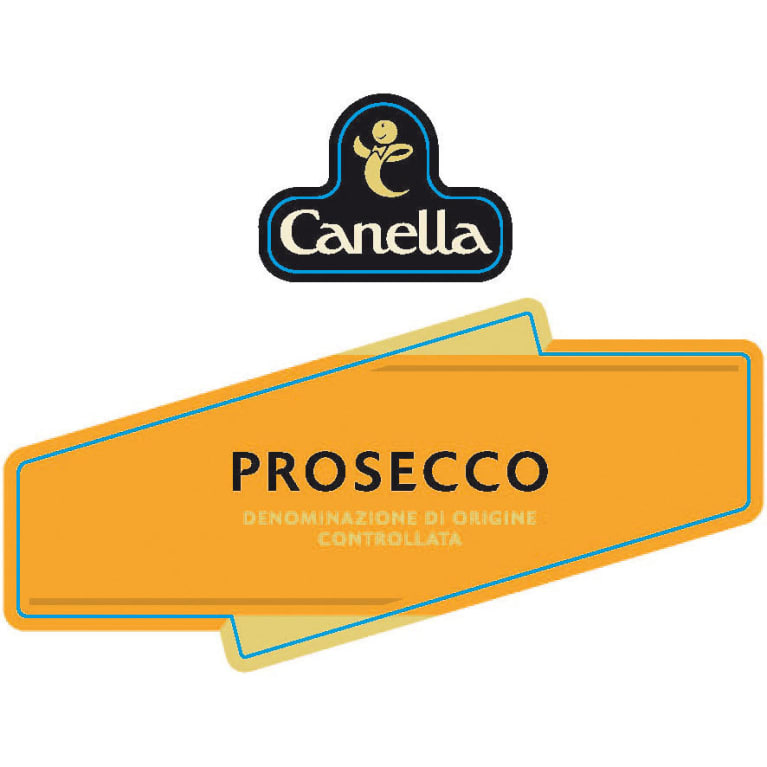 Canella Prosecco Brut
Out of Stock

(was $17.99)
Winemaker Notes
Straw yellow with lively perlage, the bouquet is fresh, fruity & aromatic; on the palate, it characteristically combines softness and freshness thanks to perfectly balanced acidity and sugar.
The Canella winery was founded in 1947 after World War II by Luciano Canella. Luciano's parents owned a small, restaurant in San Donà di Piave. Luciano began to search the surrounding areas for the best wines to match his mother's cuisine when he thought about creating his own wine. He put this idea into action and set up a state-of-theart winery specializing in Prosecco. Canella Prosecco became a phenomenal success. Throughout the decades that followed, Luciano focused on spreading the word about his winery and branding his wines to make them easily recognizable. However, the Canella family not only provides the world with fizz, fun, and freshness from Canella Proseccos; they have also become masters at blending those zesty bubbles with succulent fruit in delicious, colorful cocktails. In 1988 Luciano had the idea to be the first to bottle Bellini. Up until this point, real Bellini was only enjoyed in Venice where the ingredients were available. The challenge Luciano faced was how to bottle the cocktail while retaining its pristine, juicy freshness. It took some trial and error, but ultimately Luciano was triumphant and more than 25 years later, the Canella's dream has come to fruition. Canella Bellini stands as a benchmark of freshness and a tribute to Venetian creativity and entrepreneurial spirit. With the success of Bellini, the Canella winery turned its attention to other cocktails including a vibrant Blood Orange Mimosa and delicately sweet Rossini.
One of the world's most popular and playful sparkling wines, Prosecco is a specialty of northeastern Italy, spanning nine provinces of the Veneto and Fruili-Venezia Giulia regions. A higher-quality version of Prosecco wine that must meet more stringent production requirements is known as Prosecco Superiore and must come from the more rugged terrain between the towns of Valdobiaddene and Conegliano. Prosecco can be produced as a still wine, a semi-sparkling wine ("frizzante"), or a fully sparkling wine ("spumante")—the latter being the most common. While Prosecco wine is typically produced in a "brut" (dry) style, its fresh and fruity character makes it seem a bit sweeter than it actually is. "Extra dry" styles, incorporating higher levels of residual sugar, are quite popular, however.
Prosecco wine is made from the Glera grape, which was formerly and confusingly called Prosecco, these wines are notable for pleasant flavors of peach, pear, melon, green apple, and honeysuckle. Lower pressure during the carbonation process (also called the tank method) means that the bubbles are lighter and frothier than in Champagne or other traditional method sparkling wine, and less persistent. Prosecco is also a great choice to blend with orange juice for mimosas for a classic brunch beverage.
A term typically reserved for Champagne and Sparkling Wines, non-vintage or simply "NV" on a label indicates a blend of finished wines from different vintages (years of harvest). To make non-vintage Champagne, typically the current year's harvest (in other words, the current vintage) forms the base of the blend. Finished wines from previous years, called "vins de reserve" are blended in at approximately 10-50% of the total volume in order to achieve the flavor, complexity, body and acidity for the desired house style. A tiny proportion of Champagnes are made from a single vintage.
There are also some very large production still wines that may not claim one particular vintage. This would be at the discretion of the winemaker's goals for character of the final wine.