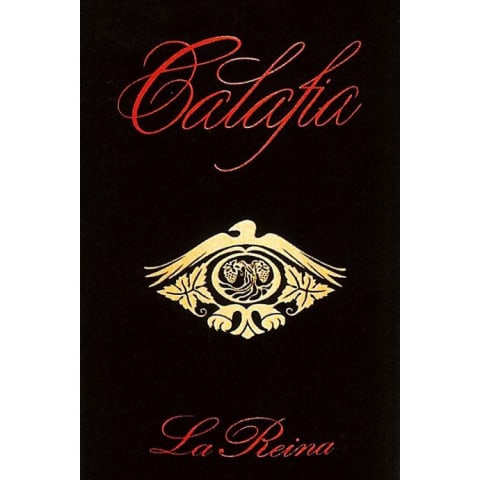 Calafia La Reina 2017
Out of Stock

(was $66.99)
Winemaker Notes
The 2017 growing season began with a moderate spring: not too cold or wet, resulting in a normal fruit set. The bunches were well-filled with an occasional wing as in 2014 when Cabernet clusters were moderately packed and had some occasional wings. The summer was also moderate: warm with a few heat waves. At veraison there was a thinning or green harvest to remove green or pink fruit. The fall heat was variable, being punctuated by heat spikes that caused Brix to jump unexpectedly. But in the end, skin and seed maturity was fully achieved. The resulting wines have great color, aromatic fruit profiles, are elegant on the palate, and have fine grain tannins for aging.
Calafia Cellars is owned by Randle Johnson. Born and raised in the San Francisco Bay Area, Randle attended the University of California at Davis and graduated in 1974 with a masters in Viticulture. Randle's first position was as a viticulturist with Souverain Winery in Rutherford. A year later he moved into the winery division there and became assistant to winemaker Phil Baxter. In 1977 Randle moved to Mayacamas Vineyards in the capacity of Cellarmaster. He realized the unique vineyard environment of Mount Veeder and began to study the climate, soils, vineyards, and wines of the region. After three years at Mayacamas, Randle started Calafia Cellars. Using grapes from both the Napa and Sonoma sides of Mount Veeder, he made Cabernet Sauvignon, Merlot, Zinfandel, and Sauvignon Blanc under the Calafia label. In 1980 Randle accepted a position at the Stag's Leap Winery where he worked until 1982 developing the wine production at the Estate. In 1983 he began working as consultant to Donald Hess in his new wine venture on Mount Veeder and in 1985 he accepted a fulltime position as Senior Winemaker at Hess Collection. In order to avoid any conflict in his new capacity, he agreed to limit production under the Calafia label to his Reserve Cabernet Sauvignon from a small vineyard situated on Mount Veeder. The vineyard is owned by James Konrad and has been the source of a series of powerful, yet elegant Cabernets. Today Randle continues his job at Hess as Senior Winemaker. He produces less than 200 cases annually of the Calafia Konrad Reserve Cabernet Sauvignon.
St. Helena is in the heart of the Napa Valley, nestled between Calistoga to the north and Rutherford on its southern border. On its western side, the Mayacamas Mountains guard it from the cooling effects of the Pacific Ocean; to its east stand the Vaca Mountains. In conjunction, these mountain ranges serve to lock in summer daytime heat. But in the evening, cool air from the San Pablo Bay funnels up through the valley, creating very chilly nights. It isn't uncommon for temperatures to drop 50 degrees, a shift that promotes a balance of sugar ripeness and acidity in wine grapes.
St. Helena contains a plethora of different soil types in a small area, which have been enhanced over centuries by rain runoff from both mountain ranges. Its vineyards cover a variety of terrain, spreading across the bucolic valley floor and its benchlands.
These ideal topographic and climatic growing conditions easily caught the attention of early winemaking pioneers. In fact, St. Helena is the birthplace of Napa Valley's commercial wine industry. Dr. Crane founded his cellar in 1859, David Fulton in 1860 and Charles Krug in 1861.
Today there are no less than 400 separate vineyards planted within the 12,000 acres that make up the St. Helena appellation.
Revered most for its red wines based on Bordeaux varieties, namely Cabernet Sauvignon, the St. Helena appellation is also a source of superior Syrah, Zinfandel and Sauvignon blanc.
With hundreds of red grape varieties to choose from, winemakers have the freedom to create a virtually endless assortment of blended red wines. In many European regions, strict laws are in place determining the set of varieties that may be used, but in the New World, experimentation is permitted and encouraged resulting in a wide variety of red wine styles. Blending can be utilized to enhance balance or create complexity, lending different layers of flavors and aromas. For example, a red wine blend variety that creates a fruity and full-bodied wine would do well combined with one that is naturally high in acidity and tannins. Sometimes small amounts of a particular variety are added to boost color or aromatics. Blending can take place before or after fermentation, with the latter, more popular option giving more control to the winemaker over the final qualities of the wine.
How to Serve Red Wine
A common piece of advice is to serve red wine at "room temperature," but this suggestion is imprecise. After all, room temperature in January is likely to be quite different than in August, even considering the possible effect of central heating and air conditioning systems. The proper temperature to aim for is 55° F to 60° F for lighter-bodied reds and 60° F to 65° F for fuller-bodied wines.
How Long Does Red Wine Last?
Once opened and re-corked, a bottle stored in a cool, dark environment (like your fridge) will stay fresh and nicely drinkable for a day or two. There are products available that can extend that period by a couple of days. As for unopened bottles, optimal storage means keeping them on their sides in a moderately humid environment at about 57° F. Red wines stored in this manner will stay good – and possibly improve – for anywhere from one year to multiple decades. Assessing how long to hold on to a bottle is a complicated science. If you are planning long-term storage of your reds, seek the advice of a wine professional.
CFCCW17LR_2017
Item#
665122