Ca Maiol Lugana Trebbiano di Lugana 2021
Out of Stock

(was $17.99)
Winemaker Notes
Ca Maiol Luganais shows straw-like color with greenish highlights. The nose is delicate, dry and fresh, with tones of white almond and apple.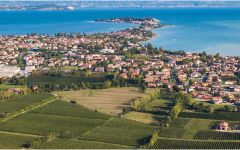 Ca Maiol is situated in the heart of the Lugana zone, in the midst of flourishing vineyards and ancient farmsteads. The main building, constructed in 1710, is the nerve center of the estate's activities, and alongside there is a sizeable showroom. Perfectly integrated with the surrounding countryside, this space welcomes visitors with guided tours, tastings and a shop. In the large underground cellar one can find out everything about the company's production, discovering its secrets and following, step by step, the slow, meticulous processes that lead from the grape to the bottle. Here, day after day, this cycle is renewed, skillfully combining a winemaking tradition that has been acquired over the years with state-of-the-art technology, such as the stainless steel vinification tanks or the lines for bottling and disgorgement. Innovation and renewal, and attention to the needs of the present-day consumer: these factors enable Cà Maiol to produce wine of extremely high quality and unique character.
Producing every style of wine and with great success, the Veneto is one of the most multi-faceted wine regions of Italy.
Veneto's appellation called Valpolicella (meaning "valley of cellars" in Italian) is a series of north to south valleys and is the source of the region's best red wine with the same name. Valpolicella—the wine—is juicy, spicy, tart and packed full of red cherry flavors. Corvina makes up the backbone of the blend with Rondinella, Molinara, Croatina and others playing supporting roles. Amarone, a dry red, and Recioto, a sweet wine, follow the same blending patterns but are made from grapes left to dry for a few months before pressing. The drying process results in intense, full-bodied, heady and often, quite cerebral wines.
Soave, based on the indigenous Garganega grape, is the famous white here—made ultra popular in the 1970s at a time when quantity was more important than quality. Today one can find great values on whites from Soave, making it a perfect choice as an everyday sipper! But the more recent local, increased focus on low yields and high quality winemaking in the original Soave zone, now called Soave Classico, gives the real gems of the area. A fine Soave Classico will exhibit a round palate full of flavors such as ripe pear, yellow peach, melon or orange zest and have smoky and floral aromas and a sapid, fresh, mineral-driven finish.
Much of Italy's Pinot grigio hails from the Veneto, where the crisp and refreshing style is easy to maintain; the ultra-popular sparkling wine, Prosecco, comes from here as well.
There are hundreds of white grape varieties grown throughout the world. Some are indigenous specialties capable of producing excellent single varietal wines. Each has its own distinct viticultural characteristics, as well as aroma and flavor profiles.
YNG425899_2021
Item#
1067929