Winemaker Notes
The choice of this name is linked to a word used in Ancient Rome, "Giomelle", which signifies "the union of two things". Indeed, Giome represents the union of two elements: a grape variety that is indigenous to the hinterland of Lake Garda, Groppello, with a blend made up of Marzemino, Barbera and Sangiovese, varieties that have nevertheless been present in this zone for a long time. After separate vinification and maturation of these varieties in stainless steel, we create an assemblage whose result is Giome: a fresh, well-balanced, medium-bodied wine.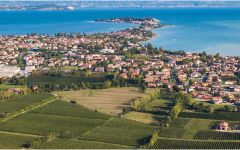 Ca Maiol is situated in the heart of the Lugana zone, in the midst of flourishing vineyards and ancient farmsteads. The main building, constructed in 1710, is the nerve center of the estate's activities, and alongside there is a sizeable showroom. Perfectly integrated with the surrounding countryside, this space welcomes visitors with guided tours, tastings and a shop. In the large underground cellar one can find out everything about the company's production, discovering its secrets and following, step by step, the slow, meticulous processes that lead from the grape to the bottle. Here, day after day, this cycle is renewed, skillfully combining a winemaking tradition that has been acquired over the years with state-of-the-art technology, such as the stainless steel vinification tanks or the lines for bottling and disgorgement. Innovation and renewal, and attention to the needs of the present-day consumer: these factors enable Cà Maiol to produce wine of extremely high quality and unique character.
Containing an exciting mix of wine producing subregions, Lombardy is Italy's largest in size and population. Good quality Pinot noir, Bonarda and Barbera have elevated the reputation of the plains of Oltrepò Pavese. To its northeast in the Alps, Valtellina is the source of Italy's best Nebbiolo wines outside of Piedmont. Often missed in the shadow of Prosecco, Franciacorta produces collectively Italy's best Champagne style wines, and for the fun and less serious bubbly, find Lambrusco Mantovano around the city of Mantua. Lugana, a dry white with a devoted following, is produced to the southwest of Lake Garda.
With hundreds of red grape varieties to choose from, winemakers have the freedom to create a virtually endless assortment of blended red wines. In many European regions, strict laws are in place determining the set of varieties that may be used, but in the New World, experimentation is permitted and encouraged resulting in a wide variety of red wine styles. Blending can be utilized to enhance balance or create complexity, lending different layers of flavors and aromas. For example, a red wine blend variety that creates a fruity and full-bodied wine would do well combined with one that is naturally high in acidity and tannins. Sometimes small amounts of a particular variety are added to boost color or aromatics. Blending can take place before or after fermentation, with the latter, more popular option giving more control to the winemaker over the final qualities of the wine.
How to Serve Red Wine
A common piece of advice is to serve red wine at "room temperature," but this suggestion is imprecise. After all, room temperature in January is likely to be quite different than in August, even considering the possible effect of central heating and air conditioning systems. The proper temperature to aim for is 55° F to 60° F for lighter-bodied reds and 60° F to 65° F for fuller-bodied wines.
How Long Does Red Wine Last?
Once opened and re-corked, a bottle stored in a cool, dark environment (like your fridge) will stay fresh and nicely drinkable for a day or two. There are products available that can extend that period by a couple of days. As for unopened bottles, optimal storage means keeping them on their sides in a moderately humid environment at about 57° F. Red wines stored in this manner will stay good – and possibly improve – for anywhere from one year to multiple decades. Assessing how long to hold on to a bottle is a complicated science. If you are planning long-term storage of your reds, seek the advice of a wine professional.
NDF36659_2018
Item#
640796