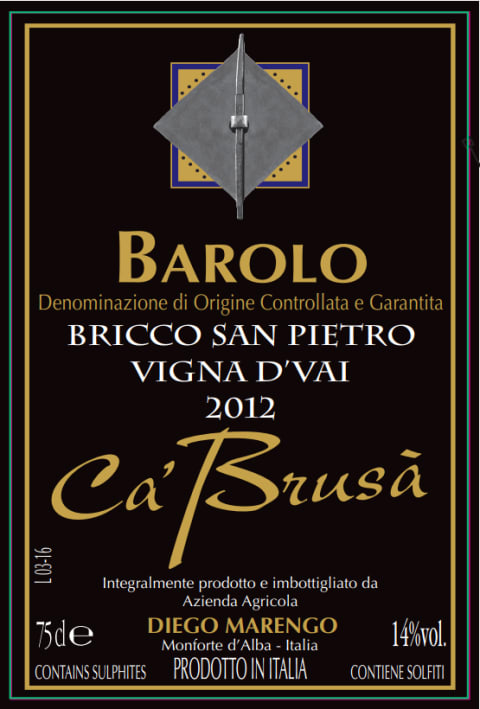 Ca' Brusa Barolo Bricco San Pietro Vigna D'Vai 2012
Out of Stock

(was $54.99)
Winemaker Notes
The color is bright, intense garnet red with slightly orange highlights. The nose is broad net with notes of plum, violet, cinnamon, cherry and licorice. The palate is full, harmonious, warm with a persistent and pleasant aftertaste.
Pairs well with main courses, white meats and game in general.
Formed as a Roman "pagus" at the top of a steep hill, the town of Monforte d'Alba assumed its current name most likely in the early Middle Ages when it served as an important military bulwark. So it was the fortifications and defense structures that were built there that gave it the name "Mons fortis". Around the year 1000 (in 1028) in Monforte a strong community of "Cathars" developed under the guidance of Gerardo. Its members, accused of heresy, were arrested by the archbishop of Milan Ariberto d'Intimiano, tried and sentenced to the stake. In the late Middle Ages, Monforte d'Alba was owned by the Marquises of Cortemilia, the Municipality of Alba, the Visconti of Milan and then by the Marquis Del Carretto.
The Ca 'Brusà farmhouse is located on a route which, especially in the 13th century, was of considerable importance for the connections of the central municipalities of the Langa with the plain in front of Monchiero, when the free Municipality of Alba entered into alliances with the Del Carretto family. , tried to keep the trade routes to Liguria free.
In the historic core of Monforte, a famous amphitheater with perfect acoustics was created in 1986 by the famous pianist Mieczyslaw Horszowski, obtained from the natural morphological slope of the land. The natural amphitheater is stepped, and has a stage consisting of a wall and the portal of the Scarampi gardens. Since 1986 it has been the venue for great concerts held by illustrious artists such as Paolo Conte, Massimo Ranieri, Vinicio Capossela and many others, and for some years now the national Jazz music festival has taken place, which is called Monfortinjazz. In the Horszowski amphitheater there are also theatrical performances and various concerts as well as film screenings.
BBO580508_2012
Item#
580508