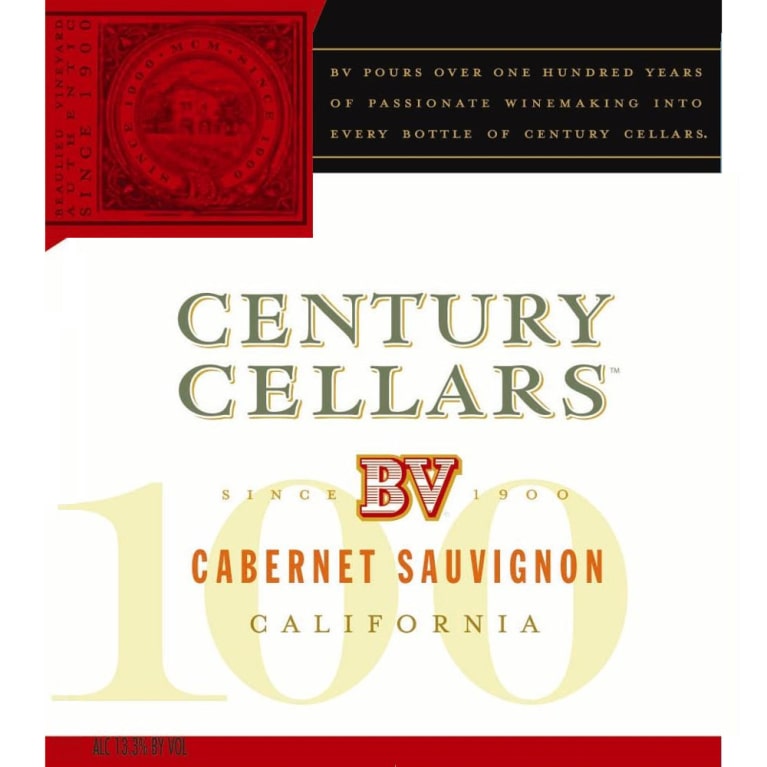 BV Century Cellars Cabernet Sauvignon 2006
Winemaker Notes
The 2006 Cabernet Sauvignon opens with vibrant red fruit, cherry-cola and hint of spice. Flavors of plum and forest berries fill out the palate, contributing a nice acidity that holds through the lingering finish. With smooth tannins and a balanced profile, this wine pairs well with hearty pastas, aged cheddar or grilled lamb. Century Cellars wines are crafted to reflect the long history and collective knowledge of BV's winemaking team in a wine that is accessible and enjoyable. This is achieved through traditional winemaking techniques with a focus on retaining the liveliness of the inherent berry flavors balanced with a subtle oak influence for nuances of vanilla and spice with good mid-palate structure.
Beaulieu Vineyard was named by Fernande de Latour, the wife of BV founder Georges de Latour. Georges purchased the property in 1900 and surprised Fernande by bringing her to the spot that would eventually be the birthplace of one of California's premiere wineries. One look and Fernande was in heaven - she exclaimed "Beaulieu!" which means "beautiful place" in French. That is how BV or Beaulieu Vineyard got its name.
Fernande's famous hospitality and Georges de Latour's entrepreneurial spirit are how the BV winery gained its reputation. Fernande would be sure that if she hosted anyone in her home, she would always greet the guest with a glass of wine at the door. Georges, on the other hand, was out and about town and was quickly becoming a highly respected figure in the California wine industry. In 1902, the opportunity to purchase more property was presented to him by his neighbor and he bought and planted 127 acres, conveniently located right next to his home.
By 1911, Georges was already garnering attention for his work. This is a quote from the St. Helena Star in May 1911, "When it comes to quality, California is greatly indebted to Mr. G. de Latour, of Rutherford, who for some years has imported hundreds of thousands of the choicest French grafted wines, which have been planted in all the important vineyards in the state."
Covering the most vine acreage in the state compared to any other red wine variety, Cabernet Sauvignon produces as much wine in California as Merlot and Pinot Noir combined. The state's diverse terrain and microclimates, as well as the freedom of its winemakers, allow for an incredible range of wine styles from this single grape.
California's most famous region—and especially for Cabernet Sauvignon—is the acclaimed Napa Valley. While Cabernet is successful throughout the world, rarely has it achieved such merit as it does from the Napa Valley. At this point the two are so intrinsically linked that it is difficult to discuss one without the other.
Napa's closest neighbor, Sonoma County, does an impressive job keeping up with Napa's fame and glory. Alexander Valley, Sonoma Mountain, Moon Mountain and Knights Valley contribute to the lot of some of California's top-rated Cabernet Sauvignon.
Lake County in California's North Coast has become a focus for some of Napa's more respected growers. From the Central Coast come iconic examples of classic California Cabernet; Lodi and the Sierra Foothills are great budget-friendly sources of amicable Cabernets.
SWS68543_2006
Item#
97041