Broglia La Meirana Sparkling Gavi
Out of Stock

(was $21.99)
Winemaker Notes
Light straw yellow color. Gorgeous bouquet on the nose with fresh aromas of pear, apple, white flowers and delicate spices. The flavor is dry, fresh, pleasantly sparkling with a long creamy finish.
Perfect with seafood, Mediterranean cuisine and sushi.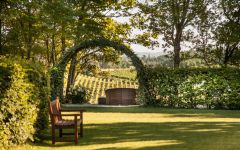 Now a third generation family business, Broglia safeguards its oldest vineyards, which date back to the 1950s, thanks to the unique calcareous marl soil that allows the vines to have an ­extended lifespan. However, in the winery, which was renovated in 2000, the best of modern ­winemaking techniques are used to continue and elevate the tradition of Gavi. Their efforts have been rewarded with recognition as one of the top Gavi producers on the international stage, receiving industries titles such as Tre Bicchieri, as well as, a place as some of the most exclusive tables, such as the Vatican and G8 summits.
Set upon a backdrop of the visually stunning Alps, the enchanting and rolling hills of Piedmont are the source of some of the country's longest-lived and most sought-after red wines. Vineyards cover a great majority of the land area—especially in Barolo—with the most prized sites at the top hilltops or on south-facing slopes where sunlight exposure is maximized. Piedmont has a continental climate with hot, humid summers leading to cold winters and precipitation year-round. The reliable autumnal fog provides a cooling effect, especially beneficial for Nebbiolo, Piedmont's most prestigious variety.
In fact, Nebbiolo is named exactly for the arrival of this pre-harvest fog (called "nebbia" in Italian), which prolongs cluster hang time and allows full phenolic balance and ripeness. Harvest of Nebbiolo is last among Piedmont's wine varieties, occurring sometime in October. This grape is responsible for the exalted Piedmont wines of Barbaresco and Barolo, known for their ageability, firm tannins and hallmark aromas of tar and roses. Nebbiolo wines, despite their pale hue, pack a pleasing punch of flavor and structure; the best examples can require about a decade's wait before they become approachable. Barbaresco tends to be more elegant in style while Barolo is more powerful. Across the Tanaro River, the Roero region, and farther north, the regions of Gattinara and Ghemme, also produce excellent quality Nebbiolo.
Easy-going Barbera is the most planted grape in Piedmont, beloved for its trademark high acidity, low tannin and juicy red fruit. Dolcetto, Piedmont's other important red grape, is usually ready within a couple of years of release.
White wines, while less ubiquitous here, should not be missed. Key Piedmont wine varieties include Arneis, Cortese, Timorasso, Erbaluce and the sweet, charming Muscat, responsible for the brilliantly recognizable, Moscato d'Asti.
A term typically reserved for Champagne and Sparkling Wines, non-vintage or simply "NV" on a label indicates a blend of finished wines from different vintages (years of harvest). To make non-vintage Champagne, typically the current year's harvest (in other words, the current vintage) forms the base of the blend. Finished wines from previous years, called "vins de reserve" are blended in at approximately 10-50% of the total volume in order to achieve the flavor, complexity, body and acidity for the desired house style. A tiny proportion of Champagnes are made from a single vintage.
There are also some very large production still wines that may not claim one particular vintage. This would be at the discretion of the winemaker's goals for character of the final wine.
VIYITBRMS75NV_0
Item#
827651