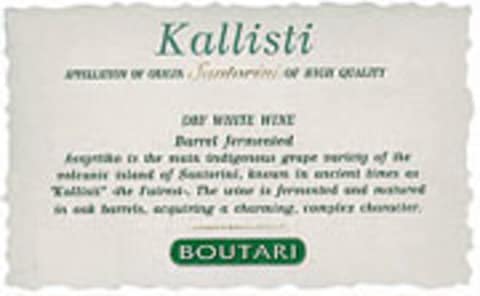 Boutari Santorini Kallisti 2000
Out of Stock

(was $16.49)
Winemaker Notes
"Kallisti is an oaked version of Santorini...the grape's flavors quickly overtake the oak, with lemon pith, grapefruit and quartz-like mineral notes to fill in the wine's almondy breadth. By the time it grows juicy as a ripe pear, the oak is long forgotten, an invisible support that will help sustain the wine for years to come."
-
Wines & Spirits
Golden yellow, complex aromas induced by aging (wood, almond, smoke and vanilla), which blend harmoniously with the varietal aroma of flowers. Soft, round and full-bodied with a lingering aromatic aftertaste.
FOOD PAIRING: Shellfish and grilled fish.
The Boutari family has been crafting wines from Greek varietals since 1879, when Yiannis Boutari first started producing red wines in the small northern village of Naoussa. Since that first vintage the family has become a pioneer of Greek wines. From exporting the first bottled red wine from Greece to reviving lost varietals, Boutari now crafts wines from six different regions using varietals that are grown nowhere else in the world. In a constant quest for improvement Boutari maintains "demonstration" vineyards around Greece where local farmers are invited to learn new methods and techniques for improving their grapes. The results have been astounding: Boutari has been named an International Winery of the Year by Wine and Spirits 19 times – only 5 wineries in the world have received the award more times. Achievements such as developing the modern style of Santorini to reviving lost varietals have garnered lavish praise from the wine press and spawned a generation of high-quality Greek wines made by vintners who cut their teeth under the tutelage of the Boutari family.
A picturesque Mediterranean nation with a rich wine culture dating back to ancient times, Greece has so much more to offer than just retsina. Between the mainland and the country's many islands, a wealth of Greek wine styles exists, made mostly from Greece's plentiful indigenous varieties. After centuries of adversity after Ottoman rule, the modern Greek wine industry took off in the late 20th century with an influx of newly trained winemakers and investments in winemaking technology.
The climate—generally hot Mediterranean—can vary a bit with latitude and elevation, and is mostly moderated by cool maritime breezes. Drought can be an issue for Greek wine during the long, dry summers, sometimes necessitating irrigation.
Over 300 indigenous grapes have been identified throughout Greece, and though not all of them are suitable for wine production, future decades will likely see a significant revival and refinement of many of these native Greek wine varieties. Assyrtiko, the crisp, saline Greek wine variety of the island of Santorini, is one of the most important and popular white wine varieties, alongside Roditis, Robola, Moschofilero, and Malagousia. Muscat is also widely grown for both sweet and dry wines. Prominent red wine varieties include full-bodied and fruity Agiorghitiko, native to Nemea; Macedonia's savory, tannic Xinomavro; and Mavrodaphne, used commonly to produce a Port-like fortified wine in the Peloponnese.
With hundreds of white grape varieties to choose from, winemakers have the freedom to create a virtually endless assortment of blended white wines. In many European regions, strict laws are in place determining the set of varieties that may be used in white wine blends, but in the New World, experimentation is permitted and encouraged. Blending can be utilized to enhance balance or create complexity, lending different layers of flavors and aromas. For example, a variety that creates a soft and full-bodied white wine blend, like Chardonnay, would do well combined with one that is more fragrant and naturally high in acidity. Sometimes small amounts of a particular variety are added to boost color or aromatics. Blending can take place before or after fermentation, with the latter, more popular option giving more control to the winemaker over the final qualities of the wine.
WWH36GBKAL2_2000
Item#
50526