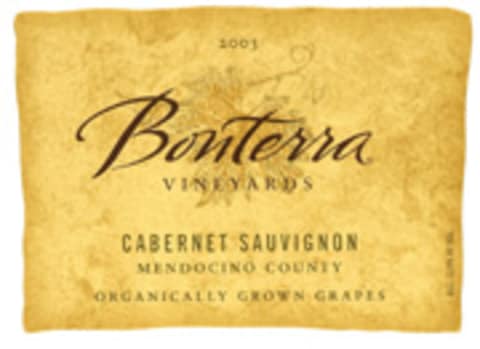 Bonterra Organically Grown Cabernet Sauvignon 2003
Ships Thu, Oct 29
Limit
0
bottles
per customer
Winemaker Notes
Subtle changes in this vintage will be noticeable to friends of Bonterra. We've tightened our vineyard focus, moving from a North Coast to a Mendocino appellation. And we've continued to use and increase Syrah as our unconventional blending grape, giving intriguing elements of spice and deep rich flavors sometimes not so attainable from the more traditional Merlot. Over the past six years we've been privileged to work with Christian LeSommer, formerly of Chateau LaTour, to chisel our Cabernet and refine away the rough edges to allow an elegant, Old World styled Cabernet to emerge. While definitely influenced by the insights Christian brings from Bordeaux, this Cabernet offers New World aromas of cherry and raspberry, with spicy notes of nutmeg and creamy vanilla (French Vanilla, of course). The wine enters with juicy red berry flavors, and offers a soft, yet full and rich mouthfeel with a wonderful finish worthy of an exhibitionist. You'll find velvety chocolate in this finish, a rich contrast to dark fruit, such as plum. Call me traditional, but a bone-in Sirloin topped with Blue Cheese butter and a glass of Bonterra Cabernet Sauvignon would make my day.
- Bob Blue, Winemaker
Blend: Cabernet Sauvignon 91%, Syrah 9%
Organically farmed and masterfully crafted, Bonterra Organic Vineyards epitomizes wines that are perfectly in tune with nature. A celebration of farm-fresh flavors, the portfolio features wines coaxed from the earth by careful farming practices carried out on a dynamic network of estate and partner farms throughout California. In addition to a widely available collection of organically farmed wines that includes Chardonnay, Sauvignon Blanc, Cabernet Sauvignon, Merlot, Equinox Red and Rosé, Bonterra crafts a trio of sought-after single-vineyard offerings from estate Biodynamic® vineyards in Mendocino County, and The Elysian Collection Merlot, an elevated offering from organic grapes.
Long before organic produce filled the shelves of neighborhood groceries, the dedicated team at Bonterra was committed to organic and Biodynamic® farming because they passionately believe that farms teeming with biodiversity—encompassing vines, insects and wildlife, and healthy soils—yield organic grapes leading to better wines. Whether supporting the health of honeybees with hive housing in its organic vineyards, trading tractors for sheep to maintain vineyards during the winter months, or giving back to the future of agriculture through educational outreach and shared knowledge, Bonterra strives to leave behind a legacy of thoughtful winegrowing inspired by the potential of nature itself. 
HEI1250877_2003
Item#
86678