Bonny Doon Muscat Vin de Glaciere (half-bottle) 2004
Out of Stock

(was $19.99)
Winemaker Notes
We have a couple of new tricks up our sleeves this year with Muscat. We have added a more generous proporion of malvasia, including a lot that was concentrated by a different technique - the very romantic process of reverse osmosis. We also fermented the various lots with differing yeast strains in the hopes of attaining incrementally greater complexity, using one yeastie-beastie of the Teutonic stripe and on sauternais, recapitulating the age-old dichotomous agon but in this case, it was the microflora who were battling it out. Once again we trot out all of the usual suspects: pineapple, peach, pear and litchi. A rich, decadent style, not unlike the 1998, we invite you to chill with another classic wine of the icebox.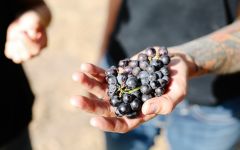 While Bonny Doon Vineyard began with the (in retrospect) foolish attempt to replicate Burgundy in California, Randall Grahm realized early on that he would have far more success creating more distinctive and original wines working with Rhône varieties in the Central Coast of California. The key learning here (achieved somewhat accidentally but fortuitously) was that in a warm, Mediterranean climate, it is usually blended wines that are most successful. In 1986 Bonny Doon Vineyard released the inaugural vintage (1984) of Le Cigare Volant, an homage to Châteauneuf-du-Pape, and this continues as the winery's flagship/starship brand.
Since then, Bonny Doon Vineyard has enjoyed a long history of innovation – the first to truly popularize Rhône grapes in California, to successfully work with cryo-extraction for sundry "Vins de Glacière, the first to utilize microbullage in California, the first to popularize screwcaps for premium wines, and, quite significantly, the first to embrace true transparency in labeling with its ingredient labeling initiative. The upside of all of this activity has brought an extraordinary amount of creativity and research to the California wine scene; the doon-side, as it were, was perhaps an ever so slight inability to focus, to settle doon, if you will, into a single, coherent direction.1
Bonny Doon Vineyard grew and grew with some incredibly popular brands (Big House, Cardinal Zin and Pacific Rim) until it became the 28th largest winery in the United States. Randall came to the realization – better late than Nevers – that he had found that the company had diverged to a great extent from his original intention of producing soulful, distinctive and original wines, and that while it was amusing to be able to get restaurant reservations almost anywhere (the only real tangible perk he was able to discern from the vast scale of the operation), it was time to take a decisive course correction. With this in mind, he sold off the larger brands (Big House and Cardinal Zin) in 2006 and Pacific Rim in 2010.
In the intervening years, the focus of the winery has been to spend far more time working with vineyards in improving their practices, as well as on making wines with a much lighter touch – using indigenous yeast whenever possible, and more or less eschewing vinous maquillage, (at least not to Tammy Faye Bakker-like levels). Recently, Randall has purchased an extraordinary property in San Juan Bautista, which he calls Popelouchum, (the Mutsun word for "paradise,") where he is profoundly intent on producing singular wines expressive of place. There are also very grand plans afoot to plant a dry-farmed Estate Cigare vineyard.
The largest and perhaps most varied of California's wine-growing regions, the Central Coast produces a good majority of the state's wine. This vast California wine district stretches from San Francisco all the way to Santa Barbara along the coast, and reaches inland nearly all the way to the Central Valley.
Encompassing an extremely diverse array of climates, soil types and wine styles, it contains many smaller sub-AVAs, including San Francisco Bay, Monterey, the Santa Cruz Mountains, Paso Robles, Edna Valley, Santa Ynez Valley and Santa Maria Valley.
While the Central Coast California wine region could probably support almost any major grape varietiy, it is famous for a few Central Coast reds and whites. Pinot Noir, Chardonnay, Cabernet Sauvignon and Zinfandel are among the major ones. The Central Coast is home to many of the state's small, artisanal wineries crafting unique, high-quality wines, as well as larger producers also making exceptional wines.
Apart from the classics, we find many regional gems of different styles.
Late harvest wines are probably the easiest to understand. Grapes are picked so late that the sugars build up and residual sugar remains after the fermentation process. Ice wine, a style founded in Germany and there referred to as eiswein, is an extreme late harvest wine, produced from grapes frozen on the vine, and pressed while still frozen, resulting in a higher concentration of sugar. It is becoming a specialty of Canada as well, where it takes on the English name of ice wine.
Vin Santo, literally "holy wine," is a Tuscan sweet wine made from drying the local white grapes Trebbiano Toscano and Malvasia in the winery and not pressing until somewhere between November and March.
Rutherglen is an historic wine region in northeast Victoria, Australia, famous for its fortified Topaque and Muscat with complex tawny characteristics.
WWH31BGLM91_2004
Item#
82965