Bonny Doon Malvasia Bianca 2001
Out of Stock

(was $13.99)
Winemaker Notes
We took malvasia grapes this year from a different block of San Bernabe Vineyard and were thrilled to observe that they ripened a little sooner than normal, hence retaining greater natural acidity. We left just the teensiest scosh of residual sugar (.4ish) to help counter-balance the very tingling acidity; the wine is definitely more electrically vibrant for these two forces working in dynamic balance. I have dilated before - thoroughly off the record, of course - on the putative aromatherapeutic, calmative qualities of malvasia and continue to recommend to harried maitres d' everywhere that they consider pouring a nice tall glass of this to customers cooling their heels, stacked up like so many 757s over JFK waiting for a table. The wine still smells like litchi and lavender, is still amazingly crisp and refreshing and is still the perfect foil for crisply sautéed sea creatures.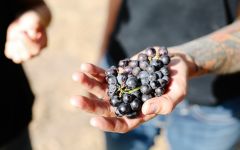 While Bonny Doon Vineyard began with the (in retrospect) foolish attempt to replicate Burgundy in California, Randall Grahm realized early on that he would have far more success creating more distinctive and original wines working with Rhône varieties in the Central Coast of California. The key learning here (achieved somewhat accidentally but fortuitously) was that in a warm, Mediterranean climate, it is usually blended wines that are most successful. In 1986 Bonny Doon Vineyard released the inaugural vintage (1984) of Le Cigare Volant, an homage to Châteauneuf-du-Pape, and this continues as the winery's flagship/starship brand.
Since then, Bonny Doon Vineyard has enjoyed a long history of innovation – the first to truly popularize Rhône grapes in California, to successfully work with cryo-extraction for sundry "Vins de Glacière, the first to utilize microbullage in California, the first to popularize screwcaps for premium wines, and, quite significantly, the first to embrace true transparency in labeling with its ingredient labeling initiative. The upside of all of this activity has brought an extraordinary amount of creativity and research to the California wine scene; the doon-side, as it were, was perhaps an ever so slight inability to focus, to settle doon, if you will, into a single, coherent direction.1
Bonny Doon Vineyard grew and grew with some incredibly popular brands (Big House, Cardinal Zin and Pacific Rim) until it became the 28th largest winery in the United States. Randall came to the realization – better late than Nevers – that he had found that the company had diverged to a great extent from his original intention of producing soulful, distinctive and original wines, and that while it was amusing to be able to get restaurant reservations almost anywhere (the only real tangible perk he was able to discern from the vast scale of the operation), it was time to take a decisive course correction. With this in mind, he sold off the larger brands (Big House and Cardinal Zin) in 2006 and Pacific Rim in 2010.
In the intervening years, the focus of the winery has been to spend far more time working with vineyards in improving their practices, as well as on making wines with a much lighter touch – using indigenous yeast whenever possible, and more or less eschewing vinous maquillage, (at least not to Tammy Faye Bakker-like levels). Recently, Randall has purchased an extraordinary property in San Juan Bautista, which he calls Popelouchum, (the Mutsun word for "paradise,") where he is profoundly intent on producing singular wines expressive of place. There are also very grand plans afoot to plant a dry-farmed Estate Cigare vineyard.
The largest and perhaps most varied of California's wine-growing regions, the Central Coast produces a good majority of the state's wine. This vast California wine district stretches from San Francisco all the way to Santa Barbara along the coast, and reaches inland nearly all the way to the Central Valley.
Encompassing an extremely diverse array of climates, soil types and wine styles, it contains many smaller sub-AVAs, including San Francisco Bay, Monterey, the Santa Cruz Mountains, Paso Robles, Edna Valley, Santa Ynez Valley and Santa Maria Valley.
While the Central Coast California wine region could probably support almost any major grape varietiy, it is famous for a few Central Coast reds and whites. Pinot Noir, Chardonnay, Cabernet Sauvignon and Zinfandel are among the major ones. The Central Coast is home to many of the state's small, artisanal wineries crafting unique, high-quality wines, as well as larger producers also making exceptional wines.
Persistent with jasmine aromas and tropical fruit flavors, both grape and name are far-reaching. Approximately 70 registered grapes contain Malvasia as part of their name or are listed as a synonym. The French call it Malvoisie, Germans call it Malvasier, British say Malmsey and confusingly one variety double-times under the alias, Boal, on the island of Madeira. In any case, Italy has more forms of Malvasia than any other country: Malvasia Bianca di Candia, Malvasia di Candia Aromatico and the red-skinned Malvasia di Casorzo from Piedmont. The list goes on. Somm Secret—The actual name could stem from an Italian mispronunciation of Monemvasia, a southern Greek port.
WWH31BMAB2_2001
Item#
51598