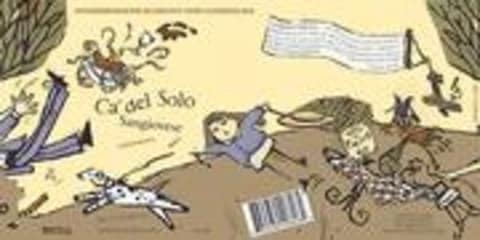 Bonny Doon Ca' del Solo Sangiovese 2000
Ships Sun, Sep 29
Limit
0
bottles
per customer
Winemaker Notes
This sangiovese has a marvelous raspberry jam-like aroma, well this side of prunes and raisins. We added a little charbono to the blend, which really pumps up the fruitiness, as if this little bomba di frutta really needed any more primary fruit. The wine will be the perfect complement to bollito misto or to any funeral baked meats that might coldly furnish forth the wedding table.
Based in Santa Cruz, heartland of New Age thinking and deferred transition to adulthood, Bonny Doon Vineyard has a not-so surprising history of idealism and innovation. Founded by Randall Grahm in the bucolic hamlet of Bonny Doon, California, in 1983, we're known for strikingly original wines made from lesser-known (though no less noble) grape varieties, the vinous Ugly Ducklings. Bonny Doon Vineyard made its mark with pioneering work with Rhône varieties, innovative production techniques, and imaginative marketing that has, truth be told, sometimes been too clever by half. Since the adoption of biodynamic farming practices in 2004 and the radical slimming down of product portfolio and case production in 2006 (with a concomitant greater degree of focus and attention to detail), the wines evince a more complex expression of varietal character, a more noticeable sense of organization, and a greater degree of life-force.
Come visit our Tasting Room, located at 450 Highway 1, Davenport, CA, about 10 miles north of Santa Cruz. This is a wonderful intimate space that is the perfect venue to enjoy our doon-home wines, even if your home is perhaps Alpha Centauri. We're here to serve mankind (wines that are out of this world).
VIN11608_2000
Item#
55611