Bonny Doon Beeswax Vineyard Picpoul 2018
Out of Stock

(was $17.99)
Winemaker Notes
This is our seventh vintage of Picpoul from the Beeswax vineyard, and very confidently I'd suggest that it is one of our best efforts to date. Picpoul or "lip-stinger" is known, of course, for its tingling acidity, but coupled with its singular savoriness, it creates a dramatic sensation on the palate. (The '18 is perhaps a little bit softer than vendanges d'antan.) I know that it's impossible to smell the sensation of saltiness, but the nose of our Picpoul is maritime, coupled with a discreet suggestion of peaches, wildflowers and the (we really can't help it, but it's in there) ubiquitous fragrance of beeswax. The '18 seems to possess a unique suggestion of spearmint, which is a fragrance that seems to pop up every now and then in other varieties grown at Beeswax Vineyard. This wine is utterly brilliant with the briniest oysters you can find or with Dungeness crab.
Critical Acclaim
All Vintages
The 2018 Bonny Doon Vineyard Picpoul is a serious wine that is fun to imbibe. TASTING NOTES: This wine is clean, fresh, and crisp. Its penetrating aromas and flavors of tart citrus and frisky minerality should pair nicely with seared scallops on a bed of al dente pasta. (Tasted: May 23, 2019, San Francisco, CA)
Aromatic and exotic, with apple dominating the nose; crisp and dry with a backdrop of mineral and spice. This obscure variety has suddenly become trendy, with good reason.
Light aromas of Pink Lady apples, ripe limes and chilled river water show on the nose of this bottling of the increasingly popular white Rhône grape. It's very textural on the palate, where grippy flavors of lemon pith and sour apple reign.
View More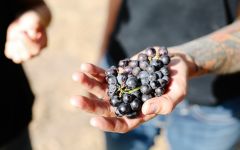 While Bonny Doon Vineyard began with the (in retrospect) foolish attempt to replicate Burgundy in California, Randall Grahm realized early on that he would have far more success creating more distinctive and original wines working with Rhône varieties in the Central Coast of California. The key learning here (achieved somewhat accidentally but fortuitously) was that in a warm, Mediterranean climate, it is usually blended wines that are most successful. In 1986 Bonny Doon Vineyard released the inaugural vintage (1984) of Le Cigare Volant, an homage to Châteauneuf-du-Pape, and this continues as the winery's flagship/starship brand.
Since then, Bonny Doon Vineyard has enjoyed a long history of innovation – the first to truly popularize Rhône grapes in California, to successfully work with cryo-extraction for sundry "Vins de Glacière, the first to utilize microbullage in California, the first to popularize screwcaps for premium wines, and, quite significantly, the first to embrace true transparency in labeling with its ingredient labeling initiative. The upside of all of this activity has brought an extraordinary amount of creativity and research to the California wine scene; the doon-side, as it were, was perhaps an ever so slight inability to focus, to settle doon, if you will, into a single, coherent direction.1
Bonny Doon Vineyard grew and grew with some incredibly popular brands (Big House, Cardinal Zin and Pacific Rim) until it became the 28th largest winery in the United States. Randall came to the realization – better late than Nevers – that he had found that the company had diverged to a great extent from his original intention of producing soulful, distinctive and original wines, and that while it was amusing to be able to get restaurant reservations almost anywhere (the only real tangible perk he was able to discern from the vast scale of the operation), it was time to take a decisive course correction. With this in mind, he sold off the larger brands (Big House and Cardinal Zin) in 2006 and Pacific Rim in 2010.
In the intervening years, the focus of the winery has been to spend far more time working with vineyards in improving their practices, as well as on making wines with a much lighter touch – using indigenous yeast whenever possible, and more or less eschewing vinous maquillage, (at least not to Tammy Faye Bakker-like levels). Recently, Randall has purchased an extraordinary property in San Juan Bautista, which he calls Popelouchum, (the Mutsun word for "paradise,") where he is profoundly intent on producing singular wines expressive of place. There are also very grand plans afoot to plant a dry-farmed Estate Cigare vineyard.
Named after the dramatic, seasonal river of rain and snowmelt that cuts through the upper elevations of the Santa Lucia Mountains, the Arroyo Seco AVA extends east from the resultant mountain gorge, and into the rural and warm Salinas Valley. During the growing season, cool and damp Pacific Ocean air penetrates the gorge and flows into the valley, creating a cool evening respite for vineyards after a hot summer day. This natural water-release has also created a subterranean aquifer, which helps set the foundation of the AVA's boundaries and supplies the vineyards with water.
Arroyo Seco was actually home to the first commercial vineyard in California, called Mission Ranch, which was owned and propogated by the Mirassou family in the 1960s.
Chardonnay is most widely grown here. But as one of Monterey's warmer regions, Arroyo Seco enjoys the highest praise for its reds, namely Bordeaux blends.
Arroyo Seco is one of the oldest AVAs in California, its status granted in the early 1980s, and also remains one of its smallest.
Picpoul remains one of the few wines in France named for the grape more than the place; Picpoul de Pinet refers to the white wines made exclusively from the grape called Piquepoul Blanc in the Languedoc communes of Pinet, Mèze, Florensac, Castelnau-de-Guers, Montagnac and Pomérols. Confusingly, the spelling, Piquepoul, can be used for the variety in all other appellations except for those named above. The grape is ubiquitous throughout the Languedoc. Somm Secret—Pomérols is a commune in the Languedoc-Rousillon region in the south of France and has nothing to do with the Bordeaux village of virtually the same name, Pomerol.
CHMBND2201018_2018
Item#
523528