Product Details
---
Varietal
---
Region
---
Producer
---
Vintage
2014
---
Size
750ML
---
ABV
13%
---
Features
Green Wine
---
Winemaker Notes
Very pale chartreuse color. In the nose, citrus (mostly lime and tangerine) peel and leaf with a vague hint of peach and pineapple. Impressively bracing natural acidity. The wine has come together nicely since bottling, but is still pretty tightly wound, and certainly will keep its freshness for several years to come. Still absolutely the perfect wine to serve with cracked crab.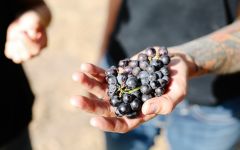 While Bonny Doon Vineyard began with the (in retrospect) foolish attempt to replicate Burgundy in California, Randall Grahm realized early on that he would have far more success creating more distinctive and original wines working with Rhône varieties in the Central Coast of California. The key learning here (achieved somewhat accidentally but fortuitously) was that in a warm, Mediterranean climate, it is usually blended wines that are most successful. In 1986 Bonny Doon Vineyard released the inaugural vintage (1984) of Le Cigare Volant, an homage to Châteauneuf-du-Pape, and this continues as the winery's flagship/starship brand.
Since then, Bonny Doon Vineyard has enjoyed a long history of innovation – the first to truly popularize Rhône grapes in California, to successfully work with cryo-extraction for sundry "Vins de Glacière, the first to utilize microbullage in California, the first to popularize screwcaps for premium wines, and, quite significantly, the first to embrace true transparency in labeling with its ingredient labeling initiative. The upside of all of this activity has brought an extraordinary amount of creativity and research to the California wine scene; the doon-side, as it were, was perhaps an ever so slight inability to focus, to settle doon, if you will, into a single, coherent direction.1
Bonny Doon Vineyard grew and grew with some incredibly popular brands (Big House, Cardinal Zin and Pacific Rim) until it became the 28th largest winery in the United States. Randall came to the realization – better late than Nevers – that he had found that the company had diverged to a great extent from his original intention of producing soulful, distinctive and original wines, and that while it was amusing to be able to get restaurant reservations almost anywhere (the only real tangible perk he was able to discern from the vast scale of the operation), it was time to take a decisive course correction. With this in mind, he sold off the larger brands (Big House and Cardinal Zin) in 2006 and Pacific Rim in 2010.
In the intervening years, the focus of the winery has been to spend far more time working with vineyards in improving their practices, as well as on making wines with a much lighter touch – using indigenous yeast whenever possible, and more or less eschewing vinous maquillage, (at least not to Tammy Faye Bakker-like levels). Recently, Randall has purchased an extraordinary property in San Juan Bautista, which he calls Popelouchum, (the Mutsun word for "paradise,") where he is profoundly intent on producing singular wines expressive of place. There are also very grand plans afoot to plant a dry-farmed Estate Cigare vineyard.
Bright and aromatic with distinctive floral and fruity characteristics, Albariño has enjoyed a surge in popularity and an increase in plantings over the last couple of decades. Thick skins allow it to withstand the humid conditions of its homeland, Rías Baixas, Spain, free of malady, and produce a weighty but fresh white. Somm Secret—Albariño claims dual citizenship in Spain and Portugal. Under the name Alvarinho, it thrives in Portugal's northwestern Vinho Verde region, which predictably, borders part of Spain's Rías Baixas.
A geographic and climatic paradise for grape vines, Monterey is a part of the greater Central Coast AVA and contains within it five smaller sub-appellations, including Arroyo Seco, San Lucas, San Bernabe, Hames Valley and the famous Santa Lucia Highlands. The climate is relatively warm but tempered by cool, coastal winds, allowing the regions in Monterey County an exceptionally long growing season. Bud break often happens two weeks sooner and harvest tends to be two weeks later compared to other surrounding regions.
Monterey's coastal side, where the cooling ocean fog allows grapes to develop a perfect sugar-acid balance, excels in the production of Chardonnay, Pinot Noir and Riesling. Warmer, inland subzones are home to fleshy, concentrated and full-bodied reds like Cabernet Sauvignon, Merlot and Zinfandel.
Chardonnay, covering about 40% of vineyard acreage, is the most widely planted grape in all of Monterey County.
CHMBND1101014_2014
Item#
139232