Bonny Doon A Proper Pink 2015
Product Details
---
Varietal
---
Region
---
Producer
---
Vintage
2015
---
Size
750ML
---
ABV
13%
---
Features
Screw Cap
---
Winemaker Notes
So, what's Tannat like (about a flamboyant and slightly (Im)Proper Pink)? It's a relatively dark brose, having languidly experienced several hours in contact with its skins before pressing on skins. But it is really the Cabernet Franc that carries the aromatic day. The nose shows the sensuality of a fully ripened lychee, pink peppercorn, with a suggestion of the scent of the hard candies one formerly found at at an American General Store. The palate is full-bodied and slightly fleshy. Flavors of cherry, watermelon, pink grapefruit, and black raspberry abound. The finish is savory, mentally taking us back to Asia and the faintest suggestion of crispy pork skin. Serve well chilled to preserve brightness and acidity.
Blend: 69% Tannat, 31% Cabernet Franc.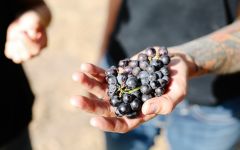 While Bonny Doon Vineyard began with the (in retrospect) foolish attempt to replicate Burgundy in California, Randall Grahm realized early on that he would have far more success creating more distinctive and original wines working with Rhône varieties in the Central Coast of California. The key learning here (achieved somewhat accidentally but fortuitously) was that in a warm, Mediterranean climate, it is usually blended wines that are most successful. In 1986 Bonny Doon Vineyard released the inaugural vintage (1984) of Le Cigare Volant, an homage to Châteauneuf-du-Pape, and this continues as the winery's flagship/starship brand.
Since then, Bonny Doon Vineyard has enjoyed a long history of innovation – the first to truly popularize Rhône grapes in California, to successfully work with cryo-extraction for sundry "Vins de Glacière, the first to utilize microbullage in California, the first to popularize screwcaps for premium wines, and, quite significantly, the first to embrace true transparency in labeling with its ingredient labeling initiative. The upside of all of this activity has brought an extraordinary amount of creativity and research to the California wine scene; the doon-side, as it were, was perhaps an ever so slight inability to focus, to settle doon, if you will, into a single, coherent direction.1
Bonny Doon Vineyard grew and grew with some incredibly popular brands (Big House, Cardinal Zin and Pacific Rim) until it became the 28th largest winery in the United States. Randall came to the realization – better late than Nevers – that he had found that the company had diverged to a great extent from his original intention of producing soulful, distinctive and original wines, and that while it was amusing to be able to get restaurant reservations almost anywhere (the only real tangible perk he was able to discern from the vast scale of the operation), it was time to take a decisive course correction. With this in mind, he sold off the larger brands (Big House and Cardinal Zin) in 2006 and Pacific Rim in 2010.
In the intervening years, the focus of the winery has been to spend far more time working with vineyards in improving their practices, as well as on making wines with a much lighter touch – using indigenous yeast whenever possible, and more or less eschewing vinous maquillage, (at least not to Tammy Faye Bakker-like levels). Recently, Randall has purchased an extraordinary property in San Juan Bautista, which he calls Popelouchum, (the Mutsun word for "paradise,") where he is profoundly intent on producing singular wines expressive of place. There are also very grand plans afoot to plant a dry-farmed Estate Cigare vineyard.
Whether it's playful and fun or savory and serious, most rosé today is not your grandmother's White Zinfandel, though that category remains strong. Pink wine has recently become quite trendy, and this time around it's commonly quite dry. Since the pigment in red wines comes from keeping fermenting juice in contact with the grape skins for an extended period, it follows that a pink wine can be made using just a brief period of skin contact—usually just a couple of days. The resulting color depends on grape variety and winemaking style, ranging from pale salmon to deep magenta.
Responsible for the vast majority of American wine production, if California were a country, it would be the world's fourth largest wine-producing nation. The state's diverse terrain and microclimates allow for an incredible range of red wine styles, and unlike tradition-bound Europe, experimentation is more than welcome here. California wineries range from tiny, family-owned boutiques to massive corporations, and price and production are equally varied. Plenty of inexpensive bulk wine is made in the Central Valley area, while Napa Valley is responsible for some of the world's most prestigious and expensive "cult" wines.
Each American Viticultural Area (AVA) and sub-AVA of has its own distinct personality, allowing California to produce red wine of every fashion: from bone dry to unctuously sweet, still to sparkling, light and fresh to rich and full-bodied. In the Napa Valley, Cabernet Sauvignon, Merlot, Chardonnay and Sauvignon Blanc dominate vineyard acreage. Sonoma County is best known for Chardonnay, Pinot Noir, Cabernet Sauvignon, Rosé and Zinfandel. The Central Coast has carved out a niche with Rhône Blends based on Grenache and Syrah, while Mendocino has found success with cool climate varieties such as Pinot noir, Riesling and Gewürztraminer. With all the diversity that California wine has to offer, any wine lover will find something to get excited about here.
CHMBND1901015_2015
Item#
155320