Bombay Gin
Out of Stock

(was $21.99)
Distiller Notes
Based upon one of the world's oldest gin recipes, Bombay Dry Gin was the world's first distilled London Dry Gin using a unique vapor-infusion process. Eight hand-selected botanicals combine perfectly to create a balanced flavor with notes of juniper, and citrus, along with floral and earthy accents. Bombay Dry Gin makes a great addition to any cocktail and is a cornerstone of an at-home bar.
Ordinary gins are distilled by heating the spirit and botanicals together in specially designed stills. To produce Bombay, the botanicals are placed inside individual compartments in a rack or basket. By positioning the basket at the end of the swan neck near the condenser, the spirit vapor passing through the rack acquires the flavor of the selected natural ingredients. It's this unique double distillation process that gives Bombay its soft, light, distinctive flavor.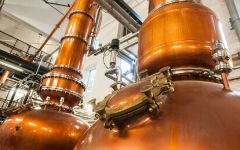 Bombay's spirit of innovation and inspiration is not only embodied in its gin, but in its Master of Botanicals himself, Ivano Tonutti. Travelling to the four corners of the world, he's developed personal relationships with each and every supplier, some going back decades. As Ivano himself says, this absolute attention to detail is "simply about maintaining the standard of care behind Bombay's gin".
Creating the finest gin possible takes the highest quality raw ingredients. Bombay uses up to 12 precious botanicals suspended above the spirit in perforated copper baskets during distillation. That way, as the heated spirit vapors rise, they're gently infused with all the rich aromatic flavors the botanicals release.
While ordinary gins boil their botanicals directly in the spirit to achieve their flavor, the wonderfully distinctive taste of the gin is created using the Vapour Infusion process. We still use original Carterhead stills – Tom and Mary – from the 1830s, but the team has now added two state-of-the-art 12,000 litre copper pot stills – Henry and Victoria – to Bombay's refurbished original stills.
Enjoying an enthusiastic resurgence in modern cocktail culture, Gin, a.k.a. 'Dutch Courage,' was originally touted as a 16th century cure for cowardice and stomach ailments. Arguably the broadest and most dynamic category of spirits in terms of flavor profiles and production styles, Gin is a distilled grain spirit that derives its primary flavor from juniper berries and secondary flavors from a dazzling array of spices, herbs, fruits and botanicals. It is both produced and enjoyed all around the world and is most commonly mixed into cocktails such as the Martini or simply added to tonic water.