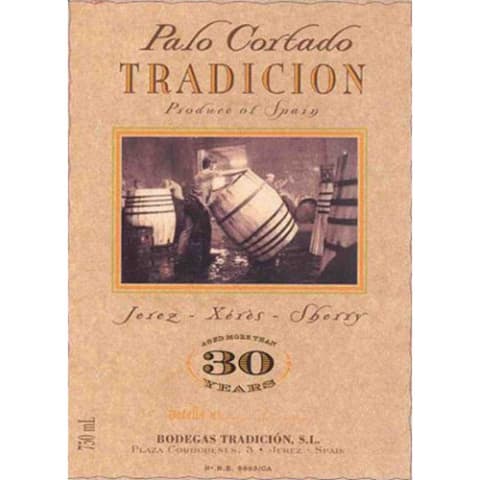 Bodegas Tradicion Palo Cortado VORS
Ships Fri, Dec 21
Limit
0
bottles
per customer
Add to Cart
Limit Reached
Winemaker Notes
This rarest dry-wine style, made with 100% Palomino fino, exhibits characteristics of both Amontillado and Oloroso, in its perfume and body. A very special selection of wines is aged in the traditional Solera system for many decades in seasoned American oak barrels.
Critical Acclaim
All Vintages
Tradición has built a strong reputation as caretaker of some of the region's most unusual old wines. This Palo Cortado, for example, comes from wines an average of 32 years old, in an oxidative process that seems to have removed everything superfluous, leaving only the essentials. It smells and tastes of sea breezes and albariza soil as white as chalk. Intense and slightly spicy, it attacks the palate with its vibrant acidity, the firm texture filled out with notes of nuts and green olives. Open the bottle to drink it over the course of a month, or maybe a year. Keep it in a cool, dark place and see what wonders oxygen will bring.
A stylish palo cortado, with orange blossom, dried nectarine, green tea, ginger and date notes threaded with a subtle iodine edge through the finish. Rather high-toned, but this dances along beautifully.
The N.V. Palo Cortado is a V.O.R.S. 32 years of age. Medium amber-colored, it has an exceptional bouquet of nuts, apricots, and marmalade. Intense and smooth textured, it has exceptional length.
View More
Bodegas Tradición is a new winery located in Jerez, but it holds the honor of being the successor of the oldest winery in the Jerez production area. The bodega was founded in 1998 by Mr. Joaquín Rivero, who decided to give continuity to the family tradition in the sherry industry.
The origins of Bodegas Tradicion are based on "Bodega CZ, J.M. Rivero", the oldest of the sherry houses known, with business dated back in 1650. J.M. Rivero was, by appointment, supplier of the Royal Houses of Spain and Portugal and the winery obtained many different international rewards.
The man who started the business was Mr. Diego Cabeza de Aranda y Zarco, who run the winery until Mr. Francisco Antonio de la Tixera joined him as a partner. The brand name CZ corresponds to the initials of the last names of the founder, and as the daughter of Mr. De la Tixera married Mr. Joaquín María Rivero y González, the winery was renamed as Bodegas J.M. Rivero keeping CZ as the main brand name.
The winery became a very successful business during the 19th century, and in 1855 the property had 3.188 wine casks and worldwide known brands, such as Solera Cabeza 1770, Tixera 1783, Trafalgar 1805, Viejo Oloroso C.Z, Pedro Ximénez del Carnero, San Enrique, Moscatel Menudo P.A.R., Pajarete Menchaca , Fino Viña del Barco, Fino Rivero, Mantecoso, Amontillado el Gallo, Brandy el Gallo, Brandy Montesión and Brandy Trafalgar.
Bodegas J.M. Rivero were sold in 1991 to another wine merchant, and immediately after Mr. Joaquín Rivero started planning the reinstatement of the family tradition through a new wine house and a different strategy: "The name Tradicion responds to a double requirement: continuance to the family wine business and a comeback of the traditional styles and the processes in the making of Jerez wines".
With this aim an old sherry warehouse was acquired and after restoration of the warehouse the first casks arrived to Bodegas Tradición. Pursuing of the best soleras at the time was the main objective of the company, as well as sourcing old and first-rate American oak casks to keep the wines which were selected by the team of experts who were hired to work in Bodegas Tradicion.
Mr. Jose Ignacio Domecq Fernández de Bobadilla, former oenologist from Domecq, and son of one of the most famous oenologists from the golden age of sherry, Mr. José Ignacio Domecq González -"The Nose"- was hired to select the wines to be purchased and to create the Tradicion Styles. Along with Mr. Domecq, Mr. José Blandino, their foreman, with almost 50 years of experience in Domecq was hired as well, in order to select the casks and to make all the necessary arrangements in the house to set up the soleras.
In 2007 a new warehouse was acquired next to the original ones, named Rincón Malillo, which will be housing their newest release, Fino Tradicion, a new solera which is being developed and will hold approximately 400 casks.
Known for bold reds, crisp whites and distinctive sparkling and fortified wines, Spain has embraced international varieties and wine styles while continuing to place primary emphasis on its own native grapes. Though the country's climate is diverse, it is generally hot and dry. In the center of the country lies a vast, arid plateau known as the Meseta Central, characterized by extremely hot summers and frequent drought.
Rioja is Spain's best-known region, where earthy, age-worthy reds are made from Tempranillo and Garnacha (Grenache). Rioja also produces rich, nutty whites from the local Viura grape.
Ribera del Duero is gaining ground with its single varietal Tempranillo wines, recognized for their concentration of fruit and opulence. Priorat, a sub-region of Catalonia, specializes in bold, full-bodied red blends of Garnacha (Grenache), Cariñena (Carignan), and often Syrah and Cabernet Sauvignon. Catalonia is also home to Cava, a sparkling wine made in the traditional method but from indigenous varieties. In the cool, damp northwest region of Galicia, refreshing white Albariño and Verdejo dominate.
Sherry, Spain's famous fortified wine, is produced in a wide range of styles from dry to lusciously sweet at the country's southern tip in Jerez.
Most sherries are dry and meant to pair alongside food but Americans have traditionally focused on the sweet ones. Sherry comes from only one place in the entire world, Andalucía, where the soil and unique seasonal changes give an unsurpassed character to its wines. The many styles change with the process of production, not really the grape, though certain styles are reserved for different grapes. The main grapes are Palomino, Pedro Ximénez and Muscat of Alexandria.
Pedro Ximénez can make some amazing sweet sherries. Cream Sherry is technically the sweetest, darkest style of Sherry, except sometimes Pedro Ximénez can be sweeter. The rest of the styles are dry and dependent on the action of flor, which are benevolent film-forming yeasts that make a floating veil on the surface of the wine and protect it from oxidation.
Fino, from Jerez, and Manzanilla, from the humid and cool coastal town of Sanlúcar de Barrameda, are the lightest styles and are meant to be drunk young.
Amontillado happens when a Fino's layer of flor fades and the wine starts to oxidize. Quite simply it is an aged Fino that has a darker color and richer palate.
When flor yeast dies unexpectedly, the result is Palo Cortado. Palo Cortado Sherries can behave like Amontillado on the palate but often show a greater balance of richness and delicacy.
Oloroso never develops flor but is oxidized for five to twenty five years and become aromatic and strong like a fine bourbon.