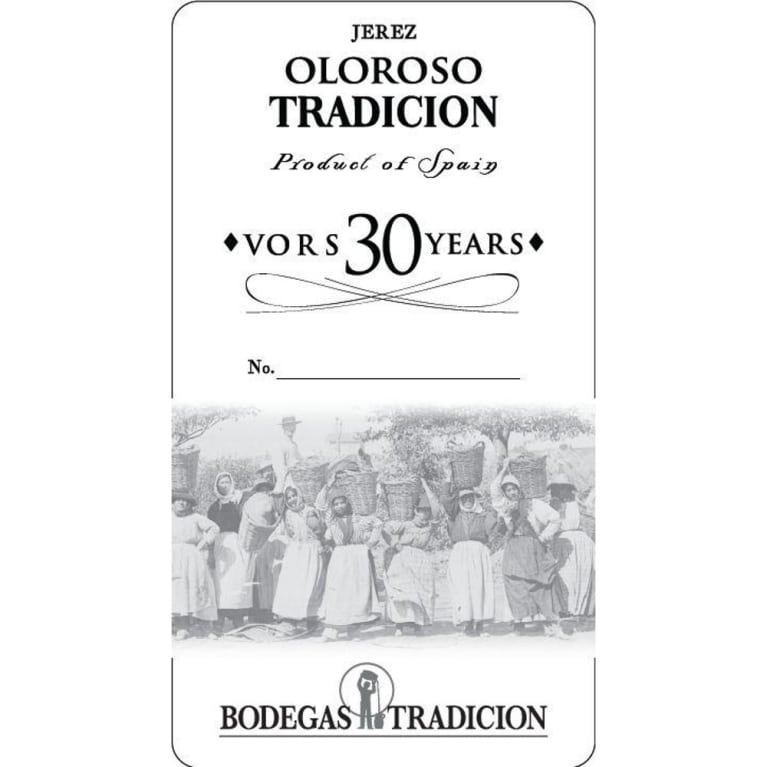 Bodegas Tradicion Oloroso VORS
Winemaker Notes
Oloroso is the traditional wine of Jerez, with an oxidative aging process (no biological aging under a flor, in total contact with oxygen in barrel).
Critical Acclaim
All Vintages
Almost plump, with a juicy core of orange, date, persimmon and toasted mango. The edges are dry, with bitter almond and musk accents lending contrast. The finish features an echoing iodine hint. Distinctive.
View More
Bodegas Tradición is a new winery located in Jerez, but it holds the honor of being the successor of the oldest winery in the Jerez production area. The bodega was founded in 1998 by Mr. Joaquín Rivero, who decided to give continuity to the family tradition in the sherry industry.
The origins of Bodegas Tradicion are based on "Bodega CZ, J.M. Rivero", the oldest of the sherry houses known, with business dated back in 1650. J.M. Rivero was, by appointment, supplier of the Royal Houses of Spain and Portugal and the winery obtained many different international rewards.
The man who started the business was Mr. Diego Cabeza de Aranda y Zarco, who run the winery until Mr. Francisco Antonio de la Tixera joined him as a partner. The brand name CZ corresponds to the initials of the last names of the founder, and as the daughter of Mr. De la Tixera married Mr. Joaquín María Rivero y González, the winery was renamed as Bodegas J.M. Rivero keeping CZ as the main brand name.
The winery became a very successful business during the 19th century, and in 1855 the property had 3.188 wine casks and worldwide known brands, such as Solera Cabeza 1770, Tixera 1783, Trafalgar 1805, Viejo Oloroso C.Z, Pedro Ximénez del Carnero, San Enrique, Moscatel Menudo P.A.R., Pajarete Menchaca , Fino Viña del Barco, Fino Rivero, Mantecoso, Amontillado el Gallo, Brandy el Gallo, Brandy Montesión and Brandy Trafalgar.
Bodegas J.M. Rivero were sold in 1991 to another wine merchant, and immediately after Mr. Joaquín Rivero started planning the reinstatement of the family tradition through a new wine house and a different strategy: "The name Tradicion responds to a double requirement: continuance to the family wine business and a comeback of the traditional styles and the processes in the making of Jerez wines".
With this aim an old sherry warehouse was acquired and after restoration of the warehouse the first casks arrived to Bodegas Tradición. Pursuing of the best soleras at the time was the main objective of the company, as well as sourcing old and first-rate American oak casks to keep the wines which were selected by the team of experts who were hired to work in Bodegas Tradicion.
Mr. Jose Ignacio Domecq Fernández de Bobadilla, former oenologist from Domecq, and son of one of the most famous oenologists from the golden age of sherry, Mr. José Ignacio Domecq González -"The Nose"- was hired to select the wines to be purchased and to create the Tradicion Styles. Along with Mr. Domecq, Mr. José Blandino, their foreman, with almost 50 years of experience in Domecq was hired as well, in order to select the casks and to make all the necessary arrangements in the house to set up the soleras.
In 2007 a new warehouse was acquired next to the original ones, named Rincón Malillo, which will be housing their newest release, Fino Tradicion, a new solera which is being developed and will hold approximately 400 casks.
Known for bold reds, crisp whites, easy-drinking rosés, distinctive sparkling, and fortified wines, Spain has embraced international varieties and wine styles while continuing to place primary emphasis on its own native grapes. Though the country's climate is diverse, it is generally hot and dry. In the center of the country lies a vast, arid plateau known as the Meseta Central, characterized by extremely hot summers and frequent drought.
Rioja is Spain's best-known region, where earthy, age-worthy Spanish reds are made from Tempranillo and Garnacha (Grenache). Rioja also produces rich, nutty whites from the local Viura grape.
Ribera del Duero is gaining ground for Spanish wines with its single varietal Tempranillo wines, recognized for their concentration of fruit and opulence. Priorat, a sub-region of Catalonia, specializes in bold, full-bodied Spanish red wine blends of Garnacha (Grenache), Cariñena (Carignan), and often Syrah and Cabernet Sauvignon. Catalonia is also home to Cava, a Spanish sparkling wine made in the traditional method but from indigenous varieties. In the cool, damp northwest Spanish wine region of Galicia, refreshing Spanish white Albariño and Verdejo dominate.
Sherry, Spain's famous fortified wine, is produced in a wide range of styles from dry to lusciously sweet at the country's southern tip in Jerez.
Sherry is a fortified wine that comes in many styles from dry to sweet. True Sherry can only be made in Andalucía, Spain where the soil and unique seasonal changes give a particular character to its wines. The process of production—not really the grape—determine the type, though certain types are reserved for certain grapes. Palomino is responsible for most dry styles; Pedro Ximénez and Muscat of Alexandria are used for blending or for sweet styles.
SRKESTRD44NV_0
Item#
278999