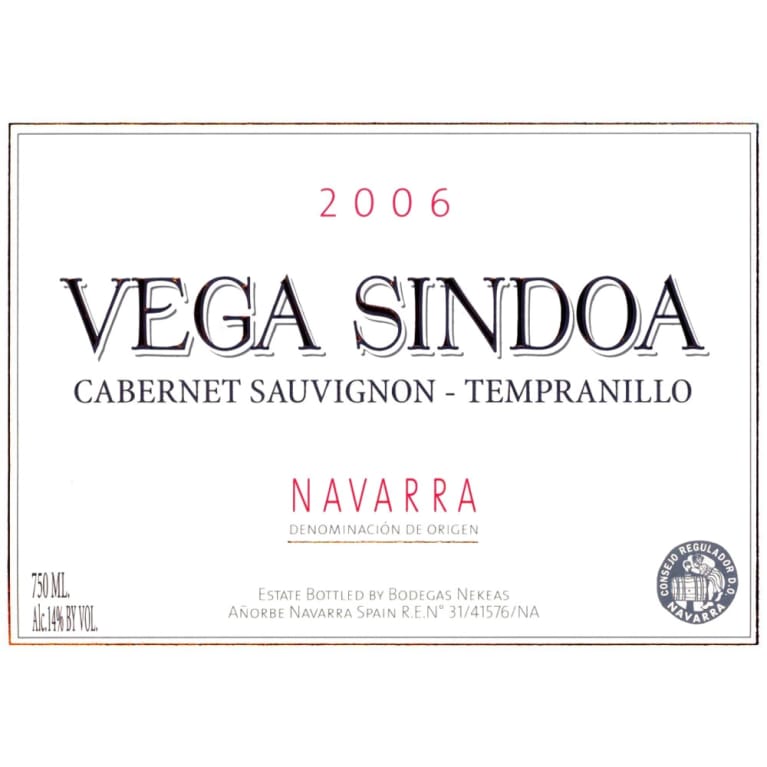 Bodegas Nekeas Cabernet-Tempranillo 2006
Out of Stock

(was $13.49)
Winemaker Notes
A blend of 60% Cabernet Sauvignon and 40% Tempranillo.
18-yr-old vines are planted on red clay soils, altitude of 1,500 ft. The Tempranillo grapes are 15-18 yrs. old, planted on white clay at an altitude of 1,650 ft. yielding 2.5 t/acre. The wine undergoes malolactic fermentation in French Allier oak, aged for 13 months in new-to-3-yr-old barrels of French Allier oak.
Although the scenic Valley of Valdizarbe has always been considered one of the best areas of production in Navarra, and viticulture here is centuries old (proved by documents from the 15th century unearthed in Añorbe), viticulture in this region was threatened during the 20th century due to depressed grape prices and extreme weather conditions.
Bodegas Nekeas became one of the first wineries to bring back life to the wine making Traditions of this valley. Although the winery has evolved in the three decades since its birth, the eight founding families: Lizarraga, Urricelqui, Sola, Lacunza, San Martin, Huarte, Erviti, and Echarte, remain committed to the care of the land and the tradition of wine making that was passed down from generation to generation.
The original leader of the group, Francisco San Martin, is still the acting president. Manuel Urricelqui is the technical director, and Concha Vecino is the general manager and winemaker.
The winery produces a diversity of high quality, affordable wines from both indigenous grapes and international varieties. Cultivation of Cabernet Sauvignon, Merlot, and Chardonnay on trellis mixes with old, gnarled vine Garnacha and Tempranillo. Nekeas' top wine, El Chapparal de Vega Sindoa, is one of Spain's most unique Garnachas. Navarra is a region that typically used its old vine Garnacha for the production of rosés, but Bodegas Nekeas decided to take its oldest single Garnacha vineyard, planted 80 years ago, and produce an Atlantic expression of Garnacha that is completely unique compared to the warmer climate expressions found elsewhere in Spain.
Just north of Spain's famous Rioja region, Navarra excels in the production of full and fruit-dominant reds and good quality, dry rosés. Garnacha holds most of the land under vine, with Tempranillo coming in second place.
With hundreds of red grape varieties to choose from, winemakers have the freedom to create a virtually endless assortment of blended red wines. In many European regions, strict laws are in place determining the set of varieties that may be used, but in the New World, experimentation is permitted and encouraged resulting in a wide variety of red wine styles. Blending can be utilized to enhance balance or create complexity, lending different layers of flavors and aromas. For example, a red wine blend variety that creates a fruity and full-bodied wine would do well combined with one that is naturally high in acidity and tannins. Sometimes small amounts of a particular variety are added to boost color or aromatics. Blending can take place before or after fermentation, with the latter, more popular option giving more control to the winemaker over the final qualities of the wine.
How to Serve Red Wine
A common piece of advice is to serve red wine at "room temperature," but this suggestion is imprecise. After all, room temperature in January is likely to be quite different than in August, even considering the possible effect of central heating and air conditioning systems. The proper temperature to aim for is 55° F to 60° F for lighter-bodied reds and 60° F to 65° F for fuller-bodied wines.
How Long Does Red Wine Last?
Once opened and re-corked, a bottle stored in a cool, dark environment (like your fridge) will stay fresh and nicely drinkable for a day or two. There are products available that can extend that period by a couple of days. As for unopened bottles, optimal storage means keeping them on their sides in a moderately humid environment at about 57° F. Red wines stored in this manner will stay good – and possibly improve – for anywhere from one year to multiple decades. Assessing how long to hold on to a bottle is a complicated science. If you are planning long-term storage of your reds, seek the advice of a wine professional.
HNYNKSVCT06C_2006
Item#
98327