Bodega Garzon Uruguay Single Vineyard Tannat 2016
Ships Sun, Aug 16
Limit
0
bottles
per customer
Winemaker Notes
This powerful Tannat is elegant with aromas of red fruits such as cherries and strawberries, black plums, tobacco, and black chocolate on a spicy background. It is juicy and fresh in the palate, and has a full-body with a lingering finish balanced with a touch of oak.
Critical Acclaim
All Vintages
Bodega Garzón planted its first 15 acres of vines in 2008, that hillside now the source of this wine. The strength of tannat is clearly expressed in the wine's firm tannins, followed by an avalanche of red fruit, ripe and lasting. Acidity provides freshness and tension and makes this ideal now with chivito—the Uruguayan steak sandwich with mozzarella, tomatoes and olives—though this red will continue to develop in the bottle.
Brambleberries, dark licorice, iodine, oyster shell, dark chocolate, vanilla, baking spices and plenty of tar. Full body, lots of dark fruit, juicy yet structured tannins and a chewy finish. Drink in 2020.
This dark-colored Tannat is intense and iron-fisted, with aromas of coconut and spicy black fruit. Blackberry, cassis, toast and peppercorn flavors run long on the palate, carrying to the generous finish. Drink through 2021.
Editors' Choice
The 2016 Tannat Single Vineyard (which is a step up in the lineup compared to the Reserva) was aged for 12 to 18 months in French wood (mostly in untoasted 5,000-liter casks). It comes in at 14.7% alcohol. This has a far lusher and riper demeanor than the Reserva this issue, but I sort of miss the finesse and elegance of the Reserva. Still, while this shows the effects of extended wood aging, the large barrels mean that the oak is under control. This keeps all of the Reserva's structure, adds to it and then adds much sexier fruit. It's a little unfocused at times, particularly with aeration, but this powerful Tannat has plenty of everything to go with the flavor. I'll be interested in seeing where this goes in time, but for now it is worth leaning up on it while noting that it does have some questions to answer in the cellar. For the price, though, you can't go wrong.
View More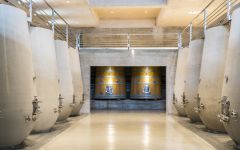 The Greatest Wines of the World are produced where the grape variety finds the ideal conditions to express itself in a natural and authentic way; like at Garzón, where we produce wines that result from the perfect integration of terroir and the different cultivated varieties.
Bodega Garzón is close to Punta del Este, La Barra and José Ignacio, the Uruguayan paradise with mesmerizing landscapes and the perfect combination of past, present and future. The charm of this sophisticated region, located among sloping hills that meet the sea is portrayed in the postcards of Garzón, a small town with 600 inhabitants which is home to tourists, farmers and local artists. This picturesque landscape offers the best environment for our vineyards, orchards and groves.
The wines love the terroir of Garzón with its ballast hills, a soft, stony soil and Atlantic breezes flowing over the vines that result in perfect conditions for creating elegant and complex wines. Therefore, Garzon products are the result of a careful selection of terroir which is appropriate for the development of premium wines and a wide range of grape varieties. This allows the best winemakers to experiment with a new environment and create optimal blends for a market increasingly eager for new wines. The resultant winemaking is focused on producing wines of the highest quality with a distinctive identity, strong personality and sense of place.
Considered one of the most environmentally sustainable countries in the world, Uruguay is also the fourth largest wine producing country in South America. But in contrast to its neighbors (Chile, Argentina and even Brazil) Uruguay keeps more in step with its European progenitors where land small holdings are most common. Most Uruguayan farms are tiny (averaging only about five hectares) and family-run, many dating back multiple generations. At this size, growers either make small amounts of wine for local consumption or sell grapes to a nearby winery. In all of Uruguay there are close to 3,500 growers but fewer than 300 wineries.
On these small plots of land, manual tending and harvesting, as well as low yields are favored; this small agricultural country has never had a need for large-scale chemical fertilizers or insecticides. Their thriving meat industry also follows the same standards: hormones have been banned since 1968 and today all Uruguayan beef is organic and grass-fed.
Uruguay's best vineyards are on the Atlantic coast, in Canelones and Maldonado (where cooling breezes lessen humidity) or found hugging its border with Argentina. With a climate similar to Bordeaux and soils clay-rich and calcareous, Uruguay is perfect for Tannat, a thick-skinned, red variety native to Southwest, France. A great Tannat from Uruguay will have no lack of rich red and black fruit, lots of sweet spice and a hefty structure. Sometimes winemakers blend Merlot or Pinot noir with Tannat to soften up its rough edges.
The best Uruguayan whites include Sauvignon blanc and Albarino.
A brooding, rustic and dark red originating from the Madiran region in Southwest, France, Tannat is named for its naturally high level of tannins.
The vines ended up in the hands of Basque settlers who are responsible for bringing the variety to Uruguay in the early 19th century—similar to Malbec's journey to Argentina, which actually happened after Tannat's trans-Atlantic journey, and by a Frenchman. Today the grape has become much more important in Uruguay, where it thrives in its warmer South American climate, making a wine still deep in color and bold in tannins but with riper, more forward fruit complemented by sweet autumn spice and roasting coffee aromas. Producers have more freedom here to blend the firm Tannat with softer varieties like Pinot noir or Merlot.
From its home in Madiran, Tannat produces bold, inky and granular wines, concentrated in black and blue fruit with aromas of wet earth, dried herbs and graphite. They're often composed of 100% Tannat but the law allows no less than 60%; the remainder of the blend can include Cabernet Sauvignon, Cabernet Franc and an indigenous grape called Fer.
Try Tannat with a big juicy steak, a rich Pasta Bolognese or any strong cheese.
PHXGANTSV15750_2016
Item#
522954