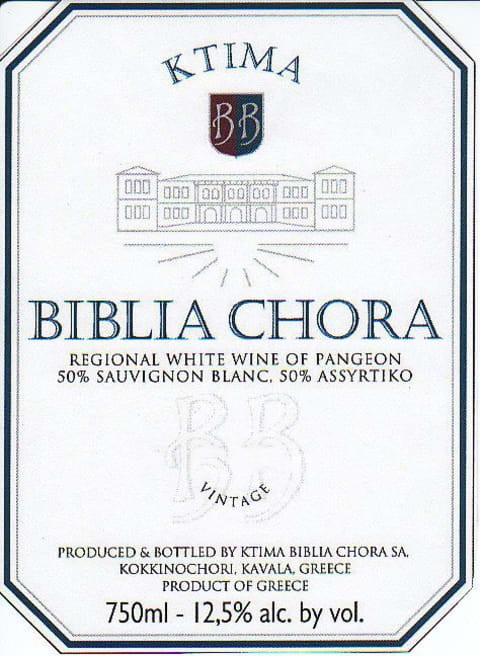 Biblia Chora Estate White 2019
Out of Stock

(was $28.99)
Winemaker Notes
The 2019 has a pale green-yellow color with stark clarity. Its impressive nose is a bundle of aromas that highlight the character of the varietal. Intense aromas of tropical fruit and grapefruit alternate with notes of lemony citrus to stimulate the senses. It has a rich, full-bodied and balanced flavor, with exceptional structure, refreshing acidity and big aromatic finish.
Ideal pairings include fried or grilled fish, seafood platters, green salads with fresh or dried fruit, grilled vegetables and white cheese platters.
Critical Acclaim
All Vintages
The 2019 Estate White is an unoaked 60/40 blend of Sauvignon Blanc and Assyrtiko coming in at 13.5% alcohol. As is often the case, the aromatic rush coupled with the freshness from this wine will wake you up on a warm day. The Sauvignon Blanc asserts itself strongly, as is typical here. This is green and grassy. There's a vegetal core. The Assyrtiko helps keep that under control. There's good acidity but also pretty good concentration for this style. It is well balanced. It lingers beautifully, the fruit lifted on the fairly tense finish. Not everyone will love this demeanor, but for those who like Sauvignon Blanc and fresh whites, this invigorating blend is a big winner.
View More
The Biblia Chora Estate was established in 2001 by two well known winemakers, Vassilis Tsaktsarlis and Vangelis Gerovassiliou. The two combined their love for wine and their experience in creating good quality wines to develop a model organic vineyard of 35 hectares at the foot of Mount Pageo in Kokkinochori, Kavala. The area has a long history of grape-growing and winemaking. In antiquity, a grape variety known as "biblia ambelos" was cultivated here for wine production and the region has been named "Biblia Chora" for this reason.
The estate vineyards are at an altitude of 400 m, on infertile and rocky soil, and cultivation follows the principles of organic farming, with particular respect for the environment. Other vine-growing tasks (e.g. leaf thinning, harvest) are done using traditional methods and without the use of any particularly high-tech means. The modern winery is built in the middle of the vineyard and has an area of 5,500 m2. It includes areas for vinification, bottling, aging in both barrels and bottles, wine-tasting, reception and hospitality for visitors, as well as a multi-purpose hall (for conferences and presentations). All of the areas reveal the good taste and philosophy of the owners with regard to quality and high aesthetics related to wine.
These days, the Biblia Chora Estate produces 11 wines: Ktima Biblia Chora White, Ktima Biblia Chora Rosé, Ktima Biblia Chora Red, Ktima Biblia Chora Chardonnay, Ktima Biblia Chora Merlot, Ovilos White, Ovilos Rosé, Ovilos Red, Ktima Biblia Chora Sweet, Areti White and Areti Red.
A picturesque Mediterranean nation with a rich wine culture dating back to ancient times, Greece has so much more to offer than just retsina. Between the mainland and the country's many islands, a wealth of Greek wine styles exists, made mostly from Greece's plentiful indigenous varieties. After centuries of adversity after Ottoman rule, the modern Greek wine industry took off in the late 20th century with an influx of newly trained winemakers and investments in winemaking technology.
The climate—generally hot Mediterranean—can vary a bit with latitude and elevation, and is mostly moderated by cool maritime breezes. Drought can be an issue for Greek wine during the long, dry summers, sometimes necessitating irrigation.
Over 300 indigenous grapes have been identified throughout Greece, and though not all of them are suitable for wine production, future decades will likely see a significant revival and refinement of many of these native Greek wine varieties. Assyrtiko, the crisp, saline Greek wine variety of the island of Santorini, is one of the most important and popular white wine varieties, alongside Roditis, Robola, Moschofilero, and Malagousia. Muscat is also widely grown for both sweet and dry wines. Prominent red wine varieties include full-bodied and fruity Agiorghitiko, native to Nemea; Macedonia's savory, tannic Xinomavro; and Mavrodaphne, used commonly to produce a Port-like fortified wine in the Peloponnese.
With hundreds of white grape varieties to choose from, winemakers have the freedom to create a virtually endless assortment of blended white wines. In many European regions, strict laws are in place determining the set of varieties that may be used in white wine blends, but in the New World, experimentation is permitted and encouraged. Blending can be utilized to enhance balance or create complexity, lending different layers of flavors and aromas. For example, a variety that creates a soft and full-bodied white wine blend, like Chardonnay, would do well combined with one that is more fragrant and naturally high in acidity. Sometimes small amounts of a particular variety are added to boost color or aromatics. Blending can take place before or after fermentation, with the latter, more popular option giving more control to the winemaker over the final qualities of the wine.
ANSEMBCWHT19_2019
Item#
770646