Besserat de Bellefon Bleu Brut
---
Product Details
---
Varietal
---
Region
---
Producer
---
Size
750ML
---
ABV
12.5%
---
Winemaker Notes
The color is a pure, bright straw yellow with copper glints. The delicate, lingering froth forms a fine creamy ring. Open on the nose. The first expression is of floral aromas and notes of dried flowers. The aromatic range reveals fruitier fragrances such as white peach and Mirabelle plum. Notes of hazelnut and praline develop at the finish. The attack is fresh and strong, then the wine reveals its full roundness, structure and smoothness. Notes of fresh fruit, apricot, pineapple and vineyard peach. The long, racy finish promises a bright future for this elegant, classy wine.
Blend: 45% Pinot Meunier, 35% Chardonnay, 20% Pinot Noir
Critical Acclaim
All Vintages
Refinement and charm converge in this blend of 45% Pinot Meunier, 35% Chardonnay, and 20% Pinot Noir, whose classic, well-defined nose of green apple, lemon, and yeastiness meets a palate with not only a touch more creaminess than expected but downright playful flavors of lemon meringue, orange blossom, and almonds spiced with tangerine zest, saffron, and sea salt. The slightly tongue-in-cheek tech sheet suggests you pair it with "three shrimp, six oysters, and a cornet of French fries," but we disagree—given the finish, you should have time for at least four shrimp.
Lightly creamy and bright, this Champagne impresses for its pleasing harmony, with citrusy acidity enlivening the white cherry, lime blossom, green almond and minerally saline notes. Disgorged July 2018. Drink now through 2021.
Disgorged in May 2017, the intensely yellow colored NV Cuvée des Moines Brut (green label) offers a rich and aromatic but fine and elegant nose with subtle mineral or chalky notes as well as citrus and tropical fruit (pineapples). Round, intense and slightly nutty, this is a full-bodied, charming, intense and elegant cuvée assembling Pinot Meunier with Chardonnay and Pinot Noir. This wine combines richness and hedonism with purity and precision. It has a long, sharp, well-defined finish. Excellent in quality and style.
Brioche and pie-crust character mixes nicely with cooked apples and lightly grilled lemons. Medium-bodied, tight and focused with a solid center-palate of attractive fruit and a lightly candied lemon undertone. Disgorged January 2022.
With its high percentage of Pinot Meunier, a house signature, this Champagne is full of fruit that gives crispness to the relatively high dosage. The wine is balanced, creamed apples working well with the acidity and minerality.
View More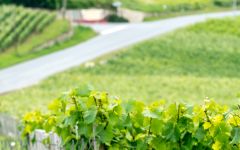 Besserat de Bellefon was founded in Ay in 1843 by Edmond Besserat, who originally hailed from Hautvillers. Over the years he became recognized for his skill in crafting exceptional cuvées that he supplied to the greatest hotels, restaurants and wine merchants of the day. Following in Edmond's footsteps, future generations continued the business. His grandsons, Victor and Edmond, became as passionate as their forebear about work well done and a commitment to excellence and quality. With complementary talents (one was an outstanding technician, the other a highly accomplished taster) they worked together in complete harmony. They were committed to developing Besserat de Bellefon's renown and prestige. In 1920 Edmond married Yvonne de Méric de Bellefon, daughter of a noble Champagne family, giving the House a family crest, and the Besserat de Bellefon legend was born.
A term typically reserved for Champagne and Sparkling Wines, non-vintage or simply "NV" on a label indicates a blend of finished wines from different vintages (years of harvest). To make non-vintage Champagne, typically the current year's harvest (in other words, the current vintage) forms the base of the blend. Finished wines from previous years, called "vins de reserve" are blended in at approximately 10-50% of the total volume in order to achieve the flavor, complexity, body and acidity for the desired house style. A tiny proportion of Champagnes are made from a single vintage.
There are also some very large production still wines that may not claim one particular vintage. This would be at the discretion of the winemaker's goals for character of the final wine.
Associated with luxury, celebration, and romance, the region, Champagne, is home to the world's most prized sparkling wine. In order to bear the label, 'Champagne', a sparkling wine must originate from this northeastern region of France—called Champagne—and adhere to strict quality standards. Made up of the three towns Reims, Épernay, and Aÿ, it was here that the traditional method of sparkling wine production was both invented and perfected, birthing a winemaking technique as well as a flavor profile that is now emulated worldwide.
Well-drained, limestone and chalky soil defines much of the region, which lend a mineral component to its wines. Champagne's cold, continental climate promotes ample acidity in its grapes but weather differences from year to year can create significant variation between vintages. While vintage Champagnes are produced in exceptional years, non-vintage cuvées are produced annually from a blend of several years in order to produce Champagnes that maintain a consistent house style.
With nearly negligible exceptions, . These can be blended together or bottled as individual varietal Champagnes, depending on the final style of wine desired. Chardonnay, the only white variety, contributes freshness, elegance, lively acidity and notes of citrus, orchard fruit and white flowers. Pinot Noir and its relative Pinot Meunier, provide the backbone to many blends, adding structure, body and supple red fruit flavors. Wines with a large proportion of Pinot Meunier will be ready to drink earlier, while Pinot Noir contributes to longevity. Whether it is white or rosé, most Champagne is made from a blend of red and white grapes—and uniquely, rosé is often produce by blending together red and white wine. A Champagne made exclusively from Chardonnay will be labeled as 'blanc de blancs,' while ones comprised of only red grapes are called 'blanc de noirs.'
HNYBELBLBNVC_0
Item#
141160