Product Details
---
Varietal
---
Region
---
Producer
---
Vintage
2012
---
Size
750ML
---
ABV
14.5%
---
Winemaker Notes
The 2012 BV Agreement Red Wine shows the layers of complex aromas, flavors and textures accomplished by vinifying grape varieties separately and then artistically blending the wines together in perfect proportion. The winery chose Syrah, Merlot, Cabernet Sauvignon and Zinfandel for the wine's deep fruit expressive core, and added measured splashes of Malbec, Tempranillo, Touriga and Charbono for intriguing nuances. The result is a bold, yet approachable, wine brimming with black cherry, briary blackberry and juicy plum character, and hints of licorice, black pepper and sweet pipe tobacco. A nice dose of new oak barrels adds spice and vanilla tones.
The full-bodied flavors—enlivened by balanced acidity and structured with firm tannins—stand up to grilled red meats, hearty soups, stews and pasta, and aged cheese.
Blend: 47% Syrah, 23% Merlot,12% Cabernet Sauvignon and 8% Zinfandel, with thebalance Malbec, Tempranillo, Touriga and Charbono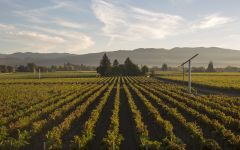 For more than 100 years, Beaulieu Vineyard has been setting the standard for rich, classic Napa Valley wines. Our legacy honors the marriage between state-of-the-art technology and gentle, traditional winemaking methods, a combination that enhances the expression of our remarkable vineyard terroir. From Calistoga in the north, to Carneros in the south, our Beaulieu Vineyard Napa Valley wines reflect this region's diverse terroir with classic varietal character.
With hundreds of red grape varieties to choose from, winemakers have the freedom to create a virtually endless assortment of blended red wines. In many European regions, strict laws are in place determining the set of varieties that may be used, but in the New World, experimentation is permitted and encouraged resulting in a wide variety of red wine styles. Blending can be utilized to enhance balance or create complexity, lending different layers of flavors and aromas. For example, a red wine blend variety that creates a fruity and full-bodied wine would do well combined with one that is naturally high in acidity and tannins. Sometimes small amounts of a particular variety are added to boost color or aromatics. Blending can take place before or after fermentation, with the latter, more popular option giving more control to the winemaker over the final qualities of the wine.
How to Serve Red Wine
A common piece of advice is to serve red wine at "room temperature," but this suggestion is imprecise. After all, room temperature in January is likely to be quite different than in August, even considering the possible effect of central heating and air conditioning systems. The proper temperature to aim for is 55° F to 60° F for lighter-bodied reds and 60° F to 65° F for fuller-bodied wines.
How Long Does Red Wine Last?
Once opened and re-corked, a bottle stored in a cool, dark environment (like your fridge) will stay fresh and nicely drinkable for a day or two. There are products available that can extend that period by a couple of days. As for unopened bottles, optimal storage means keeping them on their sides in a moderately humid environment at about 57° F. Red wines stored in this manner will stay good – and possibly improve – for anywhere from one year to multiple decades. Assessing how long to hold on to a bottle is a complicated science. If you are planning long-term storage of your reds, seek the advice of a wine professional.
One of Napa Valley's oldest wine growing subregions but last to gain appellation status, Calistoga occupies the northernmost section of the valley. Beginning at the foot of Mount St. Helena, its vineyards stretch over steep canyons and roll out onto the valley floor. The soils in Calistoga are volcanic, which means they are heavy in minerals, low in organic matter and allow good drainage for vine roots, creating less green growth and more concentration of flavor within the grape berries.
Summer days are very hot but most nights cool down with moist ocean breezes sneaking in over the Mayacamas Mountains or from Knights Valley to its northwest.
Cabernet Sauvignon is the area's star variety with Zinfandel coming in a strong second, though the latter commands far less price per tonnage so continues to be outshined by Cabernet in vineyard acreage, save for some important exceptions.
SWS392599_2012
Item#
161659