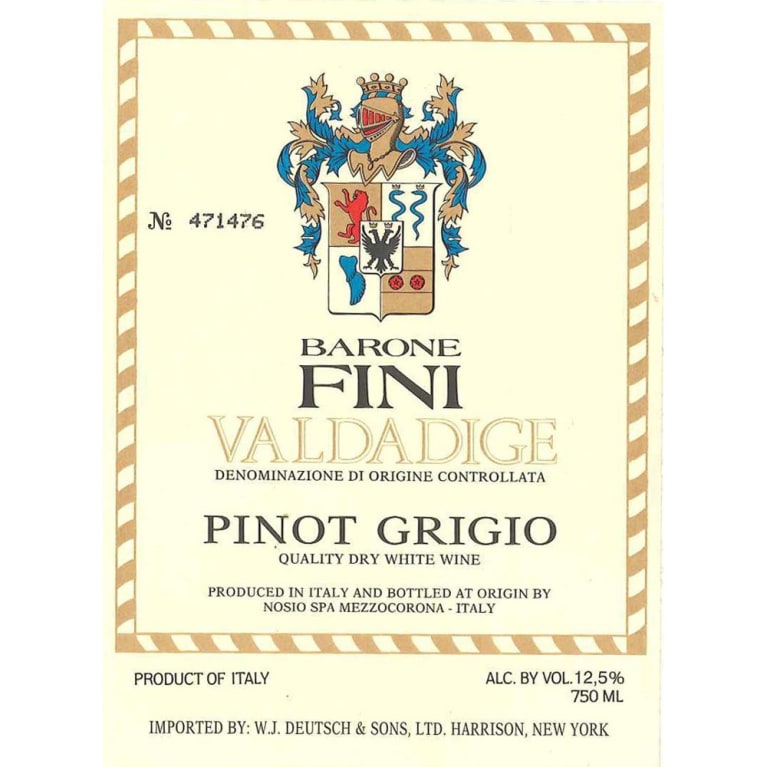 Barone Fini Valdadige Pinot Grigio 2008
Out of Stock

(was $14.79)
Winemaker Notes
Soft, round fruit fills the mouth with ripe, juicy flavors. A long finish glides into flavors of ripe apples and lichee nuts. A wine to be enjoyed alone, as an apéritif, or with shellfish, fowl and light meals that include vegetarian dishes.
Winemaking has consistently been part of the family business for at least six centuries and was officially recorded by the administration of the Republic of Venice on October 24, 1479 when they were given duty free privileges.
Today, a modern approach to winemaking is done with two primary objectives: first, producing quality, approachable wines, and second, keeping the family-owned and operated business market-nimble, involving all of the members of the immediate family.
Barone Fini wines are entirely grown and produced in the Trentino-Alto Adige area vinified in an ultramodern winery located atop the ruins of an ancient Roman winery. We have only produced D.O.C. wines, proving that our wines meet the highest standards from year to year. For generations Barone Fini wines have been produced with the minimal aid of human interference. Our family has always believed that maintaining the natural balance of the plant and making our wine with the least human intervention only makes sense. The Fini family's strong cultural history has always promoted cultivation techniques that minimize environmental impact. We guarantee we will continue to pursue our natural ways for generations to come.
Italian White Wine
The rolling hills and endless coastlines of Italy deliver a unique diversity of soils and climate to foster a number of regional specialties. With a multitude of indigenous varieties that thrive exclusively here, the selection of white wines offers a range of styles and flavors.
The most well-known white variety in Italy is of course Pinot Grigio. Typically found in the northern Italian regions, the light, fresh and easy-drinking options can be found in the Veneto region, while the richer, more complex styles come from Friuli-Venezia Giulia and Trentino-Alto Adige. These two northeast regions are also crafting delicions Pinot Bianco and a regional specialty, Friulano.
In Piedmont, two white regions shine. The crisp and zippy Gavi, made with a Cortese grape, and Arneis, a variety that produces a subtle by dry wine. In the Veneto, the Garganegna grape creates the wine of Soave, a zesty but medium-bodied wine full of rich stone fruit and floral notes.
Further south, you'll find the pretty and floral Falenghina, rich and tropical Grillo and zesty Greco. Head to Sicily to discover the delicious and complex Etna Biancos, made with the Carricante grape in the island's volcanic soils.
If you enjoy a tangy but textured white wine with seafood, head to Sardinia and try out the Vermentino there. The grape is also found in other Italian provinces and is always a delight.
SOU17237_2008
Item#
105568