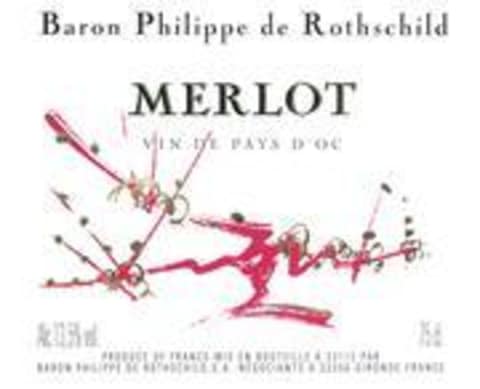 Baron Philippe de Rothschild Merlot 2001
Winemaker Notes
A fine, deep red color with a violet tint, the wine is full of fruit on the nose: red berry fruit, cherry and blackcurrant, with a hint of liquorice. With airing, the already rich bouquet develops more complex notes of tobacco and menthol. Round and crisp in the mouth, it combines a well-rounded tannic structure with flavors of red fruit and denser, fresh stone fruit like nectarine and vine peach. The expressive, lingering finish displays fine balance on the palate, allowing all the refinement and roundness of Merlot to develop in a rich array of flavors.
This pays d'oc wine comes from the region of Limoux, near Carcassonne, one of the oldest vineyards of Languedoc-Roussillon. The area is a mosaic of very different soils – shale, granite, limestone, sandstone – in stony terraces or gravelly ridges of red clay.
A few acres for producing wine and a whole world to sell it in…..
The wines of Baron Philippe de Rothschild, s.a., a family firm, presided over today by Baroness Philippine de Rothschild, are as much a matter of art as of technical expertise. Combining traditional know-how with experienced personnel and the most modern technology, Baron Philippe de Rothschild, with skill and dedication, transforms the gifts of nature, into works of art and sources of pleasure. The grapes or wines are selected and bought from growers who, over the years, have become true partners, and then vinified, blended and matured by the company's œnologists at our Saint-Laurent-Médoc winery.
In most of France, wines are named by their place of origin and not by the type of grape (with the exception of Alsace). Just like a red Burgundy is by law, always made of Pinot noir, a red Bordeaux is a blended wine composed mainly of Cabernet Sauvignon and Merlot. Depending on the laws of the village from which the grapes come, the conditions of the vintage and decisions of the winemaker, the blend can be further supported by Cabernet Franc, Malbec, Petit Verdot and in rare cases, Carmenere. So popular and repeated has this mix of grape varieties become worldwide, that the term, Bordeaux Blend, refers to a wine blended in this style, regardless of origin.
SWS78801_2001
Item#
55694