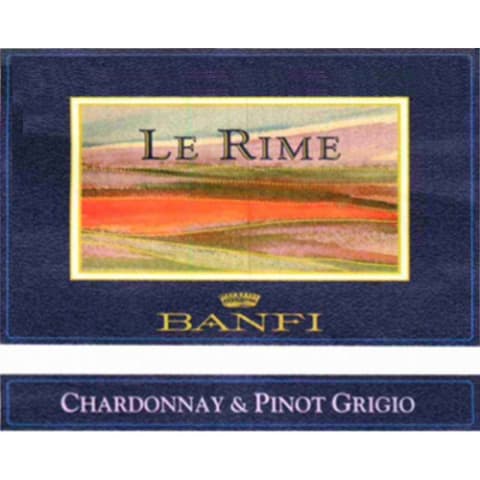 Banfi Le Rime Pinot Grigio Chardonnay 2007
Winemaker Notes
Pinot Grigio and Chardonnay are nurtured to perfection in select hillside vineyards of the Banfi estate in Montalcino, Tuscany. The grapes are gently pressed, followed by vinification "in bianco," or "off the skins" at low temperatures in stainless steel resulting in a delightfully harmonious wine.
Le Rime, pale straw in color, is an aromatic, fruity white wine with a crisp finish replete with refreshing acidity.
Served chilled, Le Rime is the perfect partner to a full range of foods including pasta, vegetables, fish, seafood, veal and poultry dishes.
Castello Banfi is a family-owned vineyard estate and winery located in the Brunello region of Tuscany. This award-winning estate was founded on the philosophy of blending tradition with innovation, and is recognized as a pioneer in elevating the standards of Italian winemaking. Dedication to excellence has won the approval of aficionados the world over. Capturing honor after prestigious honor, Castello Banfi is a constellation of single vineyards encompassing over three dozen varying subsoils. The estate is renowned for its clonal research that allows noble grape varieties to thrive in their optimal terroir, creating not only a consistently outstanding Brunello, but the ultimate expression of Montalcino Super Tuscans.
Producing every style of wine and with great success, the Veneto is one of the most multi-faceted wine regions of Italy.
Veneto's appellation called Valpolicella (meaning "valley of cellars" in Italian) is a series of north to south valleys and is the source of the region's best red wine with the same name. Valpolicella—the wine—is juicy, spicy, tart and packed full of red cherry flavors. Corvina makes up the backbone of the blend with Rondinella, Molinara, Croatina and others playing supporting roles. Amarone, a dry red, and Recioto, a sweet wine, follow the same blending patterns but are made from grapes left to dry for a few months before pressing. The drying process results in intense, full-bodied, heady and often, quite cerebral wines.
Soave, based on the indigenous Garganega grape, is the famous white here—made ultra popular in the 1970s at a time when quantity was more important than quality. Today one can find great values on whites from Soave, making it a perfect choice as an everyday sipper! But the more recent local, increased focus on low yields and high quality winemaking in the original Soave zone, now called Soave Classico, gives the real gems of the area. A fine Soave Classico will exhibit a round palate full of flavors such as ripe pear, yellow peach, melon or orange zest and have smoky and floral aromas and a sapid, fresh, mineral-driven finish.
Much of Italy's Pinot grigio hails from the Veneto, where the crisp and refreshing style is easy to maintain; the ultra-popular sparkling wine, Prosecco, comes from here as well.
With hundreds of white grape varieties to choose from, winemakers have the freedom to create a virtually endless assortment of blended white wines. In many European regions, strict laws are in place determining the set of varieties that may be used in white wine blends, but in the New World, experimentation is permitted and encouraged. Blending can be utilized to enhance balance or create complexity, lending different layers of flavors and aromas. For example, a variety that creates a soft and full-bodied white wine blend, like Chardonnay, would do well combined with one that is more fragrant and naturally high in acidity. Sometimes small amounts of a particular variety are added to boost color or aromatics. Blending can take place before or after fermentation, with the latter, more popular option giving more control to the winemaker over the final qualities of the wine.
SWS88614_2007
Item#
94074