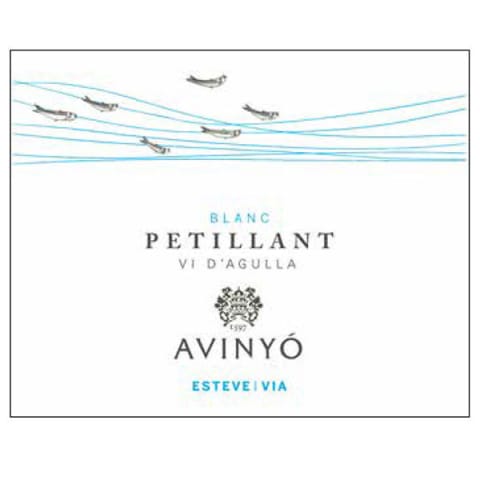 Avinyo Petillant 2016
Out of Stock

(was $14.99)
Ships today if ordered in next 15 minutes
Winemaker Notes
Petillant is a vi d'agulla, the Catalan name for prickly wine. This vibrant and refreshing wine is the traditional summertime quaffer of the Penedès region of Catalonia, and it's perfect for drinking out of a porrón.
Bright honeysuckle and almond on the nose. Bracingly dry on the palate, with flavors of lemon peel and a faint brininess.
Blend: 80% Petit Grain Muscat, 20% Macabeu
Avinyó Cava is a premier, hand-made, artisanal sparkling wine house which stands in stark contrast to the status quo of the industrial Cava machine. It begins with their location in the Catalan countryside in the remote village of Avinyonet del Penedès, where the Esteve family traces their history to 1597 with the building of their Masia (Catalan farmhouse) named "Can Fontanals," the traditional family home. Their spirit of innovation and respect for traditions, driven by an undercurrent of constant self-improvement and a relentless drive for quality, are the defining characteristics that set Avinyó Cava apart from others.
Today, Avinyó produces wine exclusively from vineyards that they own and farm organically with great care and respect, a rarity among Cava producers. This point cannot be overstated, as the unfortunate commodification of Cava by the industrial-volume producers has resulted in intense downward pressure for grape prices in the region and a subsequent race to the bottom for Cava pricing, especially in the US market. This, in turn, has led to the reality that most Cavas that make it to the US are not from organic farms like Can Fontanals. Rather, they are industrially produced from an anonymous base wine purchased cheaply from the local cooperative, re-fermented and aged for the bare-minimum time required (9 months), and adorned with a fantasy label, from a winery which does not exist. This is the situation in which serious Cava producers find themselves today, a reality which only serves to drive the resourceful Esteve-Nadal family to push their quality standards higher each vintage, setting themselves in bold contrast to companies who do not farm their own fruit or even know the origin of their grapes.
Such is the dedication to quality at Avinyó that the minimum aging for their "entry-level" Reserva cuvée is 24 months, with many of their bottlings receiving at least 36 months of time on the lees. Each shipment of wines is disgorged on-demand for refrigerated transport to the US, so flavors are always fresh and vibrant. In addition to being produced solely from organically certified (since 2019) estate-grown grapes and with extended lees-aging in bottle, all Avinyó Cava is from a single-vintage, clearly labeled on the bottle. No reserve solera wine is used here to alter either the expression of the vineyard or correct for a "house-style." Avinyó is about transparency. Today, the next generation of the Esteve-Nadal family is at the helm, refining innovation while respecting tradition. Four siblings (Xavier, Luis, Pedro Juan, and Ana) blend tradition, technology, and a relentless pursuit of quality to make their distinctive wines. In the family tradition, we can expect excellence for generations to come.
A superior source of white grapes for the production of Spain's prized sparkling wine, Cava, the Penedes region is part of Catalunya and sits just south of Barcelona. Medio Penedès is the most productive source of the Cava grapes, Macabeo, Xarel-lo, and Parellada. Penedes also grows Garnacha and Tempranillo (here called Ull de Llebre in Catalan), for high quality reds and rosès.
With hundreds of white grape varieties to choose from, winemakers have the freedom to create a virtually endless assortment of blended white wines. In many European regions, strict laws are in place determining the set of varieties that may be used in white wine blends, but in the New World, experimentation is permitted and encouraged. Blending can be utilized to enhance balance or create complexity, lending different layers of flavors and aromas. For example, a variety that creates a soft and full-bodied white wine blend, like Chardonnay, would do well combined with one that is more fragrant and naturally high in acidity. Sometimes small amounts of a particular variety are added to boost color or aromatics. Blending can take place before or after fermentation, with the latter, more popular option giving more control to the winemaker over the final qualities of the wine.
EWLSPAVYVDA16_2016
Item#
213089