Avalon California Cabernet Sauvignon 2002
Winemaker Notes
Avalon Winemaker AlexCose every year searchesup and down Californiato produce our AvalonCabernet. His favoritelocations always find theirway into the blend includingCalifornia's Central Coast andNorth Coast vineyards. Thesetwo areas give the wine its berry pieand white chocolate components.
Avalon could tell you what thiswine tastes like, but they'll letyour soul tell you. Howabout we say the winereminds us of a greatdinner with greatfriends. One where noone wants to leavebecause the conversationand the people just happen.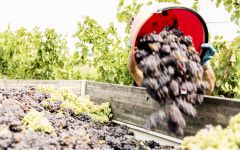 Established in 2001 in bucolic western Sonoma County, Avalon offers approachable, delicious wines of unmatched quality.
Avalon wines are named after the legendary Isle of Avalon, a place steeped in history and tradition. As we craft Avalon, we meld ancient winemaking techniques with modern technology. We combine thoughtful vineyard selection and intuitive winemaking methods to create a selection of wines that are beautifully balanced and effortlessly enjoyable.
Savor Avalon wines when you're looking for an everyday getaway filled with relaxation and renewal. Avalon offers the ideal "go-to" wines for every occasion. 
Covering the most vine acreage in the state compared to any other red wine variety, Cabernet Sauvignon produces as much wine in California as Merlot and Pinot Noir combined. The state's diverse terrain and microclimates, as well as the freedom of its winemakers, allow for an incredible range of wine styles from this single grape.
California's most famous region—and especially for Cabernet Sauvignon—is the acclaimed Napa Valley. While Cabernet is successful throughout the world, rarely has it achieved such merit as it does from the Napa Valley. At this point the two are so intrinsically linked that it is difficult to discuss one without the other.
Napa's closest neighbor, Sonoma County, does an impressive job keeping up with Napa's fame and glory. Alexander Valley, Sonoma Mountain, Moon Mountain and Knights Valley contribute to the lot of some of California's top-rated Cabernet Sauvignon.
Lake County in California's North Coast has become a focus for some of Napa's more respected growers. From the Central Coast come iconic examples of classic California Cabernet; Lodi and the Sierra Foothills are great budget-friendly sources of amicable Cabernets.
HNYAVNCCS02C_2002
Item#
83020