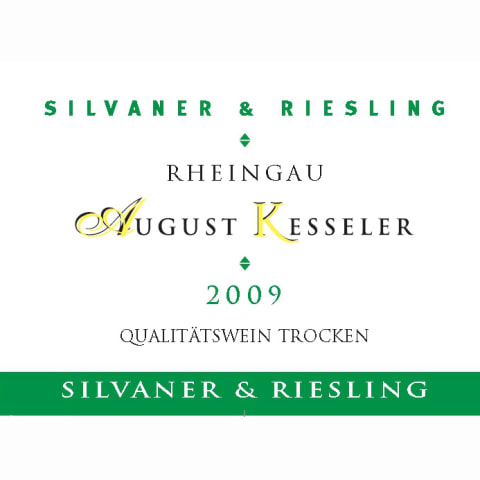 August Kesseler Silvaner Riesling 2009
Winemaker Notes
A blend of western Rheingau with a long tradition. The balanced blend of Silvaner and Riesling is refreshing, delightful and easy to drink. It displays beautiful flavors of melons, apples, lime and peaches. The wine is juicy on the palate with notes of apple skins and mineral salts.
Asparagus dishes pair especially well, as do salads and fish dishes.
Critical Acclaim
All Vintages
The Kessler 2009 Silvaner-Riesling displays luscious apricot and pineapple tinged with oregano, lemon grass, and salt, and seemingly underlain by wet stone. There is a striking sense of transparency to mineral underpinnings as well as of lift to the long juicy finish that is further accented by bitter hints of melon rind.
View More
When August Kesseler took over his parents' establishment, which was founded in 1924, he was only 19 years old. Traditionally, mostly bulk wine was produced and the vineyard area was just over six acres. Today, under August's guidance, the estate has become one of the flagship producers of the Rheingau area and has also acquired an impressive international reputation. The estate spans 80 acres of vineyards located in some of the best Rheingau sites, such as Assmannshäuser, Höllenberg, Rüdesheim Berg, Schlossberg, Lorchhäuser, Seligmacher, Hattenheimer Wisselbrunnen, and many more. They producer 60% Riesling and 40% Pinot Noir and are a member of the VDP and the German Barrique-Forum.
Max Himstedt, who joined the team in 1989, is the estate's head winemaker, who has been pushing forward the production of world-class wines. Simon Batarseh, an ambitious oenologist, has been with the winery since 1993 and is August's right-hand-man, working on both blending, sales, and exports. Together, August, Max, and Simon will continue to ensure quality wines are produced at the highest level.
Practically one long and bucolic hillside along the northern bank of the Rhein River, the Rheingau stretches the entirety of the river's east to west spread from Hocheim to Rüdesheim.
Variations in elevation, soil types, and proximity to the Rhine cause great diversity in Rheingau Riesling. Some of the better Rieslings in warmer years come from the cooler and breezier sites at higher elevations. In cooler years, sites closer to the river may perform better.
In the village of Rüdesheim, slopes are steep and soils are stony slate with quartzite; Rieslings are rich and spicy, intense in stone fruit and show depth and character with age. World class Rieslings come from farther east on the river through Geisenheim, Johannisberg, Winkel, Oestrich and past Erbach as well, where soils of loess, sand, and marl alternate. Long-living, floral-driven and mineral-rich Rieslings come from the best of these sites.
Rheingau growers became early activists in promoting the dry style of Riesling, low yields and the classification of top vineyards, or Erstes Gewächs (first growths). Proximity to the metropolitan markets of Mainz, Wiesbaden, and Frankfurt keeps Rheingau in high reputation. While dry wines are the style here, Rheingau isn't short of some amazing Auslesen, Beerenauslesen, and Trockenbeerenauslesen.
Rheingau doesn't mess with many other grapes—in fact 79% of its total area is dedicated to Riesling. But it produces some fine Pinot noir, especially concentrated in Assmannshausen, a bit farther west from Rüdesheim.
What are the types of white wine?
From lean and crisp to oaky and buttery, white wine comes in an array of styles and is produced in almost every wine region of the world. Although only about 25 pale-skinned grapes make the majority of the white wine produced, hundreds of native varieties are important not only to local culture, but to the diversity of the global wine world. White wine styles range from a simple and refreshing aperitif to a robust accompaniment to a hearty meal and some of the best can age for decades.
How is white wine made?
To preserve freshness, aromatics and primary fruit flavors, white wines are often fermented at cooler temperatures than reds. Unlike red winemaking, the colorless juice is not typically left in contact with the grape skins during the fermentation process. The winemaker has the choice to encourage or prevent malolactic fermentation, which turns the tart acidity of grape juice into the softer, creamier flavors of wine. Another important decision when making white wine is whether and how to use oak—the barrels' age, provenance and time holding the wine all help to determine the final style, in terms of both flavor and texture.
What gives white wine its color?
White wines can vary in color from nearly clear lemon-green to medium gold to pale orange or almost light brown, depending on grape variety, winemaking methods and age.
How do you serve white wine?
Ideally for storing white wine in any long-term sense, it should be at cellar temperature, about 55F. For serving, cool white wine down to about 45F to 55F. (Most refrigerators are colder than this.) As for drinking white wines, the best white wine glasses have a stem and a narrow bowl large enough to allow swirling without spilling.
How long does white wine last?
Opened, a bottle of white wine will stay fresh in the refrigerator for a couple of days to a week, maybe longer. Unopened, white wines stay good for one year to, in some cases, several decades. Assessing how long to hold on to a bottle is a complicated science. If you are planning to strategically store white wine, seek the advice of a wine professional.
ALL4456140_2009
Item#
119931