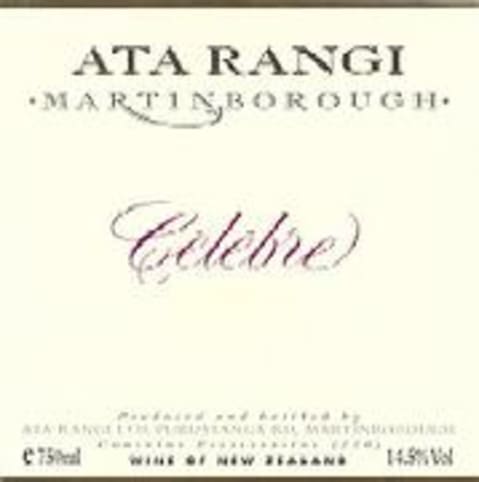 Winemaker Notes
Powerful, avoursome red with plum, berry-fruit and mint plus a subtle seasoning of black pepper. Célèbre has been leaning more toward the Rhône in style over the last couple of years, with Syrah and Cabernet now vying for position in the blend , each at 40% in this release. Merlot, which ripens beautifully in Martinborough, makes up the remaining 20%.
Clive had tried his hand as a grave-digger and a milkman before finally getting lucky in his third career choice – a winemaker. Ata Rangi is a Maori word for "dawning sky" or "new beginning" which is apt considering that when Clive Paton bought the property in 1980 he had never run a vineyard or made wine in his life. Back then Clive traded the promise of a steady income for a bare, scruffy sheep paddock on the outskirts of Martinborough.
He was one of a handful of winemaking pioneers in Martinborough, then a forgotten rural settlement, who were attracted to the area by two key features - the localised, free-draining shingle terrace some 20 metres deep and the lowest rainfall records of anywhere on the North Island of New Zealand.
Today Martinborough is a thriving wine appellation with an international reputation, particularly for premium Pinot Noir and Chardonnay. Today Ata Rangi concentrates on hand making world class wines, namely pinot noir, sauvignon blanc and their Celebre (a cabernet blend). Yields are very low, typically 2 tonnes per acre and all grapes are hand-picked. Vines are now 20 years old, a factor in the wines ascending quality. Winemaking is very traditional using small, closed fermenters with wide top manholes which allow hand plunging. 20 hectares of vines are managed from which around 80 tonnes are crushed annually.
A relatively young but extremely promising wine producing country, New Zealand is widely recognized for its distinctive wines made from the aromatic, Sauvignon blanc.
The world's most southerly vineyards are found here, with significant climatic variation both between and within the warmer North Island and the cooler South Island. Overall, the climate is maritime, with plenty of rainfall, as well as abundant sunshine. Producers have almost unilaterally embraced cutting-edge winery technology, resulting in clean, high-quality wines at every price point from wallet-friendly to premium.
Sauvignon blanc, known here for its trademark herbaceous character, is at its best in Marlborough but thrives throughout the nation, accounting for an overwhelming majority of the country's exports. While this is indeed the country's most planted and successful variety, it is certainly not the only New Zealand grape capable of delighting wine lovers.
Chardonnay is the second-most important white variety and takes on a supple texture with citrus and tropical fruit aromas in Gisborne and Hawke's Bay, respectively. Pinot noir, second behind Sauvignon blanc in national production numbers, is at its best in Central Otago—the most southerly winegrowing region in the world! These wines are known for bright and juicy red fruit. Taking cues from the wines of Alsace, aromatic varieties like Pinot Gris, Riesling and Gewürztraminer shine in Martinborough, while red Bordeaux varieties like Cabernet Sauvignon and Merlot have found success in Hawke's Bay. Throughout New Zealand but especially in Marlborough, Pinot noir and Chardonnay are used to produce traditional method sparkling wines.
With hundreds of red grape varieties to choose from, winemakers have the freedom to create a virtually endless assortment of blended red wines. In many European regions, strict laws are in place determining the set of varieties that may be used, but in the New World, experimentation is permitted and encouraged resulting in a wide variety of red wine styles. Blending can be utilized to enhance balance or create complexity, lending different layers of flavors and aromas. For example, a red wine blend variety that creates a fruity and full-bodied wine would do well combined with one that is naturally high in acidity and tannins. Sometimes small amounts of a particular variety are added to boost color or aromatics. Blending can take place before or after fermentation, with the latter, more popular option giving more control to the winemaker over the final qualities of the wine.
How to Serve Red Wine
A common piece of advice is to serve red wine at "room temperature," but this suggestion is imprecise. After all, room temperature in January is likely to be quite different than in August, even considering the possible effect of central heating and air conditioning systems. The proper temperature to aim for is 55° F to 60° F for lighter-bodied reds and 60° F to 65° F for fuller-bodied wines. How much does this matter?
How Long Does Red Wine Last?
Once opened and re-corked, a bottle stored in a cool, dark environment (like your fridge) will stay fresh and nicely drinkable for a day or two. There are products available that can extend that period by a couple of days. As for unopened bottles, optimal storage means keeping them on their sides in a moderately humid environment at about 57° F. Red wines stored in this manner will stay good – and possibly improve – for anywhere from one year to multiple decades. Assessing how long to hold on to a bottle is a complicated science. If you are planning long-term storage of your reds, seek the advice of a wine professional.
EPCARICEE_1999
Item#
59747