Aresti Trisquel Gran Reserva Red Blend 2019
Out of Stock

(was $23.99)
Winemaker Notes
This wine presents and an intense, dark ruby red color. On the nose, it is complex showing fruity notes to plums and blackberries with flowery aromas combine with mocha and coffee hints from the barrel aging. Sweet and juicy in the mouth, it has nice structure and soft, ripe tannins. Ideal for lamb, red meats, aged cheeses and nuts.
Blend: 44% Cabernet Sauvignon, 42% Syrah, 14% Petit Verdot
Critical Acclaim
All Vintages
A full-bodied red with aromas of lavender, blackberry, cocoa and black peppercorn. Focused and structured with firm tannins and creamy layers of black fruit. 44% cabernet sauvignon, 42% syrah and 14% petit verdot. Drink or hold.
View More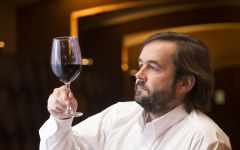 In 1951, Vicente Aresti Astica acquired the Bellavista Estate in Curicó, a renowned winegrowing valley, and started building a family tradition of excellence in winemaking with passion at the core of their philosophy. Over half a century of meticulous work resulted in a tradition of high-quality wines that were the labels of choice of the most prestigious wineries at that time. The experience gained in making superior wines fueled Mr. Aresti's motivation to start bottling and selling labels of their own. In 1999 and following major winery renovations and introduction of state-of-the-art technology, Viña ARESTI took the great leap forward into producing and exporting bottled wine. Aresti Winery is owned byACW, one of the most prestigious family-run wine operations in Chile. Nowadays ACW produces and sells various brands around the world. The foundations of Viña Aresti are the passion for excellence of its founder, Vicente Aresti Astica. After he passed, at 92, his daughters Begoña and Ana María Aresti López took over their father's endeavor and persevere in the commitment they had learned from him. Viña Aresti, a company of the ACW, one of Chile's most prestigious family winegrowing businesses, is located in Molina, in the Curicó valley, less than 200 km south of Santiago. New vineyards near the Claro river – Micaela, Peñaflor, and La Reserva – have been added to Bellavista, the original estate. The vineyards are situated in Curicó, Chile's largest and most famous wine valley. With privileged climate, alluvial soil, a long dry season and a daytime/nighttime temperature differential of some 20ºC, this region offers the ideal conditions for the production of superior wines.
Well-regarded for intense and exceptionally high quality red wines, the Colchagua Valley is situated in the southern part of Chile's Rapel Valley, with many of the best vineyards lying in the foothills of the Coastal Range.
Heavy French investment and cutting-edge technology in both the vineyard and the winery has been a boon to the local viticultural industry, which already laid claim to ancient vines and a textbook Mediterranean climate.
The warm, dry growing season in the Colchagua Valley favors robust reds made from Cabernet Sauvignon, Carmenère, Malbec and Syrah—in fact, some of Chile's very best are made here. A small amount of good white wine is produced from Chardonnay and Sauvignon Blanc.
With hundreds of red grape varieties to choose from, winemakers have the freedom to create a virtually endless assortment of blended red wines. In many European regions, strict laws are in place determining the set of varieties that may be used, but in the New World, experimentation is permitted and encouraged resulting in a wide variety of red wine styles. Blending can be utilized to enhance balance or create complexity, lending different layers of flavors and aromas. For example, a red wine blend variety that creates a fruity and full-bodied wine would do well combined with one that is naturally high in acidity and tannins. Sometimes small amounts of a particular variety are added to boost color or aromatics. Blending can take place before or after fermentation, with the latter, more popular option giving more control to the winemaker over the final qualities of the wine.
How to Serve Red Wine
A common piece of advice is to serve red wine at "room temperature," but this suggestion is imprecise. After all, room temperature in January is likely to be quite different than in August, even considering the possible effect of central heating and air conditioning systems. The proper temperature to aim for is 55° F to 60° F for lighter-bodied reds and 60° F to 65° F for fuller-bodied wines.
How Long Does Red Wine Last?
Once opened and re-corked, a bottle stored in a cool, dark environment (like your fridge) will stay fresh and nicely drinkable for a day or two. There are products available that can extend that period by a couple of days. As for unopened bottles, optimal storage means keeping them on their sides in a moderately humid environment at about 57° F. Red wines stored in this manner will stay good – and possibly improve – for anywhere from one year to multiple decades. Assessing how long to hold on to a bottle is a complicated science. If you are planning long-term storage of your reds, seek the advice of a wine professional.
KNYVA_AR_2002_19_2019
Item#
785936