Antucura Cherie Sparkling Rose
Winemaker Notes
Present salmon tones, small bubbles and persistent care speak of their preparation. Captivating nose for perfect combination of aromas of yeast, toast, candied fruits and white flowers. The palate is intense, fresh and balanced acidity.
Critical Acclaim
All Vintages
A rosé with plenty of dried fruit character and lemon undertones. Full body, bright acidity and a firm and lively finish. Excellent body.
View More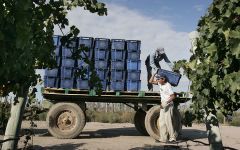 For Anne-Caroline Biancheri, the idea of starting a family represented the decision to undertake a life conceived from the values, landscapes and aromas with which she wanted to see her children grow up. She started with land. Looking for such a place, she discovered Vista Flores, in the Uco Valley of Mendoza. This privileged area of incomparable beauty, framed by the Andes mountains, offers the best climatic and geographical conditions to create emblematic wines. There, Antucura began to take root in the land of the original inhabitants of the area. A place where stones embrace vines on its rich terroir. Antucura means "Sun Stone", according to the local ancient language Mapudungun.
By far the largest and best-known winemaking province in Argentina, Mendoza is responsible for over 70% of the country's enological output. Set in the eastern foothills of the Andes Mountains, the climate is dry and continental, presenting relatively few challenges for viticulturists during the growing season. Mendoza, divided into several distinctive sub-regions, including Luján de Cuyo and the Uco Valley, is the source of some of the country's finest wines.
For many wine lovers, Mendoza is practically synonymous with Malbec. Originally a Bordelaise variety brought to Argentina by the French in the mid-1800s, here it found success and renown that it never knew in its homeland where a finicky climate gives mixed results. Cabernet Sauvignon, Syrah, Merlot and Pinot Noir are all widely planted here as well (and sometimes even blended with each other or Malbec). Mendoza's main white varieties include Chardonnay, Torrontés, Sauvignon Blanc and Sémillon.
What are the different types of sparkling rosé wine?
Rosé sparkling wines like Champagne, Prosecco, Cava, and others make a fun and festive alternative to regular bubbles—but don't snub these as not as important as their clear counterparts. Rosé Champagnes (i.e., those coming from the Champagne region of France) are made in the same basic way as regular Champagne, from the same grapes and the same region. Most other regions where sparkling wine is produced, and where red grape varieties also grow, also make a rosé version.
How is sparkling rosé wine made?
There are two main methods to make rosé sparkling wine. Typically, either white wine is blended with red wine to make a rosé base wine, or only red grapes are used but spend a short period of time on their skins (maceration) to make rosé colored juice before pressing and fermentation. In either case the base wine goes through a second fermentation (the one that makes the bubbles) through any of the various sparkling wine making methods.
What gives rosé Champagne and sparkling wine their color and bubbles?
The bubbles in sparkling wine are formed when the base wine undergoes a secondary fermentation, which traps carbon dioxide inside the bottle or fermentation vessel. During this stage, the yeast cells can absorb some of the wine's color but for the most part, the pink hue remains.
How do you serve rosé sparkling wine?
Treat rosé sparkling wine as you would treat any Champagne, Prosecco, Cava, and other sparkling wine of comparable quality. For storing in any long-term sense, these should be kept at cellar temperature, about 55F. For serving, cool to about 40F to 50F. As for drinking, the best glasses have a stem and a flute or tulip shape to allow the bead (bubbles) and beautiful rosé hue to show.
How long do rosé Champagne and sparkling wine last?
Most rosé versions of Prosecco, Champagne, Cava or others around the "$20 and under" price point are intended for early consumption. Those made using the traditional method with extended cellar time before release (e.g., Champagne or Crémant) can typically improve with age. If you are unsure, definitely consult a wine professional for guidance.