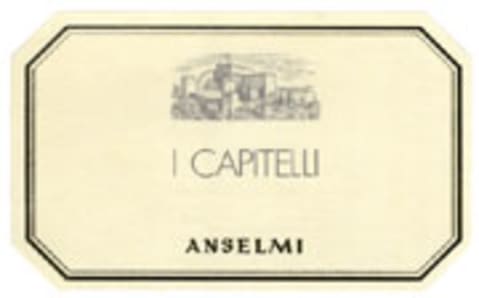 Anselmi Recioto di Soave I Capitelli (half-bottle) 2003
Out of Stock

(was $29.99)
Winemaker Notes
Ripe Garganega grapes are dried on bamboo mats in a well ventilated room. In December they are attacked by noble rot and gently pressed in February. The wine is then fermented in temperature controlled, stainless steel and then aged for just under 2 years in Allier barrique.
This opulent, sweet, fresh wine combines a noble bouquet with rich lingering, Sauterne-like flavors of honeyed peach. Rich, balanced and long on the finish. Recommended with lobster, foie gras, aged cheeses and dry pastries.
In the annals of winemaking, Roberto Anselmi is a legend, a charismatic motorbike-riding rebel whose uncompromising quality-over-quantity approach has helped redefine the image of north Italian white wines.
Since taking over management of his family's winery in the Soave district of northeast Italy's Veneto region two decades ago, Anselmi has been motivated by an emotional and professional commitment to tapping the unrealized potential of the wines he grew up with. This has entailed a significant parting of ways with traditional vineyard and winemaking practices that have historically characterized the Soave district, and given birth to a new generation of north Italian white wines of unprecedented quality, character and finesse.
Roberto Anselmi's long-term goals have required the kind of investment and self-assurance that would pass for folly in men of lesser vision. In his drive to upgrade quality, Anselmi reduced output at the very same time that other producers, capitalizing on a white wine boom, were increasing theirs. Limiting production, however, has enabled Anselmi to be more selective in the vineyards, cutting yields and discarding all but the finest fruit to achieve an intensity of flavor, fruit and bouquet rarely, if ever, encountered in the wines of Soave. Anselmi took this limited-production approach to the next level when he became virtually the only producer in the Soave Classico zone to develop "cru" or single-vineyard wines, notably with the release of the highly acclaimed Anselmi Capitel Foscarino.
Other major initiatives undertaken by Anselmi have included the purchase of hilltop vineyard plots, conversion of vineyard trellising from the customary pergola system to densely-planted horizontal spurred cordons, resulting in major reductions in yields, scrupulous clonal selection, reduction of irrigation to an absolute minimum and the pioneering use of small new and semi-new oak barrels in the vinification process, generating wines of singular structure and complexity.
Then in 2000, Anselmi made headlines with a personal declaration of independence, choosing to label his wines Veneto IGT rather than continuing to work within the confines of the Soave DOC. It was a bold maneuver, taken to protect his unmitigated authority over winemaking practices, and it was a decisive statement from one who many in the international wine industry regard as "the conscience of Soave." Latest initiatives include construction of a new 50,000 square foot winery, collaborative research into alternative wine closures and ongoing experimentation into new methods for reducing the presence of sulfites in wine.
In recent years, he has been joined at Anselmi by his daughter, Lisa, a business school graduate who assists with marketing, administration and customer relations. A son, Tommaso, also looks set to join his father in the years that come.
Among Italy's classic whites capable of great potential, Soave is named after the medieval village and surrounding hillsides from whence it comes. The original, historical Soave zone, delimited back in 1927, covers the eastern, volcanic hillsides of today's general Soave zone and is called Soave Classico.
Garganega, the indigenous grape responsible for great Soave, produces medium bodied white wines with fine acidity. Typical in the best Soaves are lively flowery and fresh herbal aromas and flavors such as orange zest, peach, melon and marjoram. The best can take some age and in so doing, develop notes of chamomile, marmalade and honey.
By the 1960s and 70s, Soave was enjoying such a glorious global reputation, that its demand forced growers to push beyond the zone's original borders. Expansion led west out of the hills and onto the alluvial plain of the Adige River. This, coupled with an increase in yields and allowance of additional varieties such as Trebbiano, Chardonnay and Pinot blanc, met demand but created a softer, fruit-forward, everyday Soave. Today the broader region can be the source of charming and value driven whites. But those labeled as Soave Classico or in rare cases, as Soave Colli Scaligeri (nearby hillside vineyards abutting the Classico zone), will be the best quality and age-worthy Soaves. These are often 100% Garganega.
One of Italy's classic white varieties, Garganega flourishes in the rolling vineyards surrounding the medieval village of Soave and is the dominant variety in the wine from the region, aptly known as, Soave. By law it makes up 70-100% of the blend with the remainder traditionally finished off by Trebbiano di Soave for its crispness. Somm Secret—The best Soave wines, measurably elegant and vibrant, come from the Soave Classico zone, in the center of Soave, where the hills are made of decomposed volcanic and granitic soils.
SWS121669_2003
Item#
85483