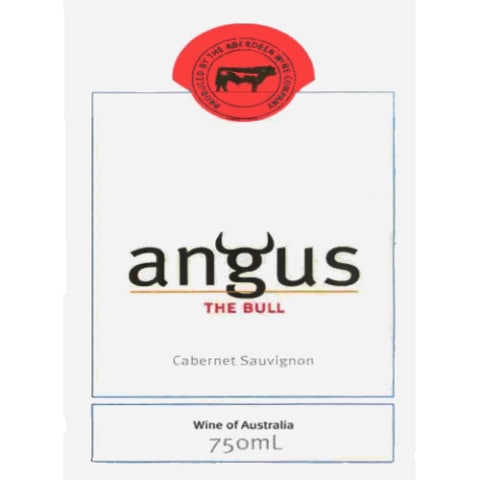 Angus The Bull Cabernet Sauvignon 2007
Winemaker Notes
Intense color with bright purple hues. Ripe black fruits with rich dark chocolate and vanillin smoky oak aromas. Medium to full bodied palate weight, characterized by firm tannins and a bold savory masculine finish.
An ideal accompaniment to red meat and premium cuts of prime beef. Will continue to improve over the next 3-4 years.
"The philosophy behind Angus The Bull is to create a unique and innovative wine that provides an ideal accompaniment to prime beef. Each year the most promising parcels are hand selected and blended from premium Cabernet Sauvignon grapes sourced from a number of outstanding wine regions across Victoria and South Australia. The flexibility of this multi-regional blending approach provides for great consistency from vintage to vintage and allows for the best attributes of individual regions to be combined for exceptional results." Hamish MacGowan – Winemaker
While Australia is best known for big, supple and potent Shiraz, it is also a fine source of Cabernet Sauvignon. Cab in fact is Australia's second most planted red varietal, and it is both bottled on its own and often used in blends. It's grown in Western Australia, Victoria, New South Wales and South Australia. The latter is the home of Block 42 of the Penfolds Kalimna Vineyard, whose vines -- planted in 1886 -- are believed to be the oldest productive Cabernet vines in the world. Two of the most highly regarded sources of Australian Cabernet Sauvignon, though, are Coonawarra on South Australia's Limestone Coast, and Margaret River in Western Australia, near Perth.
Coonawarra, famous for its rich red soil called terra rossa, has held Cabernet vines since the 1890's. Though it can get quite warm during the growing season, it's not far from the cool waters of the Southern Ocean, which tempers the climate and promotes balance in the grapes and resulting wines. These Cabs tend to be complex indeed, showing trademark dark fruit and firm tannins, along with notes of cigar box, cedar and – very often – mint and/or eucalyptus. Some producers to look for are Jim Barry, Yalumba, Berton Vineyards and Penley Estate.
Margaret River, on the other hand, stepped into wine production only in the 1960's. It is situated on the lower western tip of the country, where the Southern and Indian Oceans meet. This coastal location creates an even more temperate, maritime-influenced climate that resembles that of Bordeaux. In good years these Australian Cabs show amazing balance between ripeness, tannins and acidity, along with lovely texture. Producers of note include Leeuwin Estate, Vasse Felix and Howard Park.
EPC14672_2007
Item#
98972