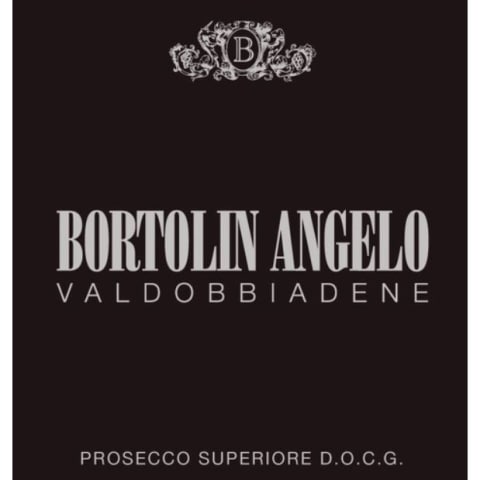 Angelo Bortolin Prosecco Extra Dry 2017
Out of Stock

(was $24.99)
Ships today if ordered in next 6 hours
Winemaker Notes
This sparkling wine, with a fine and persistent perlage, comes from grapes that are picked exclusively in the Valdobbiadene DOCG region. Its fruity aroma and low alcohol content, combined with its delicate taste makes it the perfect aperitif suitable for all occasions.
Angelo Bortolin is a symbol of excellence in the Valdobbiadene wine scene; it is a small renowned family-run business, within its denomination, for the high quality sparkling wines which are all 100% Valdobbiadene DOCG.
The winery is situated in Guia, the most favorably suited area for the production of the famous spumante sparkling wine from Treviso. Wine has been produced here since 1968, when Angelo Bortolin, the son of a farmer, founded the company, immersed in the spectacular scenery of the hills of Valdobbiadene. Wholeheartedly appreciated from the very beginning, his wines were soon enriched by smart technological investments, and since 1983, through the upgrading of his facilities, Bortolin began to specialize in the production of spumante sparkling wines.
Since 1993, his three children (Cristina, Paola and Desiderio) have become members of the company one at a time, a generational transition that was completed in January 2010 with the appointment of Desiderio Bortolin as majority shareholder and with the company's change from S.N.C (co-partnership) to S.A.S. (L.L.P.). Angelo, the founder, still takes part in the activities, but always discreetly, leaving all the decision-making power to his successors: a strategic move that enables the company to leverage the entrepreneurial spirit and ideas of a new business generation.
Desiderio, who bears the name of his paternal grandfather, is currently the driving force of Bortolin Angelo Spumanti. Always supported by his sisters and qualified technical consultants, he succeeded in promoting and marketing his product in countries that seemed unreachable. Award-winning in the most renowned national and international wine competitions of the Valdobbiadene DOCG, Angelo Bortolin winery was awarded the Grand Gold Medal at the 2011 edition of Vinitaly as best Charmat method spumante sparkling wine with its Extra Dry version.
The wines of Conegliano Valdobbiadene Prosecco Superiore DOCG represent Italy's highest-quality designation in the Prosecco category. Situated approximately 30 miles north of Venice and 63 miles south of the Dolomites in the province of Treviso, Prosecco Superiore DOCG is defined by a limited geographic area that extends over 15 hillside towns, flanked by the municipalities of Conegliano to the east and Valdobbiadene to the west.
Hand harvesting and cultivation occur in the steep hillsides of Conegliano Valdobbiadene, the birthplace of Prosecco, and while incredibly labor-intensive, also drive quality grape selection and an artisanal approach throughout. To qualify as Prosecco Superiore DOCG, wines must contain at least 85% Glera. Other permitted varieties include Verdiso, Perera, and Bianchetta Trevigiana – but the aromatic Glera is the region's star. Hardy and vigorous with hazelnut-colored shoots, Glera forms large, loose bunches of beautiful golden-yellow grapes that stand out against the bright green leaves of the vine.
Vines have been grown in Conegliano Valdobbiadene since ancient times. In 1876 Conegliano became home to the first enology school in Italy, an institution of learning and innovation. It fundamentally altered the future course of winemaking in the region, and indeed the entire country, by perfecting the Italian Method of sparkling wine production in autoclaves to preserve and enhance the aromas of the indigenous grape varieties. A Consortium of Conegliano Valdobbiadene producers was formed in 1963 and was instrumental in obtaining the very first Prosecco appellation in 1969. In 2009, Conegliano Valdobbiadene Prosecco was elevated to a DOCG, Italy's highest wine category. Conegliano, home to the enology school and research center, is known as the area's cultural capital, while Valdobbiadene, with its high altitudes, dramatically steep hillsides and twisting contours, is devoted mainly to production.
While the vast majority (95%) of Conegliano Valdobbiadene Prosecco is Spumante (sparkling or foamy), it is also made as a fizzy (Frizzante) wine, or even in a rare completely still version called Tranquillo. It comes in three different categories of residual sugar: "DRY," with 17-32 grams of residual sugar per liter, is actually the sweetest; "Extra-Dry," ranges from 12-17 grams; and Brut (0-12) is the driest category. Brut Nature or Zero Dossaggio Prosecco has less than 3 grams of residual sugar and Extra-Brut less than 6. Though most Prosecco is made in an autoclave, second fermentation in the bottle is still permitted under the DOCG guidelines, either in the traditional process known as Col Fondo (in which the sediment is left in the bottle) or Metodo Classico with sediment removed.
Due to the Conegliano Valdobbiadene's complex geologic history, there is tremendous diversity of terroir between the eastern and western portions of the zone and even different sub zones and parcels within the same area. For this reason, in 2009 a sub-category called RIVE was created, which indicates a Prosecco made of grapes from one of 43 registered geographic areas. In order to qualify as a Rive, the grapes have an even lower maximum yield and the wine must be vintage dated. It is also possible to find Prosecco DOCGs made entirely from grapes of a single vineyard parcel.
Conegliano Valdobbiadene is currently shortlisted for inclusion as a UNESCO World Heritage Site.
Representing the topmost expression of a Champagne house, a vintage Champagne is one made from the produce of a single, superior harvest year. Vintage Champagnes account for a mere 5% of total Champagne production and are produced about three times in a decade. Champagne is typically made as a blend of multiple years in order to preserve the house style; these will have non-vintage, or simply, NV on the label. The term, "vintage," as it applies to all wine, simply means a single harvest year.
RVLTS100_EX17_2017
Item#
414617