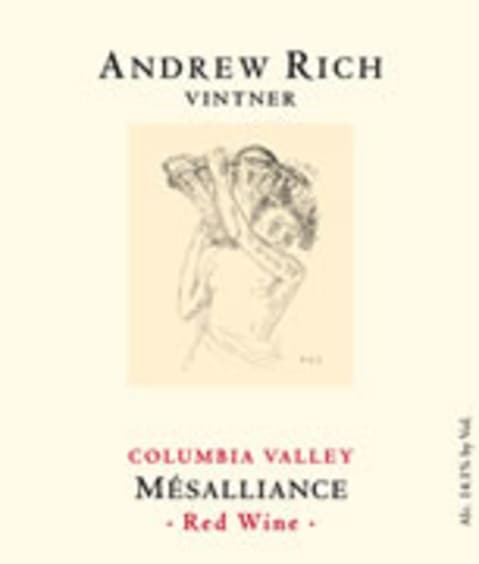 Andrew Rich Mesalliance 2007
Out of Stock

(was $19.99)
Winemaker Notes
35% merlot, 30% syrah, 28% cab franc and 7% malbec.
Our version of a right bank Bordeaux, relying primarily on Merlot and Cabernet Franc, but with a slug of Syrah because, well, everything's better with Syrah. (It's the bacon of wine.) Though the components may seem disparate, they do indeed "marry" harmoniously, creating the perfect foil for both simple and more elaborate dishes. I especially like it with grilled steak and roast pork, but it's a terrific wine to pull out when pizza is what's for supper.
After 20 vintages in Oregon, Andrew Rich is beginning to feel like a veteran. His passion for wine was nurtured not in the fertile soils of the Willamette Valley, however, but in the urban sprawl of New York City, where he once edited the wine column for a national magazine. When the pull of wine became stronger than that of publishing, he headed to Burgundy to study winemaking and viticulture, a move that lead to employment at the small but influential Bonny Doon Vineyard, in California, for nearly six years.
His skills honed, Andrew headed to Oregon in 1994 with the quixotic vision of making Rhône-style wines in the Willamette Valley from Columbia Valley grapes. Turns out he was a little ahead of the curve: it wasn't until 2000 – when Syrah, Roussanne, Grenache, and Mourvèdre grapes became available to him – that he was finally able to realize that vision.
Meanwhile, he had discovered his love of Pinot Noir, which has since become the more dominant prong of his dual focus. There are three Pinot blends, with fruit sourced from a dozen northern Willamette Valley vineyards: the soft and approachable Prelude; the classic Verbatim, a "grape for grape" translation of vintage and place; and the structured and age-worthy Knife Edge.
While the range at Andrew Rich Wines may be broad – in addition to the Pinots and Rhône-style wines the winery is known for Sauvignon Blanc, Gewurztraminer dessert wine, and several others – the intent is always to make wines of balance, grace, and sheer deliciousness.
A large and geographically diverse AVA capable of producing a wide variety of wine styles, the Columbia Valley AVA is home to 99% of Washington state's total vineyard area. A small section of the AVA even extends into northern Oregon!
Because of its size, it is necessarily divided into several distinctive sub-AVAs, including Walla Walla Valley and Yakima Valley—which are both further split into smaller, noteworthy appellations. A region this size will of course have varied microclimates, but on the whole it experiences extreme winters and long, hot, dry summers. Frost is a common risk during winter and spring. The towering Cascade mountain range creates a rain shadow, keeping the valley relatively rain-free throughout the entire year, necessitating irrigation from the Columbia River. The lack of humidity combined with sandy soils allows for vines to be grown on their own rootstock, as phylloxera is not a serious concern.
Red wines make up the majority of production in the Columbia Valley. Cabernet Sauvignon is the dominant variety here, where it produces wines with a pleasant balance of dark fruit and herbs. Wines made from Merlot are typically supple, with sweet red fruit and sometimes a hint of chocolate or mint. Syrah tends to be savory and Old-World-leaning, with a wide range of possible fruit flavors and plenty of spice. The most planted white varieties are Chardonnay and Riesling. These range in style from citrus and green apple dominant in cooler sites, to riper, fleshier wines with stone fruit flavors coming from the warmer vineyards.
With hundreds of red grape varieties to choose from, winemakers have the freedom to create a virtually endless assortment of blended red wines. In many European regions, strict laws are in place determining the set of varieties that may be used, but in the New World, experimentation is permitted and encouraged resulting in a wide variety of red wine styles. Blending can be utilized to enhance balance or create complexity, lending different layers of flavors and aromas. For example, a red wine blend variety that creates a fruity and full-bodied wine would do well combined with one that is naturally high in acidity and tannins. Sometimes small amounts of a particular variety are added to boost color or aromatics. Blending can take place before or after fermentation, with the latter, more popular option giving more control to the winemaker over the final qualities of the wine.
How to Serve Red Wine
A common piece of advice is to serve red wine at "room temperature," but this suggestion is imprecise. After all, room temperature in January is likely to be quite different than in August, even considering the possible effect of central heating and air conditioning systems. The proper temperature to aim for is 55° F to 60° F for lighter-bodied reds and 60° F to 65° F for fuller-bodied wines.
How Long Does Red Wine Last?
Once opened and re-corked, a bottle stored in a cool, dark environment (like your fridge) will stay fresh and nicely drinkable for a day or two. There are products available that can extend that period by a couple of days. As for unopened bottles, optimal storage means keeping them on their sides in a moderately humid environment at about 57° F. Red wines stored in this manner will stay good – and possibly improve – for anywhere from one year to multiple decades. Assessing how long to hold on to a bottle is a complicated science. If you are planning long-term storage of your reds, seek the advice of a wine professional.
NWWAR07MS_2007
Item#
108146