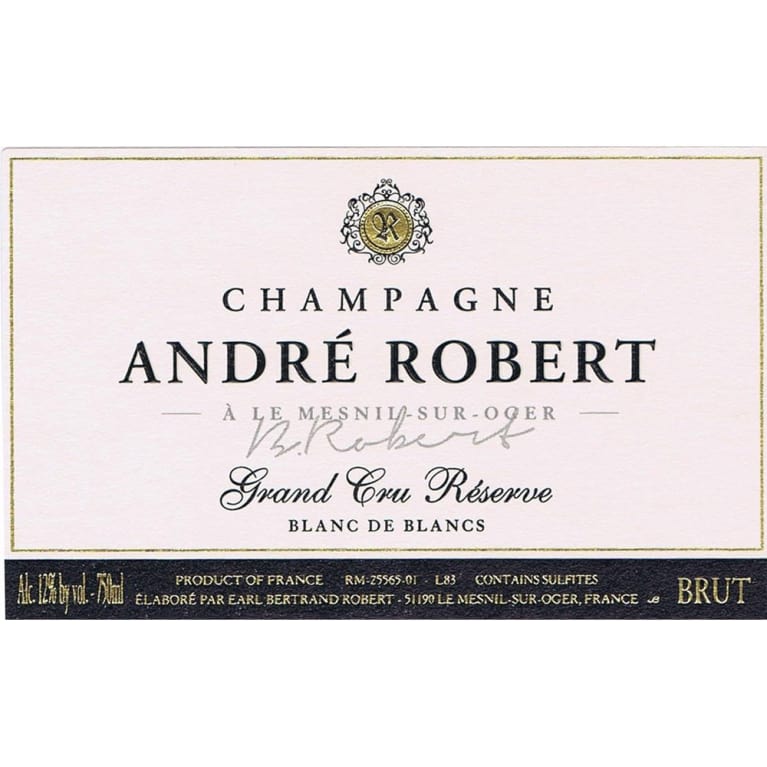 Andre Robert Brut Reserve Grand Cru
Ships Tue, Mar 9
Limit
0
bottles
per customer
Winemaker Notes
Blending reserve wines from previous years ensures a constant quality and enables us to maintain a constant signature quality – the hallmark of our estate: fine, elegant and refreshing. This non- vintage brut champagne requires constant attention on our part – and is only shipped to you after 3 years ageing in our cellars.
Light yellow color. Expressive nose of white flesh fruit, pastries with overriding mineral touches. The mouth is both structured and refreshing with ever-present minerality, finishing on a slightly toasted register.
The Robert Champagne Estate is above all a family business. The Robert family have been cultivating vines for several generations.
Henri Robert (1881-1948) began working on vineyards after the 1st World War when vines were planted "en foule". In the 1930s he established the first group of wine-farmers in order to share equipment needed for pressing and wine-making.
At the start of the 2nd World War, André Robert (born in 1925) began to work in the vineyard with the use of a horse. In 1960 he bought the Estate as it is today with its amazing chalk-stone cellars for ageing dating back to the 19th century – and began to sell his own bottled champagne in 1962.
Bathed in the world of champagne throughout his childhood, Bertrand Robert took over the estate in 1961, with his wife Colette joining him in 1990.
The vineyard is spread over 14 hectares, for the most part classified Grand Cru and Premier Cru plots. They cultivate the 3 grape varieties : Chardonnay, Pinot Noir and Pinot Meunier. But Chardonnay is the heart and soul of the estate and is the major share of all their blends. The Chardonnay is a fragile and delicate plant but contributes flowery, citric and mineral overtones to our blends making for elegant and racy wines.
Associated with luxury, celebration, and romance, the region, Champagne, is home to the world's most prized sparkling wine. In order to bear the label, 'Champagne', a sparkling wine must originate from this northeastern region of France—called Champagne—and adhere to strict quality standards. Made up of the three towns Reims, Épernay, and Aÿ, it was here that the traditional method of sparkling wine production was both invented and perfected, birthing a winemaking technique as well as a flavor profile that is now emulated worldwide.
Well-drained, limestone and chalky soil defines much of the region, which lend a mineral component to its wines. Champagne's cold, continental climate promotes ample acidity in its grapes but weather differences from year to year can create significant variation between vintages. While vintage Champagnes are produced in exceptional years, non-vintage cuvées are produced annually from a blend of several years in order to produce Champagnes that maintain a consistent house style.
With nearly negligible exceptions, . These can be blended together or bottled as individual varietal Champagnes, depending on the final style of wine desired. Chardonnay, the only white variety, contributes freshness, elegance, lively acidity and notes of citrus, orchard fruit and white flowers. Pinot Noir and its relative Pinot Meunier, provide the backbone to many blends, adding structure, body and supple red fruit flavors. Wines with a large proportion of Pinot Meunier will be ready to drink earlier, while Pinot Noir contributes to longevity. Whether it is white or rosé, most Champagne is made from a blend of red and white grapes—and uniquely, rosé is often produce by blending together red and white wine. A Champagne made exclusively from Chardonnay will be labeled as 'blanc de blancs,' while ones comprised of only red grapes are called 'blanc de noirs.'
A term typically reserved for Champagne and Sparkling Wines, non-vintage or simply "NV" on a label indicates a blend of finished wines from different vintages (years of harvest). To make non-vintage Champagne, typically the current year's harvest (in other words, the current vintage) forms the base of the blend. Finished wines from previous years, called "vins de reserve" are blended in at approximately 10-50% of the total volume in order to achieve the flavor, complexity, body and acidity for the desired house style. A tiny proportion of Champagnes are made from a single vintage.
There are also some very large production still wines that may not claim one particular vintage. This would be at the discretion of the winemaker's goals for character of the final wine.