Ameztoi Stimatum 2020
Out of Stock

(was $26.99)
Winemaker Notes
The Stimatum, meaning esteemed, is Ameztoi's red txakoli. Made from 100% Hondarribi Beltza. Fermentation with indigenous yeast occurs in stainless steel with skin contact for 20 days. Bottled with residual carbonation.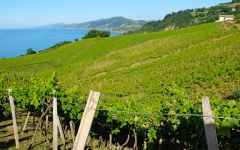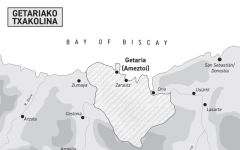 Ameztoi is a renowned producer in Getariako Txakolina, respected for producing both traditional wines in large barrels and as an innovator for their rosé txakolina and méthode traditionnelle sparkling wines. Ameztoi owns twenty hectares of estate vineyards located in the most privileged position in the region, facing the Bay of Biscay. High in the vineyards, planted on the dramatic seaside cliffs of the ancient fishing village of Getaria, one can see the town of San Sebastian, which lies just twenty minutes away along a serpentine highway.
Ignacio Ameztoi is the fifth generation of his family to carry on the tradition of making txakolina in the province of Getaria, and he has played a key role in the advancement of the region in the last decade. His intuitive and fearless pursuit of innovation has been a driving force in the txakolina discipline.
Ameztoi Txakolina is traditionally built with high acidity and low alcohol, utilizing only native varieties hondarrabi zuri and hondarrabi beltza. The wine is fermented in refrigerated stainless steel tanks utilizing indigenous yeasts from the vineyard. The tanks are closed to preserve natural carbonation from fermentation, which is the preferred style of Getaria. These attributes are unattainable through shortcuts such as force-carbonation, which Ameztoi has never employed.
On the southern edge of the rocky Bay of Biscay in northern Spain, this is Basque country and home to the refreshing and slightly effervescent (usually) white wine, Txakoli. Three subregions compose the larger one: Getariako Txakolina, Bizkaiko Txakolina and Arabako Txakolina. While Hondarribi Zuri and Hondarrabi Beltza are the main grape varieties, other French varieties are scattered throughout the region.
Beyond the usual suspects, there are hundreds of red grape varieties grown throughout the world. Some are indigenous specialties capable of producing excellent single varietal wines, while others are better suited for use as blending grapes. Each has its own distinct viticultural characteristics, as well as aroma and flavor profiles, offering much to be discovered by the curious wine lover. In particular, Portugal and Italy are known for having a multitude of unique varieties but they can really be found in any region.
EWLSPAMZTST20_2020
Item#
825609