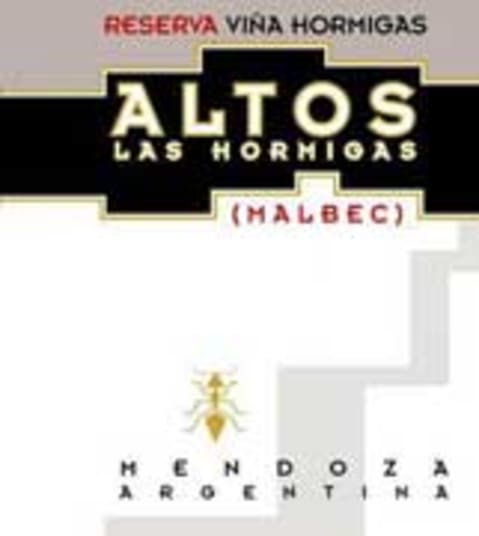 Altos Las Hormigas Reserva Malbec 2006
Winemaker Notes
The hand picked grapes go through a double sorting table and are gently crushed before going into small, short and wide stainless steel tanks to begin the fermentation which is done by native yeasts; the cap management is conducted with punching downs and rack and returns to maximize the extractions of colour and flavor from the skins always in a soft way to avoid any overdoing. The time between crushing and pressing is approximately 30 days of which about 10 are of primary fermentation and 20 of extended maceration, during the whole time the temperature is kept around 28-30 Celsius degrees to gain depthand volume in the mouth. Right after pressing the wine goes straightinto barrels (only tight grain French oak) and does the malolactic andthe whole ageing which last 20 months; by doing this we achieve a perfect marriage between oak and wine as the wine itself at this stage is still rich in polysaccharines and lees that combine with the oak tannins. The wine is then bottled unfined.
In 1995 Alberto Antonini, a well-known Tuscan winemaker, and Antonio Morescalchi, a young entrepreneur, took a trip to visit the burgeoning wine areas of South America. It only took one stop to find what they were looking for. They were immediately impressed by the vineyards thriving in the high altitude and dry climate of Mendoza, and were captivated by the whispered traditions and blend of cultures.
They returned to Tuscany powerfully impressed not only by the region, but also by the unexplored potential of Malbec, a grape that had a strong local tradition but was largely ignored and misunderstood. While the rest of the wine world saw Mendoza struggling to shed its bulk wine image, the two young Italians saw Mendoza as a place where traditional viticultural values and unblemished land could be reinvigorated with a modern winemaking approach and international experience. Instead of planting Cabernet Sauvignon and Merlot, as many others were doing during the 1990s, the team decided to invest their confidence in Malbec. Today, Malbec is the varietal for which Argentina is best known.
Against all odds they cemented their vision to become Terroir Specialists Shortly after, two friends and business partners, also enthused by the idea, joined the venture: Attilio Pagli, a renowned Tuscan winemaker with two 100 point-scoring wines in his personal record and Carlos Vazquez, an Argentine Agronomist, who work for 20 years with the early Catena group, planting new varieties, developing previously unknown vineyard sites and contributing greatly to the qualitative change of Argentine viticulture early on.
Most distinguished and celebrated from Argentina's Mendoza, Malbec has seen runaway success since the early 2000s. Mendoza's agreeable, continental climate with hot, dry summers and cold snowy winters allows the perfect conditions for growing outstanding Malbec. This grape is easy to like for its lusty, deep flavors and aromas of blackberry, plum, red cherry, autumn spice and tilled earth. It's easy to find delicious, fruit-driven, affordable everyday examples and in prices beyond, quite exceptional ones with dense, supple textures that make them capable of aging.
SWS197856_2006
Item#
98272