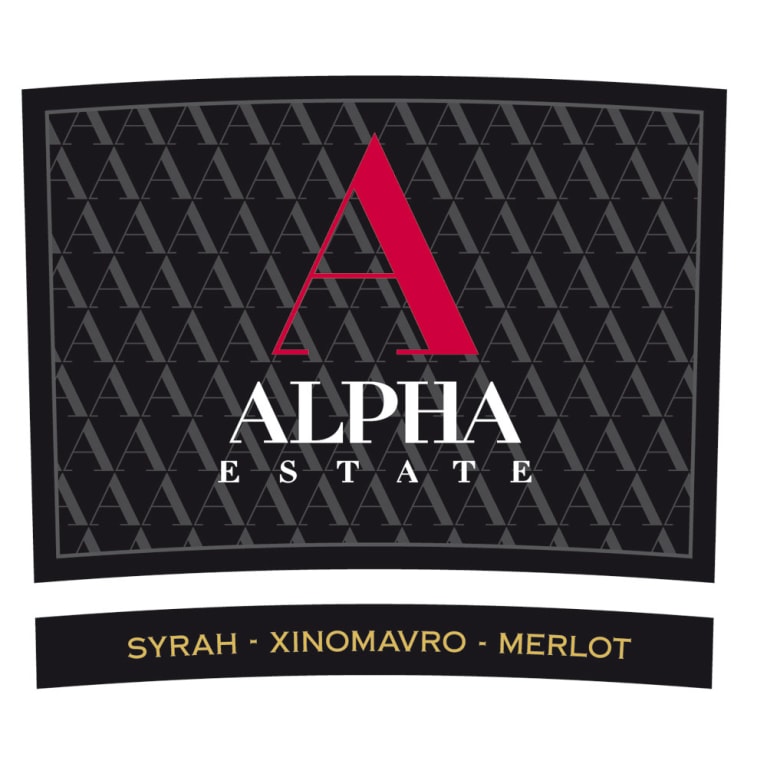 Alpha Estate SMX Red Blend 2012
Winemaker Notes
Deep ruby color with purple hints. Powerful, pungent aromas of sweet cherry, candied plum and toasty vanillin oak. Full bodied and deep in dark fruit flavors, with a peppery and strong oak spicy accents background. The solid tannins build through the finish but there is plenty of supporting depth of fruit here, not to mention a bright acid lift on the back that adds energy. A ''Vin de Garde'' with a great future.
Pairing harmoniously with juicy red meats, venison, barbecued or spicy cooked. Meat pies as well. Paired with aromatic-piquant cheeses assures another intriguing suggestion.
Blend: 60% Syrah, 20% Xinomavro, 20% Merlot
Alpha Estate is a winery located in the depths of Amyndeon's finest pastures. Alpha represents the "new beginning", the "birth" of a new era in the world of Greek wine. Makis Mavridis, a third generation skilled grapegrower, and Angelos Iatridis, the winemaker, educated in Bordeaux, trained in France, Italy and Greece and ''good father'' to many international well known Greek wines, planted a 65ha vineyard in the Amyndeon region in the late 1990's.
The creation of a privately owned estate vineyard was an enormous and pioneering investment at the time, which signalled the birth of pilot-structured vinicultural exploitation. Our on-going mission is to make wines that bring out the true characteristics of the region they originate from, wines that can reveal the characteristics of the soil, the climate and the typicity of the grape varieties they are made from.
Contribution of the human factor is indispensable to achieve our final goal, which is the production of grapes of the highest quality potential. The wines produced from such grapes are powerful and complex, displaying an intense fruity flavour and excellent balance. The company devotes a tremendous effort in improving the quality of its wines, through carefully planed investments and research programs, in collaboration with many research institutes. The success of these programs allows the company to evaluate permanently the quality and the character of its wine from one "vintage" to the next.
Awarded Wine & Spirits Top 100 Wineries of 2021.
A picturesque Mediterranean nation with a rich wine culture dating back to ancient times, Greece has so much more to offer than just retsina. Between the mainland and the country's many islands, a wealth of Greek wine styles exists, made mostly from Greece's plentiful indigenous varieties. After centuries of adversity after Ottoman rule, the modern Greek wine industry took off in the late 20th century with an influx of newly trained winemakers and investments in winemaking technology.
The climate—generally hot Mediterranean—can vary a bit with latitude and elevation, and is mostly moderated by cool maritime breezes. Drought can be an issue for Greek wine during the long, dry summers, sometimes necessitating irrigation.
Over 300 indigenous grapes have been identified throughout Greece, and though not all of them are suitable for wine production, future decades will likely see a significant revival and refinement of many of these native Greek wine varieties. Assyrtiko, the crisp, saline Greek wine variety of the island of Santorini, is one of the most important and popular white wine varieties, alongside Roditis, Robola, Moschofilero, and Malagousia. Muscat is also widely grown for both sweet and dry wines. Prominent red wine varieties include full-bodied and fruity Agiorghitiko, native to Nemea; Macedonia's savory, tannic Xinomavro; and Mavrodaphne, used commonly to produce a Port-like fortified wine in the Peloponnese.
With hundreds of red grape varieties to choose from, winemakers have the freedom to create a virtually endless assortment of blended red wines. In many European regions, strict laws are in place determining the set of varieties that may be used, but in the New World, experimentation is permitted and encouraged resulting in a wide variety of red wine styles. Blending can be utilized to enhance balance or create complexity, lending different layers of flavors and aromas. For example, a red wine blend variety that creates a fruity and full-bodied wine would do well combined with one that is naturally high in acidity and tannins. Sometimes small amounts of a particular variety are added to boost color or aromatics. Blending can take place before or after fermentation, with the latter, more popular option giving more control to the winemaker over the final qualities of the wine.
How to Serve Red Wine
A common piece of advice is to serve red wine at "room temperature," but this suggestion is imprecise. After all, room temperature in January is likely to be quite different than in August, even considering the possible effect of central heating and air conditioning systems. The proper temperature to aim for is 55° F to 60° F for lighter-bodied reds and 60° F to 65° F for fuller-bodied wines.
How Long Does Red Wine Last?
Once opened and re-corked, a bottle stored in a cool, dark environment (like your fridge) will stay fresh and nicely drinkable for a day or two. There are products available that can extend that period by a couple of days. As for unopened bottles, optimal storage means keeping them on their sides in a moderately humid environment at about 57° F. Red wines stored in this manner will stay good – and possibly improve – for anywhere from one year to multiple decades. Assessing how long to hold on to a bottle is a complicated science. If you are planning long-term storage of your reds, seek the advice of a wine professional.
SKRRAL098_2012
Item#
163053