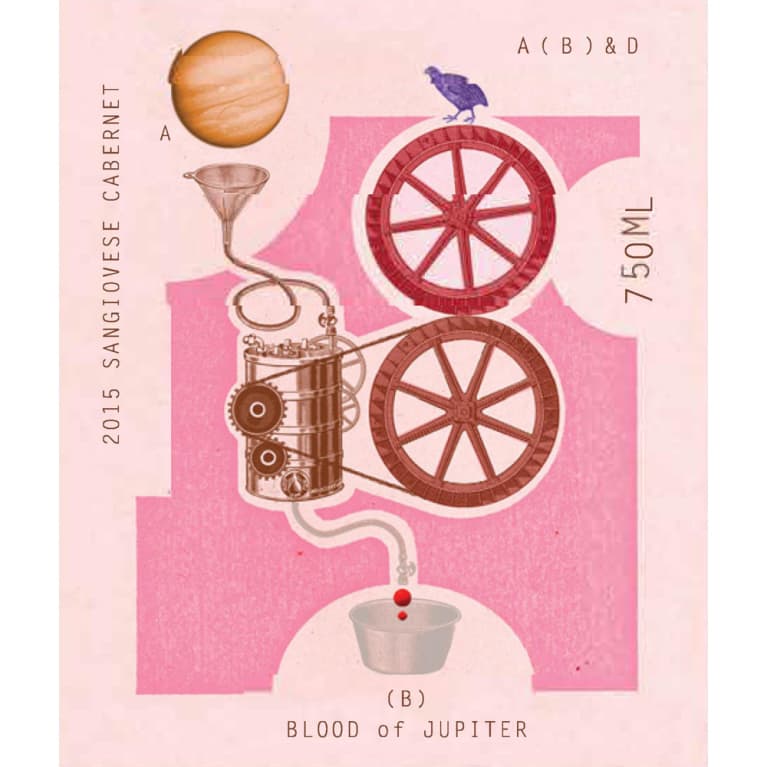 Alpha Box & Dice Blood of Jupiter Cabernet Sangiovese 2015
Winemaker Notes
AB&D the bringer of jollity. From the grape of Jove, this is a specialised vinous find, full of good humour. So quench your thirst and mood – drink from Jupiter's cup.
It might not be a technical DOC wine classification, but the Super Tuscan is a sight to behold. Sangiovese and Cabernet Sauvignon, making peace between the Italians and French.
The 2015 Blood of Jupiter is cranberry in color, with a dash of bourbon. Smells of cassis and rich earth, sour cherries, cranberries, bourbon and clove spice. The "Manhattan of wine", Maraschino cherries on the palate, whiskey style oak, complex bitters, chewy cab tannins, black olives.
Pair with a juicy rare steak
Blend: 79% Sangiovese, 21% Cabernet Sauvignon
Based in McLaren Vale, South Australia, Alpha Box & Dice are embarking on an Alphabet of Wine. Each 'letter' embodies an individual winemaking project, with the end goal being a complete collection of wines that celebrates the diverse styles and varieties found in South Australia's famous wine regions, including McLaren Vale, Adelaide Hills and Barossa Valley.
Since its beginning in 2008, AB&D has become a champion of South Australia's alternative – particularly Mediterranean – varieties, exhibiting innovation at every step of the process by bending traditional winemaking norms. AB&D Winemaker Sam Berketa is most interested in finding exciting couplings between vineyard and variety, showing how New World environments can best interpret Old World styles, using small batch, minimal intervention and vegan friendly winemaking techniques. AB&D wines are now available all over the world in some of the best restaurants and cellars.
Known for opulent red wines with intense power and concentration, McLaren Vale is home to perhaps the most "classic" style of Australian Shiraz. Vinified on its own or in Rhône Blends, these hot-climate wines are deeply colored and high in extract with signature hints of dark chocolate and licorice. Cabernet Sauvignon is also produced in a similar style.
Whites, often made from Chardonnay or Sauvignon Blanc tend to be opulent and full of tropical, stone and citrus fruit.
With hundreds of red grape varieties to choose from, winemakers have the freedom to create a virtually endless assortment of blended red wines. In many European regions, strict laws are in place determining the set of varieties that may be used, but in the New World, experimentation is permitted and encouraged resulting in a wide variety of red wine styles. Blending can be utilized to enhance balance or create complexity, lending different layers of flavors and aromas. For example, a red wine blend variety that creates a fruity and full-bodied wine would do well combined with one that is naturally high in acidity and tannins. Sometimes small amounts of a particular variety are added to boost color or aromatics. Blending can take place before or after fermentation, with the latter, more popular option giving more control to the winemaker over the final qualities of the wine.
How to Serve Red Wine
A common piece of advice is to serve red wine at "room temperature," but this suggestion is imprecise. After all, room temperature in January is likely to be quite different than in August, even considering the possible effect of central heating and air conditioning systems. The proper temperature to aim for is 55° F to 60° F for lighter-bodied reds and 60° F to 65° F for fuller-bodied wines. How much does this matter?
How Long Does Red Wine Last?
Once opened and re-corked, a bottle stored in a cool, dark environment (like your fridge) will stay fresh and nicely drinkable for a day or two. There are products available that can extend that period by a couple of days. As for unopened bottles, optimal storage means keeping them on their sides in a moderately humid environment at about 57° F. Red wines stored in this manner will stay good – and possibly improve – for anywhere from one year to multiple decades. Assessing how long to hold on to a bottle is a complicated science. If you are planning long-term storage of your reds, seek the advice of a wine professional.
VCYAS_FWG_ABD_BJ_RB_15_2015
Item#
353606