Allegrini Valpolicella 2012
Out of Stock

(was $14.99)
Winemaker Notes
Ruby red in color, with purplish-blue highlights; the nose exhibits fragrant fruit with prominent notes of cherries, echoed by fresher hints of pepper and aromatic herbs, typical of Corvina and Corvinone, the historic varietals of this appellation. Whilst young it is impressively lively and playful on the palate whereas some two years on it expresses greater delicacy and finesse.
This type of Valpolicella is the perfect accompaniment to Italian antipasti, soups, pasta dishes and other dishes typical of Mediterranean cuisine. Also pairs well with roasted and grilled white meats and is ideal as a summer red to drink with fish dishes.
Critical Acclaim
All Vintages
The 2012 Valpolicella is a well-executed wine and a great value. It opens with a dark, brooding appearance and shows immediate aromas of smoked bacon, dried fruit, leather and tobacco. There's more happening on the bouquet here than virtually any other Valpolicella red at this affordable price point. It's surprisingly generous in the mouth with long tones of ripe cherry, spice and grilled herb. You'll be surprised to know that it only sees stainless steel. Drink 2013-2016.
View More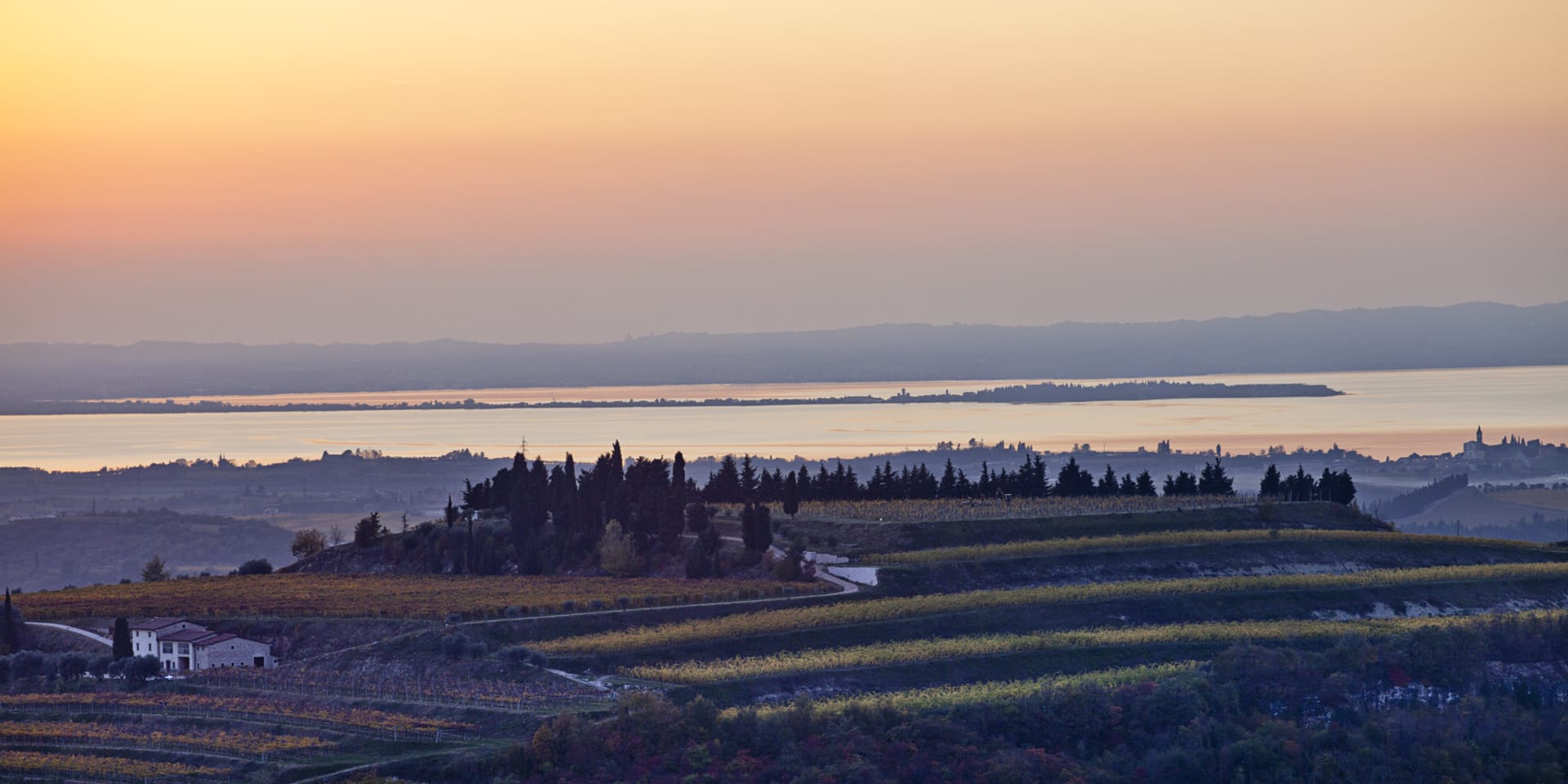 Allegrini is the Veneto's most acclaimed winery, and their Amarone is the gold standard. The Allegrini family has been handing down grapegrowing and winemaking traditions over six generations, playing a major role in the Valpolicella Classico area since the 16th century.
Giovanni Allegrini is the patriarch of the modern estate and has worked hard to develop and perfect major innovations in the art of wine, particularly when it comes to Amarone. He was among the first in questioning local viticultural techniques, revolutionizing accepted practices, and speaking clearly about quality. He was able to combine the science of enology with strict grape selection, and between 1960 and 1970, made some of the Valpolicella's best wines.
The estate is based in Fumane di Valpolicella, just north of Verona in northeastern Italy. Valpolicella, or "valley of many cellars" is an area crossed from north to south by a series of hills, which in succession form three parallel valleys. These valleys are crossed by steep-sided, narrow riverbeds which remain dry except during spring thaws or autumn rains.
With 247 acres of vineyards in the Valpolicella Classico, the Allegrinis nurture a collection of remarkable sites, each with its own personality, soil, and microclimate. Together, they speak to the rich history and extraordinary quality of Valpolicella. All seven vineyards, ranging from the steep hillsides of La Grola to the perfect plateau of La Poja, offer unique, special terroir to express the full range of what is possible in one of Italy's most prestigious and storied winemaking regions. The family has been a leader in a marrying traditional winegrowing styles with vineyard innovation, introducing modern trellis techniques, site, and varietal selection through meticulous evaluation.
Allegrini's winemaking philosophy is largely based on the concept of "cru" production: a single vineyard dedicated to the production of local varieties destined to become a single wine. These crus have been a success worldwide: The Palazzo della Torre, La Grola and La Poja have set the highest benchmarks for Valpolicella's wines.
Among the ranks of Italy's quintessential red wines, Valpolicella literally translates to the "valley of cellars" and is composed of a series of valleys (named Fumane, Marano and Negrare) that start in the pre-alpine Lissini Mountains and end in the southern plains of the Veneto. Here vineyards adorn the valley hillsides, rising up to just over 1,300 feet.
The classification of its red wines makes this appellation unique. Whereas most Italian regions claim the wines from one or two grapes as superior, or specific vineyards or communes most admirable, Valpolicella ranks the caliber of its red wines based on delimited production methods, and every tier uses the same basic blending grapes.
Corvina holds the most esteem among varieties here and provides the backbone of the best reds of Valpolicella. Also typical in the blends, in lesser quantities, are Rondinella, Molinara, Oseleta, Croatina, Corvinone and a few other minor red varieties.
Valpolicella Classico, the simplest category, is where the region's top values are found and resembles in style light and fruity Beaujolais. The next tier of reds, called Valpolicella Superiore, represents a darker and more serious and concentrated expression of Valpolicella, capable of pairing with red meat, roast poultry and hard cheeses.
Most prestigious in Valpolicella are the dry red, Amarone della Valpolicella, and its sweet counterpart, Recioto della Valpolicella. Both are created from harvested grapes left to dry for three to five months before going to press, resulting in intensely rich, lush, cerebral and cellar-worthy wines.
Falling in between Valpolicella Superiore and Amarone is a style called Valpolicella Ripasso, which has become immensely popular only since the turn of the century. Ripasso literally means "repassed" and is made by macerating fresh Valpolicella on the pressed grape skins of Amarone. As a result, a Ripasso will have more depth and complexity compared to a regular Superiore but is more approachable than an Amarone.
With hundreds of red grape varieties to choose from, winemakers have the freedom to create a virtually endless assortment of blended red wines. In many European regions, strict laws are in place determining the set of varieties that may be used, but in the New World, experimentation is permitted and encouraged resulting in a wide variety of red wine styles. Blending can be utilized to enhance balance or create complexity, lending different layers of flavors and aromas. For example, a red wine blend variety that creates a fruity and full-bodied wine would do well combined with one that is naturally high in acidity and tannins. Sometimes small amounts of a particular variety are added to boost color or aromatics. Blending can take place before or after fermentation, with the latter, more popular option giving more control to the winemaker over the final qualities of the wine.
How to Serve Red Wine
A common piece of advice is to serve red wine at "room temperature," but this suggestion is imprecise. After all, room temperature in January is likely to be quite different than in August, even considering the possible effect of central heating and air conditioning systems. The proper temperature to aim for is 55° F to 60° F for lighter-bodied reds and 60° F to 65° F for fuller-bodied wines.
How Long Does Red Wine Last?
Once opened and re-corked, a bottle stored in a cool, dark environment (like your fridge) will stay fresh and nicely drinkable for a day or two. There are products available that can extend that period by a couple of days. As for unopened bottles, optimal storage means keeping them on their sides in a moderately humid environment at about 57° F. Red wines stored in this manner will stay good – and possibly improve – for anywhere from one year to multiple decades. Assessing how long to hold on to a bottle is a complicated science. If you are planning long-term storage of your reds, seek the advice of a wine professional.
YNG346022_2012
Item#
128635