Alexander Sandro (OU Kosher) 2017
Out of Stock

(was $28.99)
Winemaker Notes
The wine's hue is a deep maroon with a noticeably black shade. Its aroma is of tobacco with a background of green pepper. This wine has soft, gentle tannins, and its complexity will match any meal.
Blend: 50% Cabernet Sauvignon, 15% Granache, 15% Mourvedre, 7% Shiraz, 7% Petit Verdot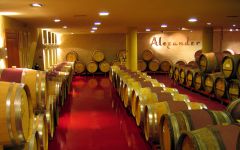 Alexander Winery is one of Israel's finest boutique wineries, producing award winning wines of great quality and individuality. It was founded in 1996 and is situated at the farming village of Beit Yitzhak, on the Mediterranean coast, between Tel Aviv and Haifa. The winery is owned by Yoram Shalom, who was inspired by family, heritage and tradition to create his own family wine. The winery combines traditional winemaking techniques with state-of-the-art technology. Everything is geared to making handcrafted wines of the highest quality. The winery pays homage to Shalom's family and their professional expertise. The wine traditions come from 120 years of winemaking firstly in Italy, and then in Tunisia. The love of wine came from his father Alexander, for whom the winery is named and his portrait is etched on the labels. On his mother's side they were jewelry craftsmen and some of the family's distinctive and rare pieces of jewelry are recreated on the unique, striking metallic labels. The Alexander Winery Visitors' Center is modern, innovative and offers a unique wine experience. Wine lovers, connoisseurs and tourists may sit on the deck overlooking a vineyard, whilst sampling wines, enjoying the food. It is a meeting place for those that want to taste, buy and talk about wine.
With a rich history of wine production dating back to biblical times, Israel is a part of the cradle of wine civilization. Here, wine was commonly used for religious ceremonies as well as for general consumption. During Roman times, it was a popular export, but during Islamic rule around 1300, production was virtually extinguished. The modern era of Israeli winemaking began in the late 19th century with help from Bordeaux's Rothschild family. Accordingly, most grapes grown in Israel today are made from native French varieties. Indigenous varieties are all but extinct, though oenologists have made recent attempts to rediscover ancient varieties such as Marawi for commercial wine production.
In Israel's Mediterranean climate, humidity and drought can be problematic, concentrating much of the country's grape growing in the north near Galilee, Samaria near the coast and at higher elevations in the east. The most successful red varieties are Cabernet Sauvignon, Merlot, and Syrah, while the best whites are made from Chardonnay and Sauvignon Blanc. Many, though by no means all, Israeli wines are certified Kosher.
With hundreds of red grape varieties to choose from, winemakers have the freedom to create a virtually endless assortment of blended red wines. In many European regions, strict laws are in place determining the set of varieties that may be used, but in the New World, experimentation is permitted and encouraged resulting in a wide variety of red wine styles. Blending can be utilized to enhance balance or create complexity, lending different layers of flavors and aromas. For example, a red wine blend variety that creates a fruity and full-bodied wine would do well combined with one that is naturally high in acidity and tannins. Sometimes small amounts of a particular variety are added to boost color or aromatics. Blending can take place before or after fermentation, with the latter, more popular option giving more control to the winemaker over the final qualities of the wine.
How to Serve Red Wine
A common piece of advice is to serve red wine at "room temperature," but this suggestion is imprecise. After all, room temperature in January is likely to be quite different than in August, even considering the possible effect of central heating and air conditioning systems. The proper temperature to aim for is 55° F to 60° F for lighter-bodied reds and 60° F to 65° F for fuller-bodied wines.
How Long Does Red Wine Last?
Once opened and re-corked, a bottle stored in a cool, dark environment (like your fridge) will stay fresh and nicely drinkable for a day or two. There are products available that can extend that period by a couple of days. As for unopened bottles, optimal storage means keeping them on their sides in a moderately humid environment at about 57° F. Red wines stored in this manner will stay good – and possibly improve – for anywhere from one year to multiple decades. Assessing how long to hold on to a bottle is a complicated science. If you are planning long-term storage of your reds, seek the advice of a wine professional.
RAL39660_2017
Item#
648135