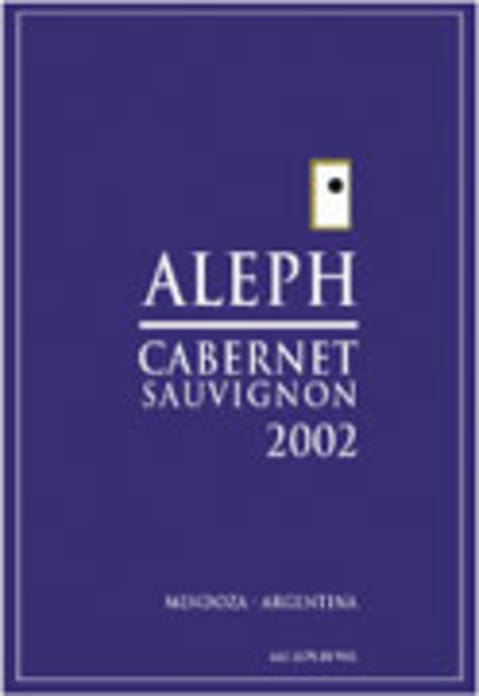 Aleph Cabernet Sauvignon 2002
Winemaker Notes
This Cabernet Sauvignon was grown in our Tupungato vineyard in the Valle de Uco zone in Mendoza. At an elevation of 3,600 feet, it is a highly coveted viticulture area of Argentina due to its exceptional climate and soil characteristics. This vineyard receives the cold airflow that descends from the Andes Mountains, significantly cooling the grapes after exposure to warm, sunny days. This temperature differential contributes to the wine's intense color and aromatics.
The wine was finished in new French oak barrels for six months to obtain a balanced communion between fruit and oak notes. The result is a complex yet very elegant wine, with plenty of fruit accents, sweet and ripe tannins, intriguing spice notes, and a long, harmonious and pleasant finish.
Our name is inspired by a short story by the Argentinean writer Jorge Luis Borges. The Aleph is a point where once you see it, you've seen the entire universe simultaneously. The sensation described by Borges of the infinite being visible all at one point is the feeling we have each time we savor this wine. Aleph is also the first letter of the Sacred Language.
The label fe atures a minimalist design, an original color and an imagination- capturing image with a representative icon.
Argentina of course is heralded for its Malbecs. But in the last two decades Cabernet Sauvignon has been drawing increased attention from winemakers there, and is now the third most planted variety. It is grown in the Mendoza region in the Andean foothills, especially in Maipú and Luján de Cuyo, at altitudes between 2300 and 3100 feet. Here the climate is continental, with hot summers and cold winters. It is very dry and sometimes quite windy, with runoff from the snow-capped Andes providing irrigation. These Argentinian Cabernets offer dark fruit, spice notes, full body and often a voluptuous style.
Another source within Mendoza is the higher altitude Uco Valley, at 3300 to 5000 feet. Up at this level grapes ripen more slowly, despite the bright sun. But that enables them to develop bright acidity levels, giving the wines a fresh quality to go with intense fruit flavors. Another source of good Cabernet Sauvignon in Argentina is Cafayate, in the Calchaquí Valley. North of Mendoza, these vineyards are even higher, at about 5700 feet! These Cabernets carry notes of spice, herbs and menthol to go with dark fruit. Like those from Uco Valley, they show concentration and great vibrancy.
A few producers to look for are Catena, Viña Cobos, Pulenta and Altocedro. Salud!