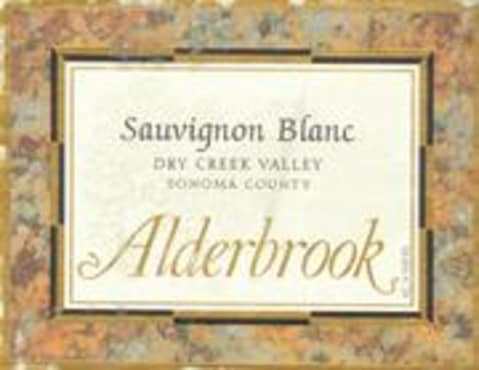 Alderbrook Winery Sauvignon Blanc 1997
Out of Stock

(was $11.99)
Winemaker Notes
Sauvignon Blanc grapes from the Alderbrook vineyards surrounding the winery, and Semillon from the well-known vineyards of Richard Rued were blended to create this unusually rich, intense, and full bodied Sauvignon Blanc. The 1998 growing season was unusual. A warm spring with early bud break followed by a very warm summer brought a big crop to near maturity by the end of August. Then, cool weather set in allowing additional flavor development while retaining high acidity. Bright kiwi, melon, and herb with notes of citrus blend beautifully and with great elegance. Rich flavors of fig and vanilla lead into a refreshing and lengthy finish of grapefruit and flint.
Situated on the outskirts of the city of Healdsburg in California's Sonoma County, the Alderbrook estate is located at the southernmost tip of the Dry Creek Valley, within a stone's throw of the Russian River. On a road map this might not seem significant, but in the world of fine wine, this location is considered one of the best in the region. While technically located in the Dry Creek Valley appellation, the official border of the Russian River Valley appellation begins close to Alderbrook's 65-acre estate, giving the winery a unique position at the confluence of these two valleys.
Not only does the estate vineyard receive the afternoon heat that is typical of Dry Creek Valley weather patterns, but the cool night air creeping up the Russian River Valley from the Pacific Ocean produces evening and early morning fog, cooling the vines. Alderbrook's vineyard enjoys the luxury of extended "hang time." This produces more mature fruit resulting in rich, full-bodied flavor characteristics: qualities which are ultimately apparent in the wines.
"The blend of climates is a gift, and our estate vines benefit tremendously from the unique weather conditions," says general manager, George Christie. Our incredible location at the junction of these two appellations gives us the perfect raw materials for wine making."