Alcance Gran Reserva Merlot 2014
Out of Stock

(was $19.99)
Winemaker Notes
Vegan
The 2014 Alcance Merlot truly showcases the potential of El Maiten vineyard. is wine boasts a vivid color with deep aromas of plum and other dark fruit accompanied by delicate hints of oak. The palate is generous and rich with both fruit and chocolate notes, so tannins, and a lush finish.
Blend: 90% Merlot, 10% Cabernet Sauvignon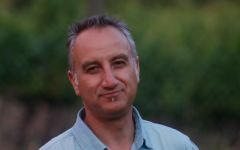 When they came to Chile in the early 1990s most of the country's wineries were congregated in the north in the warmer areas of the Central Valley. Alcance chose a different direction. With their extensive winemaking history in the cooler regions of California, and a belief that "cusp" climates produce the most complex and balanced wines, they looked to the Maule Valley.
The last two decades have taught Alcance that Maule is a place of unlimited potential. With modern planting, farming and winemaking techniques, Maule can produce wines that deliver all the depth, character and complexity of many of the world's finest.
Alance is built around estate vineyards planted over dozens of soil types in various climatic regions. They produce Cabernet Sauvignon, Merlot, Carmenere, Vigno (old-vine Carignan) and Bravura, their flagship Bordeaux blend, all of which reflect the unique terroir and sense of place.
Tied to the history of the so-called "lost grape of Bordeaux," Carmenѐre, the story of Chilean Merlot is a fascinating one. For decades in Chile the former was actually thought to be Merlot, so the two were typically planted together and harvested at the same time. Since Merlot is an early-ripening variety and Carmenѐre much later-ripening, the resulting wines often tasted unripe and vegetal. Not until 1994 was Chilean Carmenѐre identified correctly. As awareness grew, growers and winemakers began handling both grapes more optimally, leading to significant improvement in the wines.
Today Merlot ranks as the third most planted variety in Chile, behind Cabernet Sauvignon and Sauvignon Blanc. It is mostly found in the following valley DO's, from north to south: Maipo, Cachapoal, Colchagua, Curicó and Maule. It can appear both in blends or on its own. Either way, Chilean Merlot tends to show characteristic aromas and flavors of ripe plums, dark berries and herbs, often accented by oak, with a mouthfeel that is round and full.
RGL4501490_2014
Item#
155939