Product Details
---
Varietal
---
Region
---
Producer
---
Vintage
2013
---
Size
750ML
---
ABV
13.9%
---
Winemaker Notes
The Alamos Red Blend has spicy flavors of black pepper and blackberry fruit from the Syrah and juicy dark cherry flavors from the Bonarda, which both marry well with the dark plum flavors of Malbec. Tempranillo adds an intriguing edge with its lively strawberry nuances that mingle perfectly with hints of oak. Warm brown spice characters from the oak and rich mouthfeel deliver a bold and very approachable wine.
Blend: 60% Malbec, 25% Bonarda, 9% Tempranillo, 6% Syrah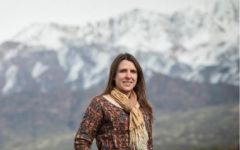 Alamos is rooted in the history of the founding wine family of Argentina, the Catenas. With more than 100 years of passion and research behind the wines, Alamos puts the very best of Argentina into every bottle.
In the shadow of the Andes Mountains, Argentina's renowned Mendoza wine regions and high-altitude vineyards develop bold, unique flavors in extreme conditions found nowhere else on earth: incredibly clean air, intense sunlight, frosty cold nights and mineral-rich Andes snowmelt that irrigates the vines. From these highly distinct vineyards, Alamos offers authentically flavorful Argentine wines.
Alamos Head Winemaker Lucía Vaieretti grew up in Mendoza's high desert vineyards. Her family has tended vines there for more than 40 years, and she has developed a deep bond with this distinct place. When Lucía was young, she worked the vineyards with her family. "Even then," Lucía says, "I knew we were in a special place."
With hundreds of red grape varieties to choose from, winemakers have the freedom to create a virtually endless assortment of blended red wines. In many European regions, strict laws are in place determining the set of varieties that may be used, but in the New World, experimentation is permitted and encouraged resulting in a wide variety of red wine styles. Blending can be utilized to enhance balance or create complexity, lending different layers of flavors and aromas. For example, a red wine blend variety that creates a fruity and full-bodied wine would do well combined with one that is naturally high in acidity and tannins. Sometimes small amounts of a particular variety are added to boost color or aromatics. Blending can take place before or after fermentation, with the latter, more popular option giving more control to the winemaker over the final qualities of the wine.
How to Serve Red Wine
A common piece of advice is to serve red wine at "room temperature," but this suggestion is imprecise. After all, room temperature in January is likely to be quite different than in August, even considering the possible effect of central heating and air conditioning systems. The proper temperature to aim for is 55° F to 60° F for lighter-bodied reds and 60° F to 65° F for fuller-bodied wines.
How Long Does Red Wine Last?
Once opened and re-corked, a bottle stored in a cool, dark environment (like your fridge) will stay fresh and nicely drinkable for a day or two. There are products available that can extend that period by a couple of days. As for unopened bottles, optimal storage means keeping them on their sides in a moderately humid environment at about 57° F. Red wines stored in this manner will stay good – and possibly improve – for anywhere from one year to multiple decades. Assessing how long to hold on to a bottle is a complicated science. If you are planning long-term storage of your reds, seek the advice of a wine professional.
By far the largest and best-known winemaking province in Argentina, Mendoza is responsible for over 70% of the country's enological output. Set in the eastern foothills of the Andes Mountains, the climate is dry and continental, presenting relatively few challenges for viticulturists during the growing season. Mendoza, divided into several distinctive sub-regions, including Luján de Cuyo and the Uco Valley, is the source of some of the country's finest wines.
For many wine lovers, Mendoza is practically synonymous with Malbec. Originally a Bordelaise variety brought to Argentina by the French in the mid-1800s, here it found success and renown that it never knew in its homeland where a finicky climate gives mixed results. Cabernet Sauvignon, Syrah, Merlot and Pinot Noir are all widely planted here as well (and sometimes even blended with each other or Malbec). Mendoza's main white varieties include Chardonnay, Torrontés, Sauvignon Blanc and Sémillon.
WWH134174_2013
Item#
130903