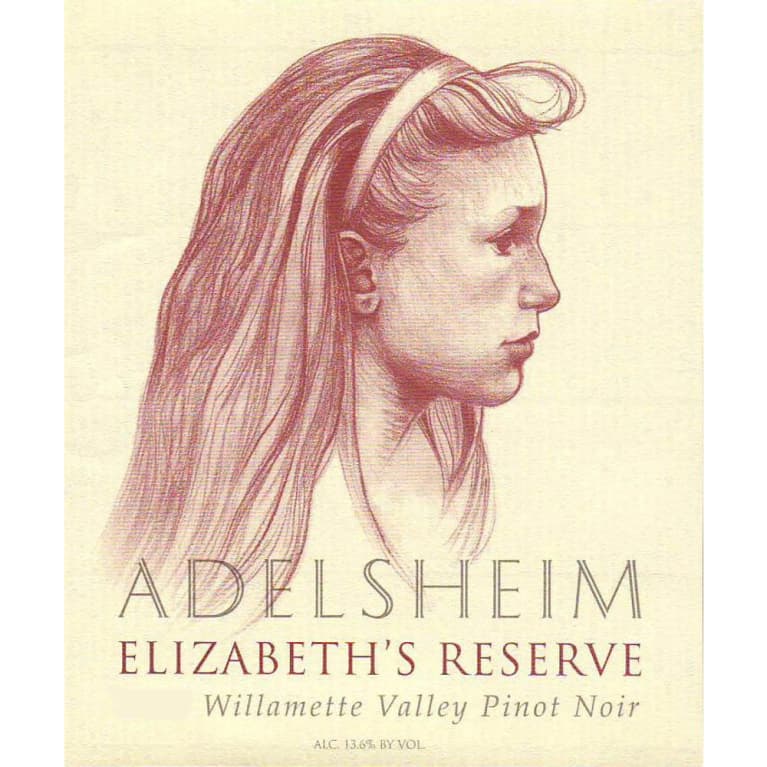 Adelsheim Elizabeth's Reserve Pinot Noir 2006
Out of Stock

(was $39.99)
Winemaker Notes
Adelsheim first used the name "Elizabeth's Reserve" in 1986 to designate the blend of the best barrels of Pinot Noir. For a dozen intervening vintages, it designated a single vineyard wine, but since 2000, "Elizabeth's Reserve" has again been a "best of winery" reserve – the best barrels from the best lots due to the coming of age of estate vineyards. With many lots, representing different soil types, clones, site climates, fermenter sizes, and barrel characteristics, winemaker Dave Paige must pull together those lots that best create a reserve-level wine, one that truly reflects the vintage and character of the north Willamette Valley.
The 2006 Elizabeth's Reserve offers aromas of bright red raspberries and ripe currants with hints of black cherry. Longer contemplation reveals nuances of the smoky cedar essence of lapsang souchong tea and dried rose petal. On the palate, the flavors mimic the aromas, leading again with raspberry. The wine's texture is exceptionally balanced with good upfront acidity, and a silky mouthfeel with soft tannins that linger to a strawberry cream finish.
Enjoy this wine when young, or allow it to age gracefully for five or up to ten years with proper storage conditions. It will pair beautifully with the Pinot noir classics – lamb, duck, grilled salmon, and aged cheeses.
Established in 1971, Adelsheim is a family-owned and operated winery with estate vineyards located in Oregon's northern Willamette Valley. Over the past 41 years, the Adelsheim Vineyard estate has grown to include twelve exception vineyard sites throughout the Valley, totaling 237 acres. Company co-founder, David Adelsheim, has done work throughout the years to benefit both the Oregon and American wine industries: grape and wine research, wine labeling, industry education, and promotion. He is recognized for his "outstanding service" to the industry and has played a vital role in building the Oregon wine industry and establishing its reputation worldwide. Today, he leads a current generation of passionate staff devoted to leading the industry in crafting consistently transcendent wines.
Home of some of the planet's most amazingly elegant and expressive Pinot noir, the Willamette Valley is a pastoral, mixed landscape of green, bucolic rolling hills, dramatic forestlands and small, independent, friendly wine growers. As a leader in environmental stewardship, the valley has some of the nation's most protective land use policies, with two-thirds of its vineyards farmed sustainably and over half, organically. While the valley claims a cool, continental climate, and is heavily influenced by the cold, moist winds of the Pacific Ocean, its warm and dry summers allow for the steady, even ripening of Pinot noir.
The potential of Willamette Valley Pinot noir continues to attract the investment of serious growers and winemakers both locally and from abroad, as naturally the finished wines bring accolades from professionals and enthusiasts. With a range of styles from delicate dried cherry, raspberry and hibiscus to stronger notes of truffle, mocha, plum and spice, a fine Willamette Valley Pinot noir is a perfect expression of both character and grace.
HNYAVDPNE06C_2006
Item#
95029